Pearl earrings – Majorica, Gray blazer – Stella
McCartney, striped tee shirt – A.L.C., grey trench – Burberry, black cotton
pants – Michael Kors, bags – Tumi, shoes – Thierry Rabotin, pearls –
Kenneth Jay Lane, scarf – Hermes
Often, I receive questions about what to pack if one is uncertain of the weather at the destination. This is a question I wrestle with often, because my favorite time of year to travel is in those "iffy" months when a lot of families can't travel, because school is in session, and when the weather isn't warm enough to sunbathe, nor cold enough to ski.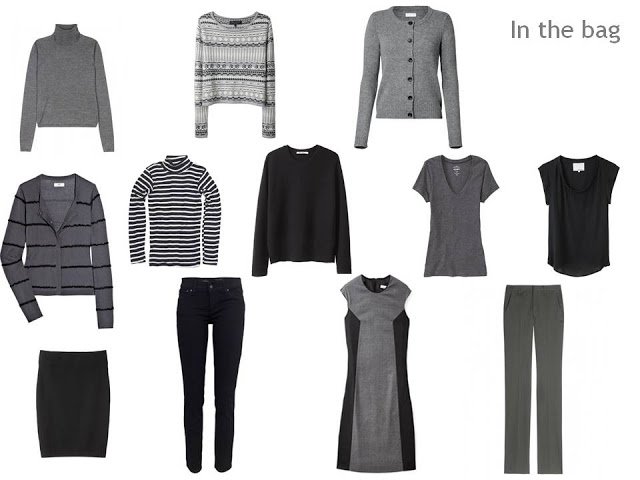 Grey cotton cardigan – American
Vintage, Striped cardigan –
Day Birger et Mikkelsen, black knit skirt –
T by Alexander Wang, Fair Isle silk sweater – Rag & Bone,
black cotton sweater
– T b Alexander Wang, black jeans – Levi's, grey cotton pants – Calvin Klein,
grey silk cashmere turtleneck – Miu Miu. Black silk
sleeveless top – 3.1 Phillip Lim, black & white striped cotton turtleneck –
Edit A. Miller, grey tee shirt – Old Navy, dress – Jaeger London
So my approach is this:
Obviously – layers. A lightweight turtleneck that can easily go under a cardigan or crew neck sweater, but will pack down to nothing. A couple of silk or cotton modal tee shirts that are great for warm weather, but can slide under a cardigan or jacket.
Season-less fabrics: cotton knit, cotton twill, a flat wool gabardine.
Lots of accessories – especially warm socks, a hat and gloves. Small space dedicated to these things can yield big dividends if the temperature drops.
Err more on the side of being prepared for cold, rather than for warm. If the heat wave sets in, it will be quick and inexpensive to pick up a couple of extra tee shirts. But in a cold snap, you don't want to be rushed to buy woollies.
Trench with zip-out lining – invaluable.
Silk long underwear is a great pajama alternative, and can save your life when it snows.
And ultimately, if there's an unexpected blizzard, accept that you may have a day in which you can't do much except take a taxi to a museum and pass the entire day there. Packing for every eventuality isn't possible, unless you have a personal staff of Sherpa to carry your bags.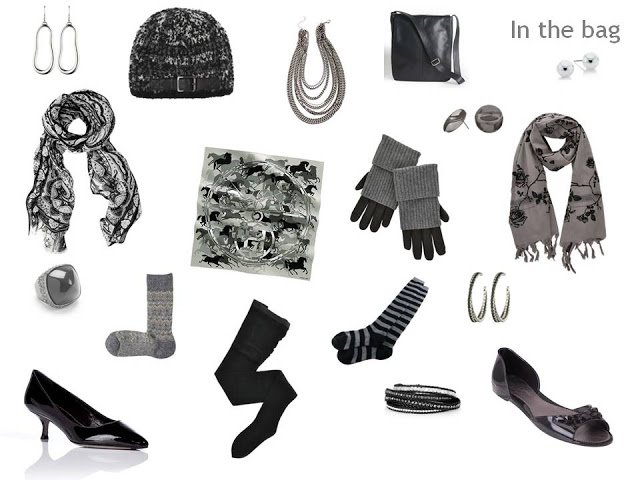 Pinched oval earrings – Alexis Bittar, Grey socks – Muji, wool
& alpaca hat – Burberry, grey disc earrings – Debenhams, necklace &
hoop earrings – Dannijo, gloves – Dolce
& Gabbana, Cross-body bag – Osgoode Marley, paisley scarf – Etro, ring – Vince Camuto, beaded bracelet – Chan Luu, Square scarf – Hermès, black pumps – Sergio Rossi, black open-toe flats – Stuart
Weitzman, rectangular scarf – Leigh & Luca, tights – Fogal, striped socks – Black.co.uk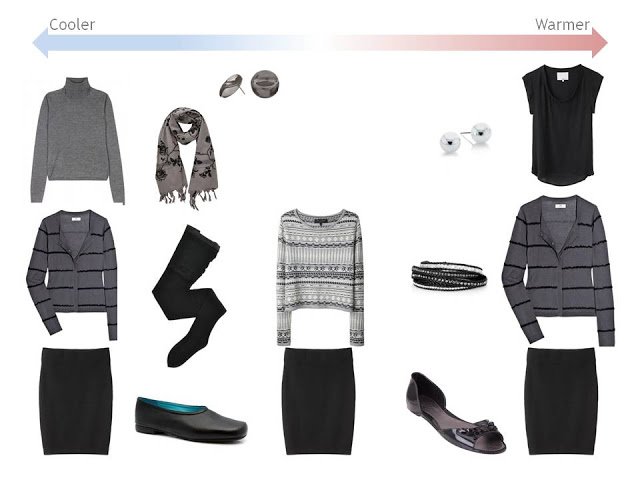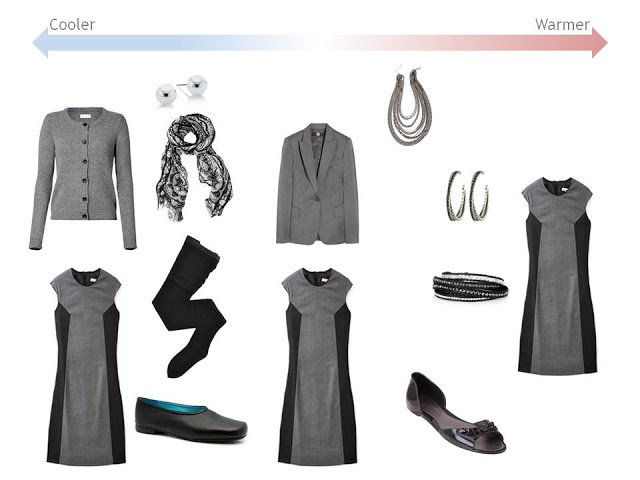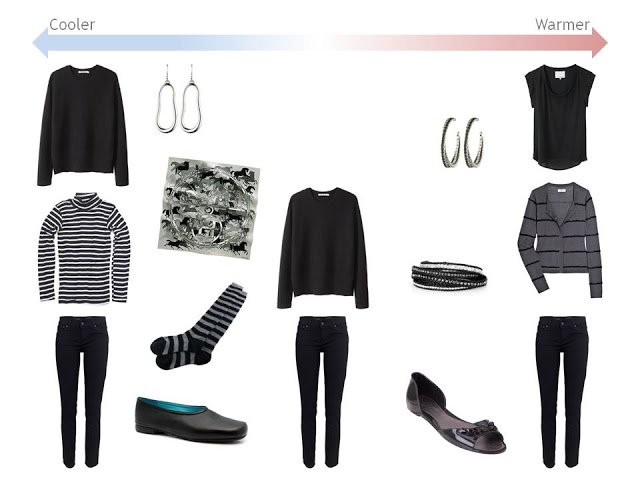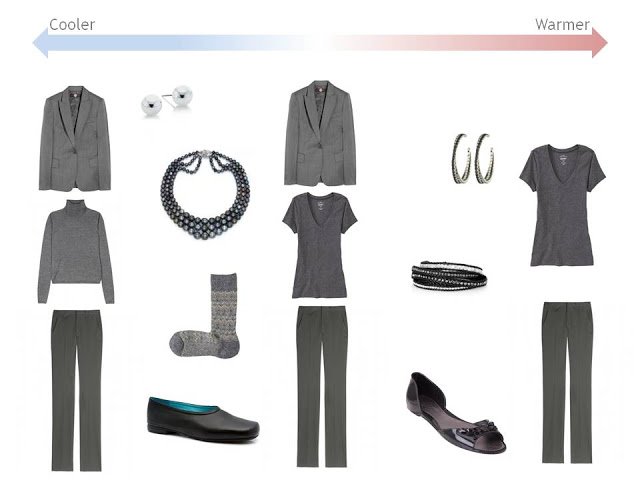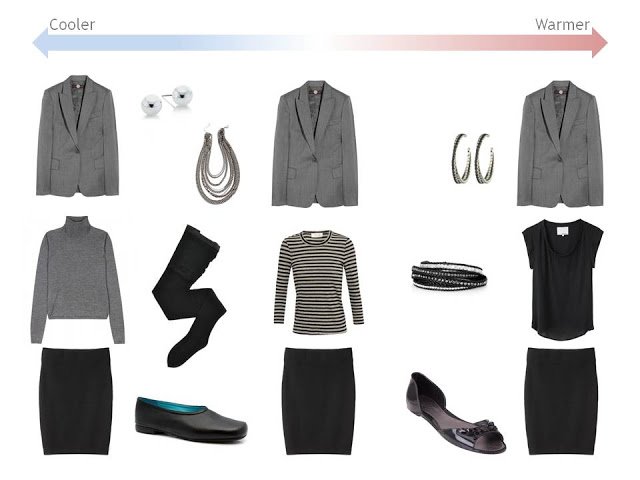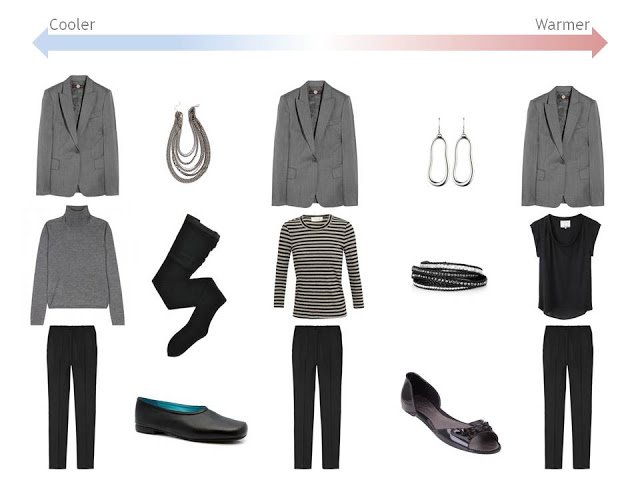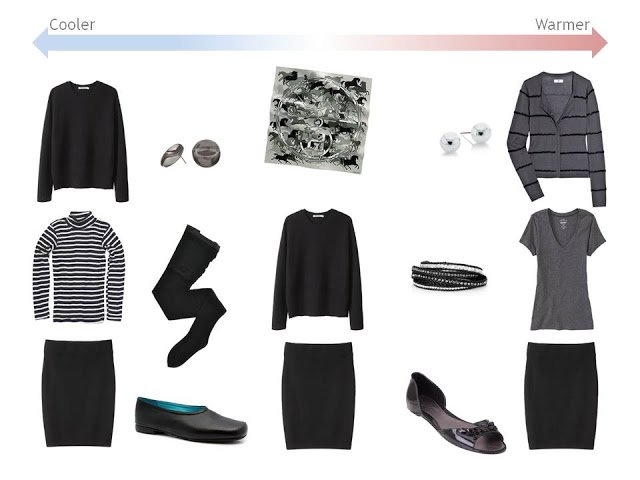 I'd love to revisit this suitcase in a different color combination – any suggestions?