The wardrobes just keep getting harder! The request for this wardrobe was: "I am a short, graying brunette in her early 60's woman who lives in the South (think 4 seasons with an emphasis on hot & humid but occasional snow/ice). I think Katherine Hepburn with more colors would be my inspiration. Casual, few skirts/dressy itesm, but chic. I love the colors of the sunset and sky plus silver/pewter jewelry with black, charcoal or dark jeans as the neutral."
So I focused on the colors of the sky and the sunset… enjoy!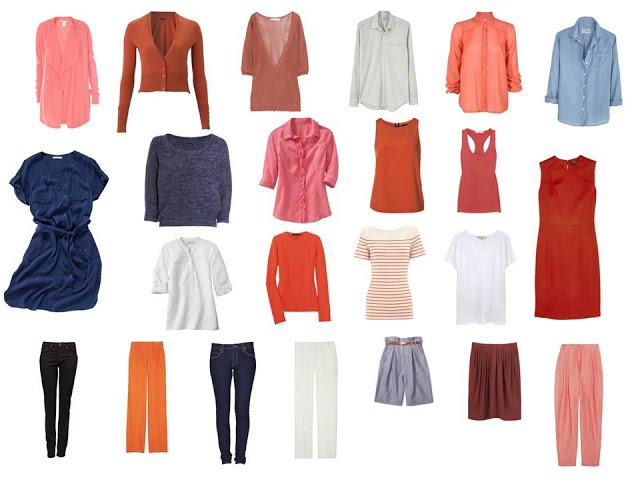 Some cool, roomy linen pieces, a couple of dressier options, and always a sweater for colder weather…
A request: someone asked me for a wardrobe based on the painting Down on His Luck by Frederick McCubbin. Could you PLEASE post a comment with a link to the best image of this painting on the internet? When I searched for it, I found images in all sorts of various shades – I didn't realize a painting could be represented so many different ways! Thanks a ton.
And I'm still working on all your wardrobes. I'm afraid I might have to start posting completed wardrobes "out of order", as some wardrobes asking for a lot of summer wear are tough to complete this time of year, since most fashion images are well into fall clothing. Thanks as always for your kindness and understanding of my frailties.