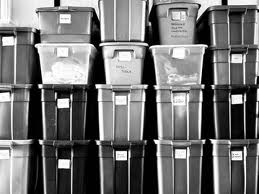 I spent all day yesterday ironing. Well, okay, I took a break and baked some banana/chocolate chip muffins, but I spent most of the day unpacking my summer clothes, checking them over, and ironing them. (also working in reverse, packing away all things winter)
So I emailed Vivienne and told her what I was doing, and she wants to know "why does it take you so long?"
And I explain that I've got X number of garments that I don't wear in the fall and winter, but that I need for warmer weather.
First response from Vivienne – of course – you've got too many clothes. I concede that.
And THEN, the killer question: "Why don't you wear the same suits all year around?".
I explain about the weather here – it gets much hotter than it does in Paris etc. etc.
The devastating response: "Doesn't your husband wear the same suits all year? Why is it different for women?"
sigh…. Why don't I get a really amazing black wool suit and wear it 12 months out of the year? Something Loro Piano, Briani, Armani – any of those would be perfect. Why don't I think this way yet?
If I could do this with just some of my things, I could have really top quality suits. I've got to go back and start from scratch on this planning thing.