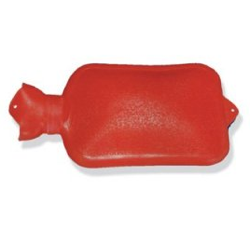 The first time I met Vivienne, I was unpacking my suitcase, and she was opening a bottle of wine and torturing the room service staff to find us some food. (she works for the hotel, so it wasn't really torture, more like good-natured teasing to challenge them to feed us on the sly…)
It was November, I think, and the room I was going to be staying in for the week had not been occupied for some time. So Vivienne, very helpfully, tells me that I should get out my hot water bottle (La bouillotte, as she would say) and tuck it into the bed now to take the chill off the sheets.
Well, I was NOT travelling with une bouillotte at the time, which didn't terribly surprise her, and so it passed from my mind.
Fast forward to living in Dublin, the coldest temperate climate I've ever seen. Before the hot water heater would go off at night (yes, it was on a timer – if you wanted a shower at 2 a.m., you were out of luck) we would always have some hot water in the tank. Lo and behold, pretty much every general store in Dublin – Tesco, Boots, Dunne's – had RACKS of hot water bottles of every color, shape and design. (including some pretty alluring ones with torsos of hottie guys on them).
So the habit, about fifty weeks out of the year, was that the last thing we did before the hot water heater timer shut off, was to fill the hot water bottles and tuck them into bed. Magically warm, curiously comforting in their weight and their rubbery squishiness, and one of the better investments we made while living there.
I know some people in the US who own these, but I think we need to make these a much more widely used product!