July 26, 2023
I've been thinking about accent colors ever since I finished Monday's post about the blue dress…
What happens when I start with this?
For many of us, finding 2 things like this in our closet isn't tough! Yours might be navy, or grey, but the idea is pretty similar…
And THEN, I was thinking about colors in wardrobes; this is NOT an exhaustive list – just something to remind me to look for Camel, when my wee brain falls black and exhausted!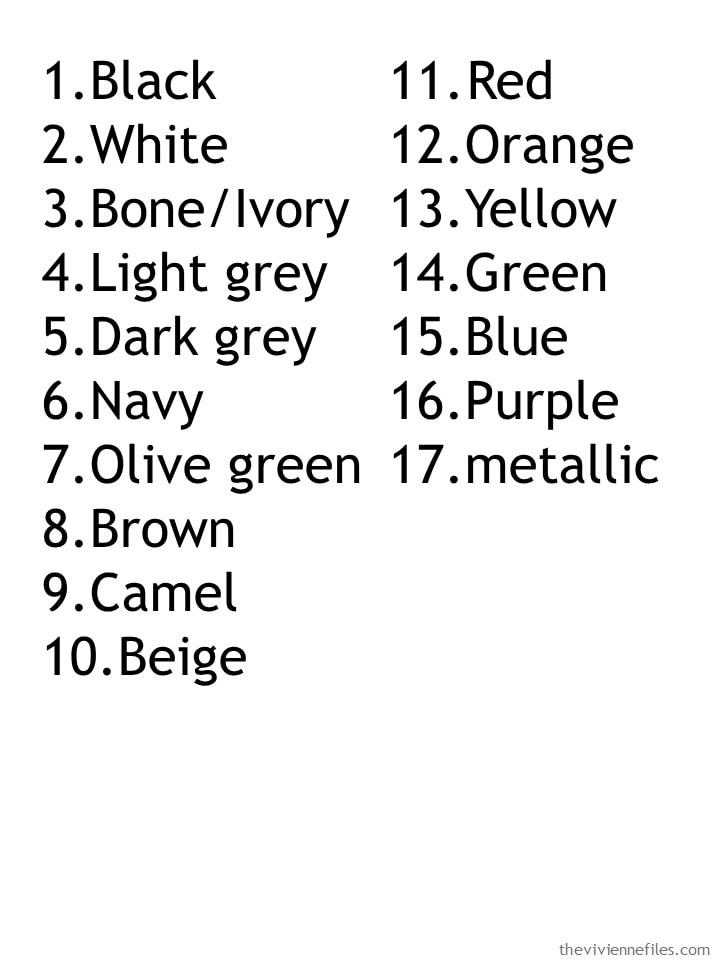 If you can think of 20 colors, and if you're willing to wear any color with any other color, that gives you 400 possibilities! No wonder I don't run out of ideas!
But maybe you want this to be your uniform – or maybe it IS your uniform, once you get to work… What can you do to "finish off" this tee shirt and pants?
I have ideas! of course I have ideas…
This is the easiest outfit in the world, but not boring. Not with those shoes!
This is the 2nd easiest outfit – some jewelry (any jewelry!) can make so much difference. How about putting 4 or 5 brooches on your jacket, just for the heck of it? Or some snazzy, eye-catching gold?
At this point, I would get into my scarf drawer (a really BIG drawer…) and start looking; this is not at all complicated:
If you don't wear warm colors, you can always opt for the cool neutrals in shades of grey, light or dark:
I love this next outfit…
Just because the core solid column of your outfit is black doesn't mean that you can't accent it with lovely warm neutrals, used as accents…
There's a scarf for every color combination, if you look long enough. Google one!
If you're not a scarf person, you can always go a bit nuts with jewelry!
I have 2 "sweater-blazers" – one bright pink, and one black. I'm going to make certain that I have a plan for wearing each of them with my black tee shirts and pants, if the weather ever cools down!
Also, I think for Friday I'm going to look at using bright colors, or maybe pastels (???) as accents. I love these kinds of projects!
love,
Janice
p.s. Eight years ago, we tackled a Mark Rothko painting, and navy, cognac and bright pink!