July 11, 2018
In case you've been asleep for the last month, or somewhere without Internet access, we're barrelling headlong into the big "pre-season" sale time of year.
Now, I've got nothing against saving money, nor against buying myself something new and pretty… But these sales? They can overwhelm you, and before you know what you've done, you've spent a ton of money on things you didn't really need, just because they looked lovely and appealing…
So? How to avoid being a victim? Have a plan! That's my answer to almost everything…
First, think seriously and honestly – are you shopping for need or want? And might you spend the money somewhere more gratifying? For example, I'm not buying anything this fall, because I've got 2 big trips coming up – I'm going to Italy for 10 days in August, and then I'm going back to Paris in December. For what it's worth, my Paris plane ticket cost less than $800 – an amount of money that some of us can easily spend in the next 6 weeks "refreshing" our autumn and winter wardrobes. Which would you rather have?
It's also worth bearing in mind that you weren't stark naked last winter (I think we would have all seen that on the news if you had been!). You might be tired of your clothes, or bored with them, but for most of us there's still a very wearable and versatile cold-weather wardrobe already in our closets; anything we buy is more for entertainment purposes than real functionality.
So let's think about EVERYTHING that we wear, and what we might need…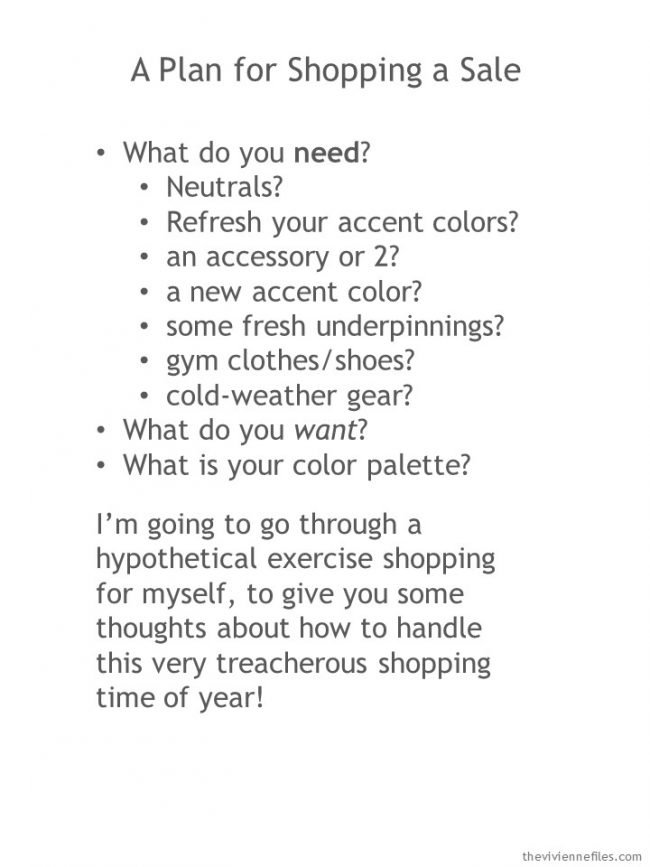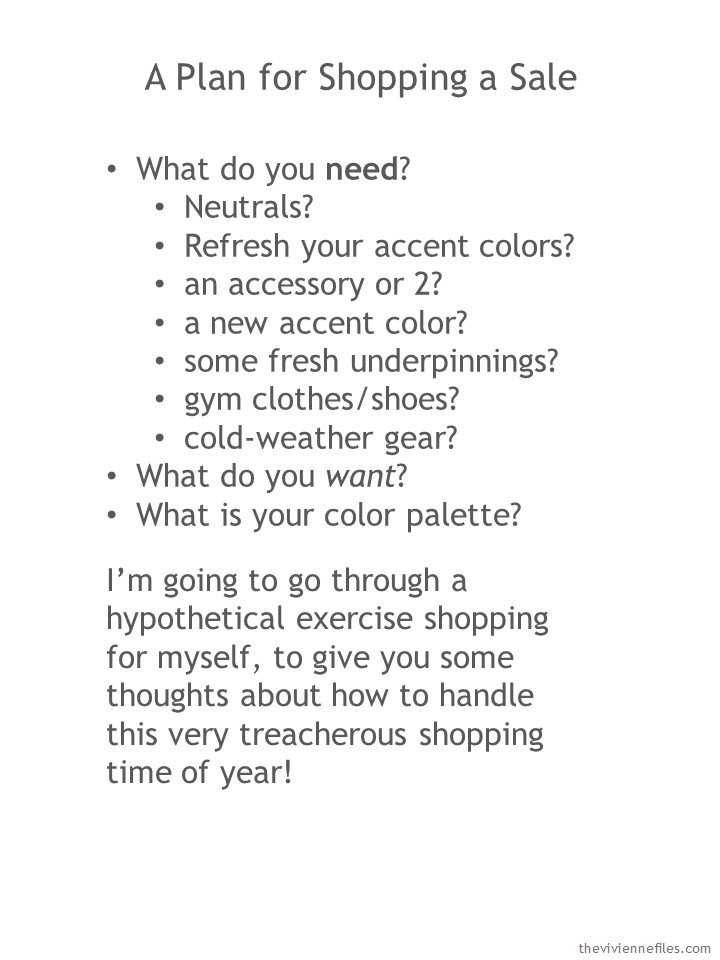 This might feel really boring and unnecessary, but you have to decide what you're going to buy, and not let some retailer tell you what you're going to own! I always imagine going into the supermarket and finding that they have things on sale like capers, black olives, liver, and rhubarb… There is NO price low enough that could persuade me to buy these things! It should be exactly the same with clothing; if I didn't know that I needed (or wanted) something before I saw it in a store, the level of need can't be terribly high. And money that I spend on a sale sweater that I don't really need is money that I can't spend on travel…
What might my plan look like?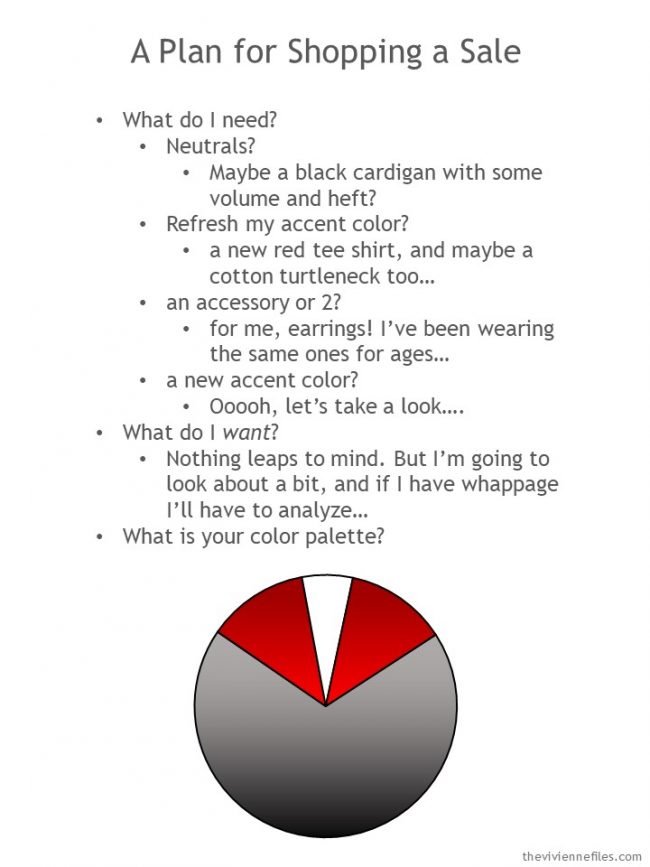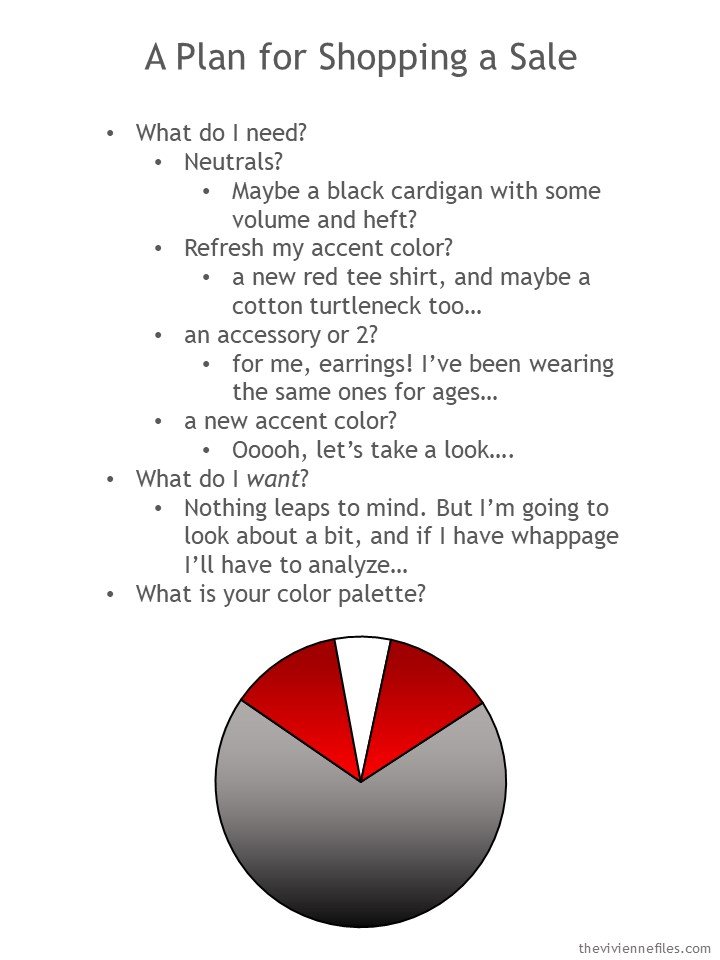 It wouldn't be crazy to make your own list of things that you want or like. Open an empty document in any software that you know how to work, right click on items you see online that appeal to you, and paste each image onto a list. It's fun to think back to your list, a few hours after you've finished it, and see if you can even remember what's on it!
Another thing to bear in mind: a lot of the items that you see on sale this time of year are manufactured specifically for the sales. I.e., they're possibly NOT going to be the same quality that you normally expect from your favorite brands. Don't settle – hold them to your normal high standards and don't compromise just because something inexpensive…
What might I buy? I'm always thinking that a big, snuggly cardigan could be handy…
And I'm always a sucker for a pretty dress. The swishy black dress looks like it would be dreamy fun to wear… And the tie-sleeved one seems so much more practical than a dress with those great big bell sleeves, which I would drag through my dinner plate in about 2 minutes…
If I were really smart, I'd pull out ALL of my long-sleeved tee shirts, cotton turtlenecks, and button-front shirts to see what's starting to look worn-out and dingy. I know these things get worn to pieces; this might be the smartest time to replace the ones that look past their prime.
Would it be wrong to at least look at sweaters? I wear them a lot in cold weather, so maybe…
While I'm sorting through my cold-weather clothing, I should take a good look at all of my red accent pieces too. They will eventually start to look tired, or possibly even have unrepairable holes or marks. And since I'm lifting weights so much, I'm finding that some things are getting VERY tight across the shoulders!
Of course, I've been wearing red as my accent color for years and years and years. Maybe I need to keep my eyes open for another accent color that appeals…
An intelligent woman might take this opportunity to refresh her lingerie. No matter how nice your clothes are, if your bra fits poorly, your clothes won't look their best. Nobody may ever know you've tidied up your undergarments and replaced the worn ones, but YOU will feel much better!
In the same vein, how are your workout clothes holding up? It's easy to let these get really ratty… maybe some new pieces will help with that early a.m. motivation to get up and out the door!
As hard as it is to imagine right now, we have some reason to believe that the weather will again be cold. Some day. A long time from now. The best selections for cold weather gear will be in the stores in the next 6 weeks…
(and yes, those weird fabric cylinders – gaiters – are amazingly handy! neck drafts handled, ears covered, nose and mouth protected, or even a supplement to your hat; I wouldn't go out in bitter cold weather without one…)
If you've got absolutely EVERYTHING that you need, but you still have a shopping… itch? How about accessories? This is ALWAYS where I can find something irresistible:
Please don't get me wrong – there's nothing wrong with shopping the sales! (from my personal business point of view, I'm always happy when you click through one of these links and make a purchase – that's my income!) But I would like to help you be more thoughtful about your purchases, and thus be happier for the long haul with what you've bought.
So what are you shopping for?
love,
Janice
p.s. Yes, I'm returning to the 12 paintings/12 heroines on Friday…