June 7, 2016
These are really SUCH fun…Remember, these are our six original color scheme/inspirations for our capsule wardrobes:
Dresses this month! If you're not a dress wearer, I encourage you to reconsider; check out these… things, to wear under dresses. Your thighs will be SO much happier… They revolutionized my relationship with dresses!But if you're certain that a dress isn't for you, you could always substitute a simple top and capris or shorts, of course!
This jewelry was chosen to echo the detailed, intricate patterns in each of the garments shown on the scarf: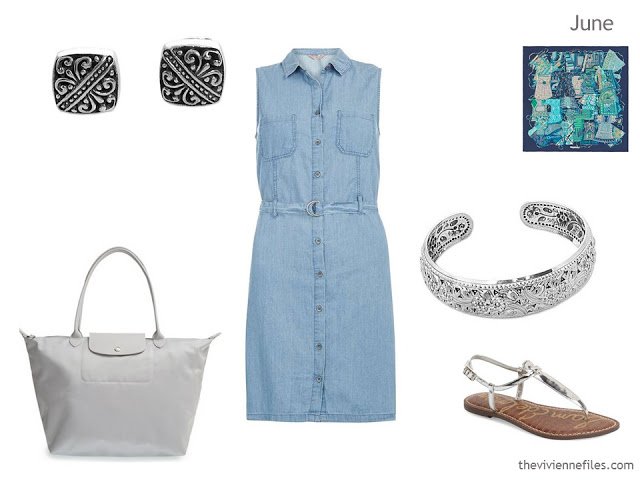 Earrings – Wirabhuwana; tote – Longchamp; denim dress – Dorothy Perkins; bracelet – Achara; sandals – Sam Edelman
Now that these wardrobes have a dozen pieces of clothing, they begin to really take on a distinctive character.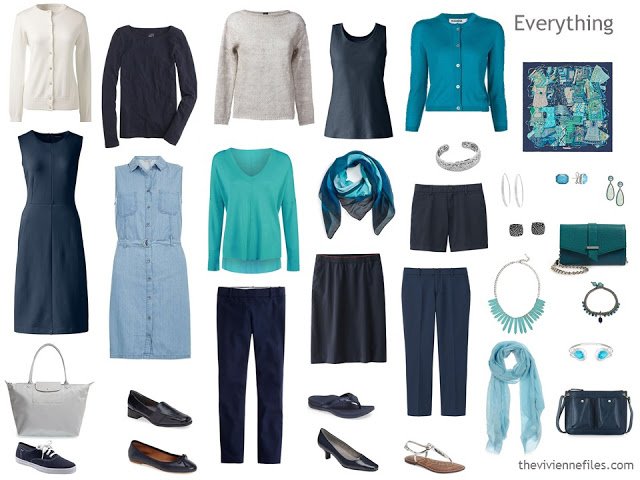 For this jewelry, I just really wanted that warm orange-y color…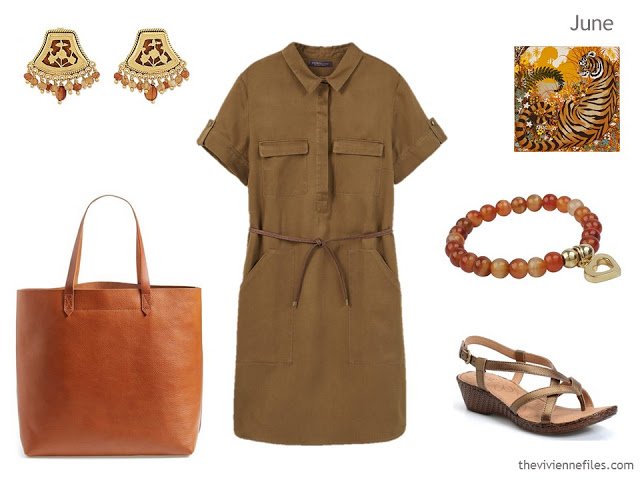 Earrings – Bhavesh; tote – Madewell; dress – Mango; bracelet – Marianela Vargas; sandals – Born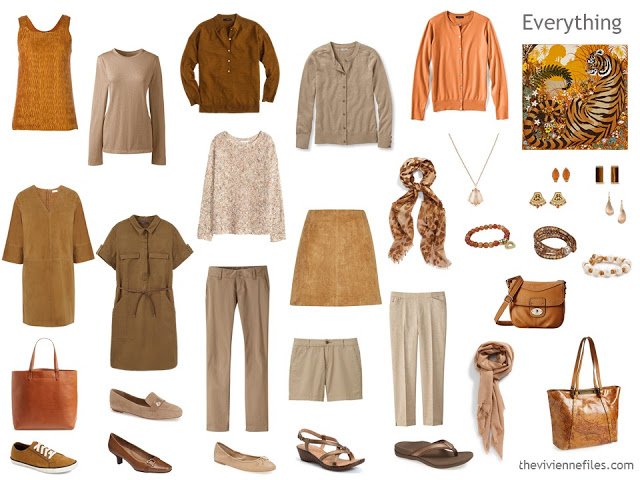 This bracelet has some colors in it that don't appear in the wardrobe palette, but when worn with such a simple dress, it brings some interesting accents. And I just thought that it was too beautiful to pass up.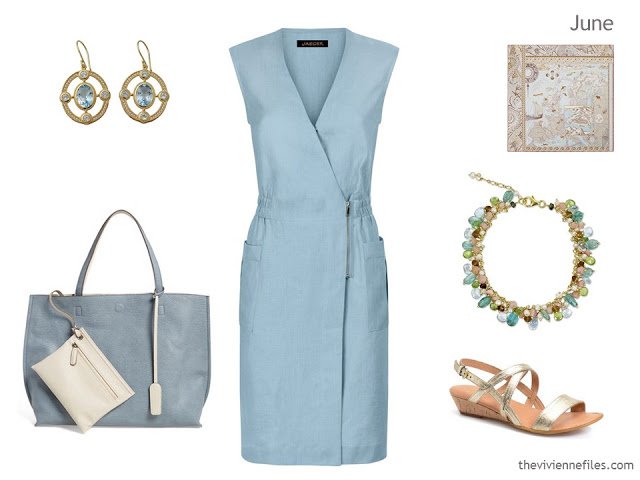 Earrings – Mahavir; tote – Street Level; dress – Jaeger; bracelet – Saranarat; sandals – Born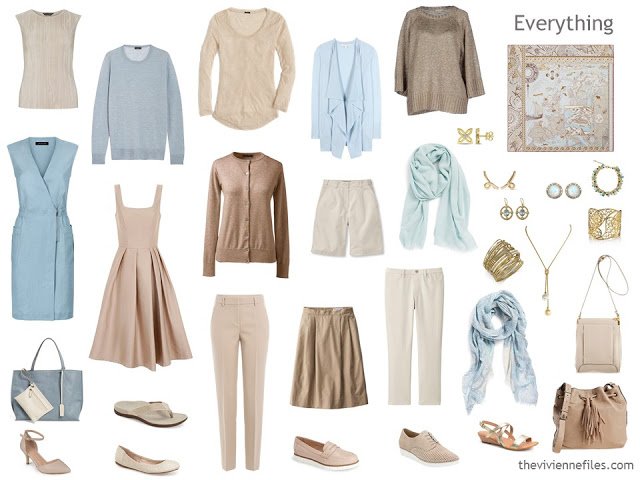 This was the most "out there" dress included; the colors are on the most summery edge of our palette. But since it will be worn either on its own or with a cardigan, it didn't have to be the same shade of mossy green as (for example) the winter trousers. Once the dress is shown with the rest of the clothing from this grouping, it becomes clear that it's a nice option.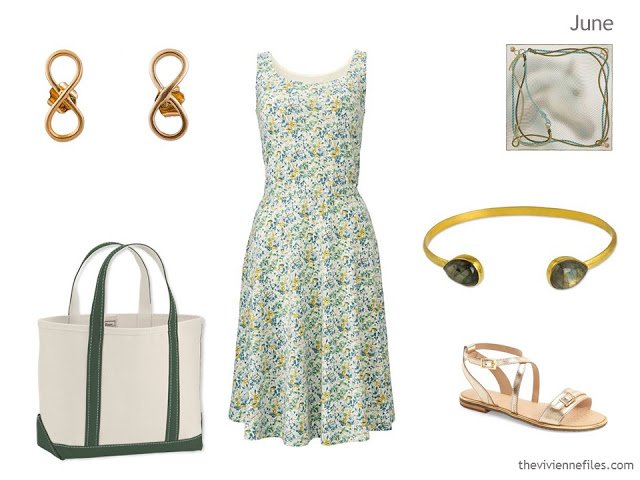 Earrings – Carmen Anocibar; tote –
L.L.Bean
; dress – Uniqlo; bracelet – Khun Boom; sandals – Geox
And I have to give these L.L.Bean tote bags a shout – Belovedest and I use them as laundry baskets, because they're much easier to carry, and they're easy to wash when they need to be freshened up. (they're available both open-top and zippered) They are TOUGH as heck – I can't envision every wearing them out.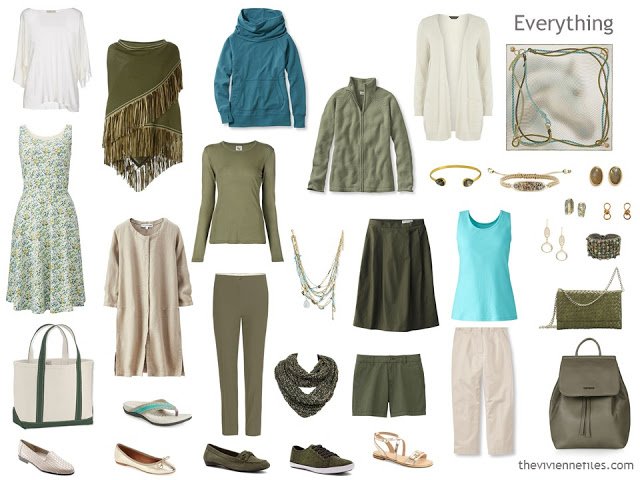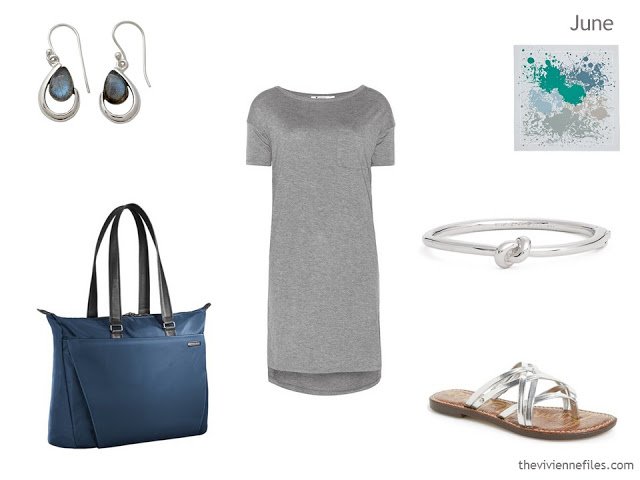 Earrings – Chintan; tote – Briggs & Riley; dress – Alexander Wang; bracelet – Kate Spade; sandals – Sam Edelman
I tried to find fluid jewelry, again. Once all of the jewelry is together on a page, the harmony among the pieces becomes more apparent: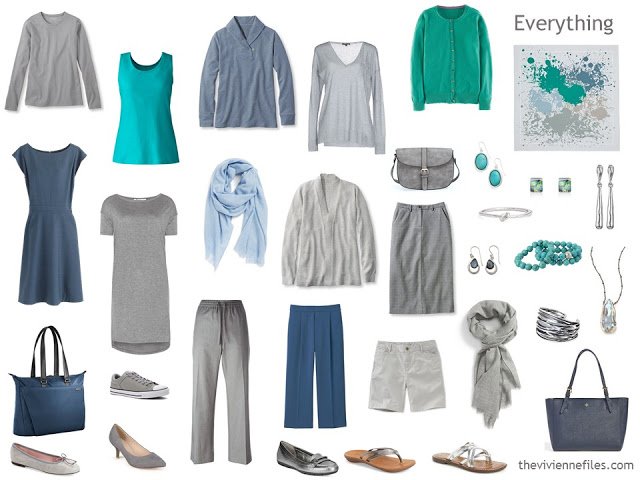 Simple, cool, comfortable: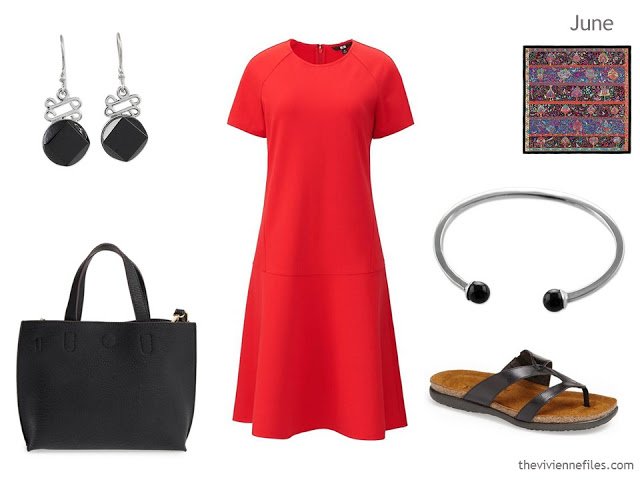 Earrings – Ruben & Gilda Perez; tote – Street Level; dress – Uniqlo; bracelet – Gabriel Silva; sandals – Naot
This jewelry collection is really beginning to take on a characteristic feel: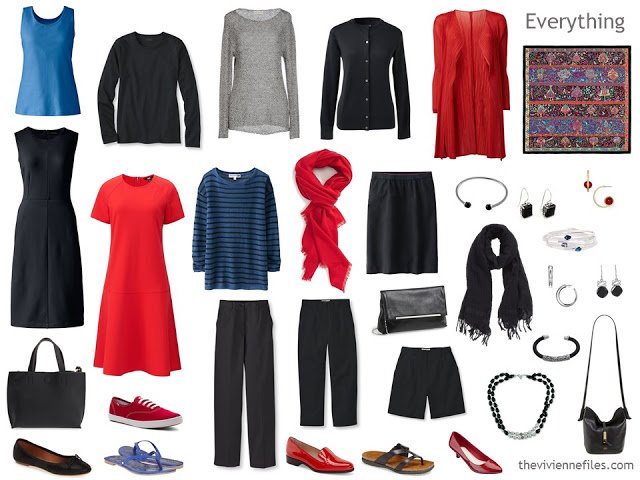 love,
Janice
p.s. I finally made my summer wardrobe purchases – I'll share soon. And I have something else in mind with these wardrobes shown here…