October 19, 2015
Back from vacation!
I thought about you all A LOT, and have all sorts of odds and ends to share…
My Packing
First off, 2 suitcases are 5 times the headache of 1 bag… But we did run A LOT, so I didn't regret having my running gear with me. However, I'm seriously going to think about how to whittle down packing every more – maybe do laundry even MORE often? We had laundry done on days 5 and 10…
I should have used MORE packing cubes – to segregate dress from casual from spectator sport from running. No excuses on this – I have the cubes, and just didn't use them!
Economizing on the number of socks one packs is just silly…
Ditto lingerie…
I used to pack a plastic vacuum bag, that you could roll, or sit on, and squeeze out all of the air. It was genius for dirty laundry, and it would have been very useful with damp running gear, or clothes that we had worn in the drizzle. Next time, for sure.
Computers, Phones, and WIFI
Never assume that you will be able to get an internet connection. If it seemed that I was radio silent for a few days, it's because I WAS.
Always make sure that you've got international roaming included on your phone service. We've had it for years and never regretted it.
GPS and Maps
Listen to your GPS, but use your brains, too. At one stage, our GPS (named Leigh, with an Australian accent) told us to "proceed point two miles, then go off-road". And this was giving us directions to a Hilton Hotel!
His maps weren't up to date, even though we had refreshed them with the most recent available. One night, when we were parked behind our hotel, the GPS showed us parked in the Deben River.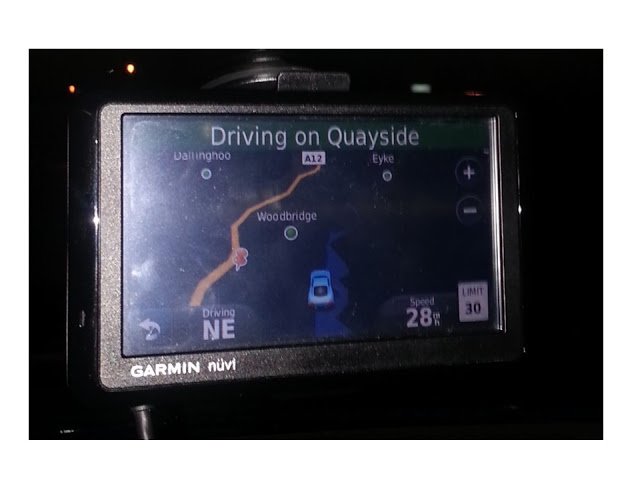 If you like old abbeys and castles that are often in ruins, get a Michelin Map of your destination, and look for the little triangle of dots that are scattered in out of the way places. We found some scenic detours that we would never have known of, except for this.
And when the GPS went completely daft, a paper map is not a bad idea!
Lodgings
Recently converted pubs with rooms can be a WONDERFUL place to stay. We had brilliant luck with these:
The Angel Hotel in Abergavenny, Wales (more of a traditional hotel)
The Grazing Goat, New Quebec Street, London
The Crown, Woodbridge, Suffolk
Food
We ate a couple of amazing meals in Wales – one, at a Michelin starred restaurant that was located in the middle of a rural area, with no other buildings in site! If a restaurant comes highly recommended, don't discount an out-of-the-way location…
Ask the recommendations of your server. One night, in a pub, Belovedest asked our server what her favorite dish on the menu was, and she recommended a vegetarian beet and cheese and whatnot tart. It was a dish we would never have ordered, and it was the high spot of our dinner!
High tea!!! The only meal that we ate to real excess was tea at The Angel Hotel. Beautiful quality, meticulously presented, with warm but very correct service, and a memorable meal.
Yes, I paid close attention to how people were dressed, too! In the countryside, everyone wore perfectly lovely classic attire – lots of corduroy, waxed cotton, heavy sweaters, plaid scarves and Barbour boots.
London was a study in black. More about that – a LOT more – tomorrow.
If I get my sleep schedule back on track…
love,
Janice
p.s. Isn't this a gorgeous scarf?