January 2, 2014
I had a few more variations of this floating around my computer, so for those of us who continue to party through the 12 days of Christmas, here are a few more suggestions!
This first look is low-key dressy, with a hint of sparkly cardigan, some serious silver earrings, a wee silver bag and a hint of silver trimming the shoes. All the accessories come from the same general family without being too matchy matchy.
The 2nd ensemble features a wonderful ornamented cardigan, so I kept the earrings small, the cross-body bag a bit lacy, and the slingbacks (low-heeled, thank you!) have that touch of white that echoes the pearls.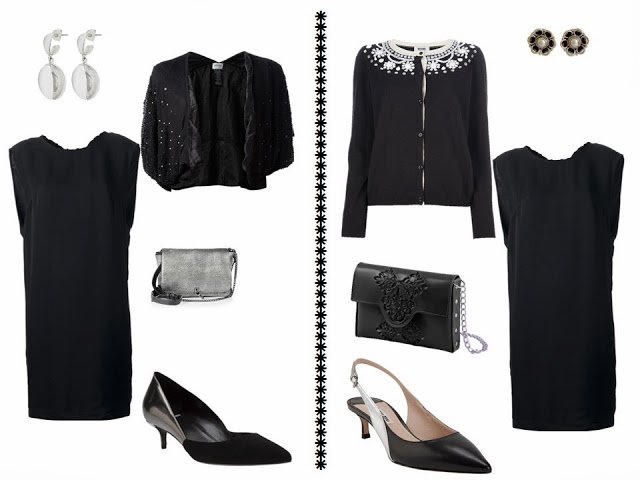 Silver earrings – Oscar Figueroa, dress – Acne, sequined cardigan – Armani Collezioni, silver cross-body bag – Elizabeth and James,
suede and leather pumps – Pierre Hardy, white beaded cardigan – Moschino Cheap and Chic, pearl flower earrings – Bhavesh, embossed clutch bag – MeDusa, slingbacks – Miu Miu
Sequins always make a major statement, so I didn't incorporate any more sparkle. The earrings move and dance, the bag has hints of silver hidden behind the weave, and the woven shoes (low-heeled again) echo the weave idea.
The last ensemble is a DEFINITE statement of evening! Feathers make anything black-tie worthy. The earrings sway and sparkle, the wee clutch bag is affordably gorgeous, and silver cap toes on your sensible pumps elevate the usual classic.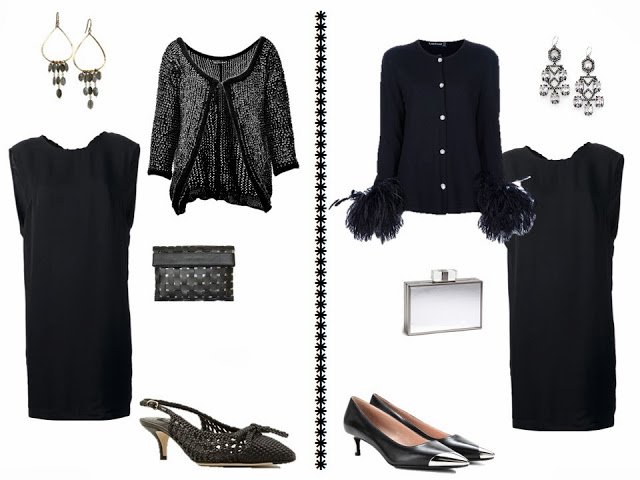 Labradorite earrings – Julie Tuton Jewelry, silver beaded cardigan –
Religion, woven clutch – Poupee Couture, woven sling-backs – Dolce and Gabbana, feather cuffed cardigan – Louis Feraud, chandelier earrings – Alexis Bittar, silver minaudier – Glint, silver trimmed
pumps – Miu Miu
love,
Janice