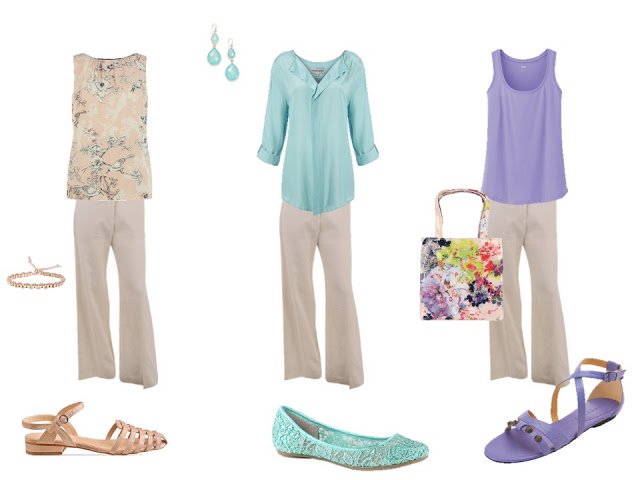 Pants – Brunello Cuccinelli, sleeveless top – Dorothy Perkins, cord bracelet – Dorothy Perkins, blush sandals – Marais USA, chalcedony earrings –NuNu, tunic – Mary Portas, lace ballet flats – J.C. Penney, tank top – Uniqlo, tote bag – Ted Baker, sandals – Balenciag
When you read those "10 wardrobe classics every woman MUST have", you'll often see a pair of khaki pants included as one of the ABSOLUTELY REQUIRED pieces of clothing…What utter tripe – there is NO REQUIRED GARMENT for any woman's wardrobe. (Yes, I firmly believe some women can live without a bra, and if you wear tights every day, then other undergarments might be optional too…)
That said, there is some logic to the idea of a pair of khakis are a core garment…
First, the specific definition of "khakis" is pretty loose to start with, and could include any of these sort of things: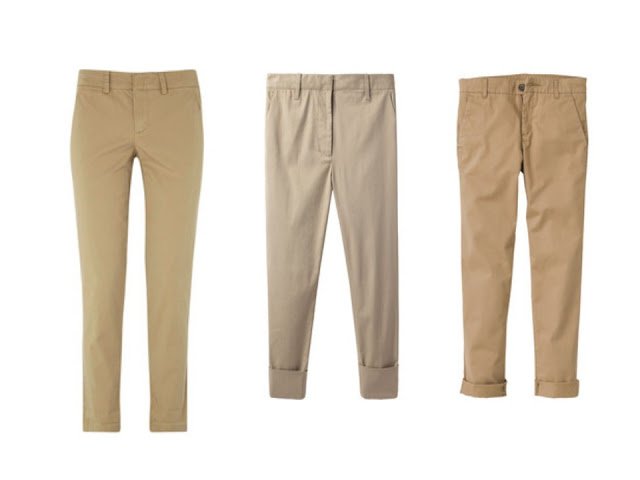 Khakis – Vince, 3.1 Phillip Lim, Uniqlo
But the general goal, in saying that you must own khakis, is really to make sure that you have a pair of washable, "dressier than jeans", pair of pants that can be worn to events where jeans would be just too casual, but which aren't so over the top that you can't sit on the ground, or lift a box, if the occasion demands.
Knowing that, we have choices. Most obvious – khakis can just be cotton twill pants in any neutral color you prefer:
For some women, a cotton twill skirt will be a preferred alternative:
In the winter, many of us choose a pair of corduroy pants in place of twill. The feel warmer, and they just seem "wintery-er".
And in the scorching hot summer, linen pants can be a great alternative. Yes, many linen pants are washable; always check before purchasing. Nothing gets softer and cooler than linen after a couple of years…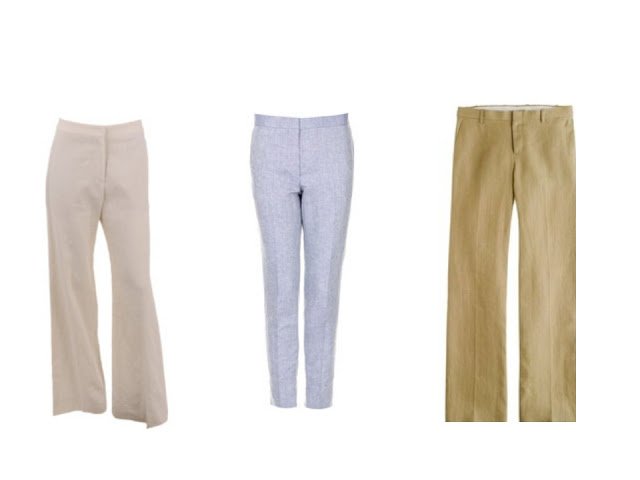 Linen palazzo pants – Brunello Cucinelli, chambray trousers – Topshop, tan linen trousers – J. Crew
Remember, behind many of these wardrobe "essentials", there might be a grain of truth, and good advice. Always dissect the intent of what you're being told, and then apply your intelligence and your own, very personal, good taste, and choose your OWN essentials. There are no rules; don't let anybody tell you otherwise.