I was not able to finish navy/grey last night, so I'm doing another step-by-step, this time using my own personal 333. This is a thought process that I can describe in great detail!
Regarding the final number of tops, jackets, cardigans etc.: start with a general target number for your final wardrobe. I personally like to have 10 "bottoms" (i.e. skirts or pants), and I want 6 or 8 cardigans or blazers, because I wear them frequently. And I know going in that I want to include both a very basic black knit dress, and my road-warrior black velvet Eileen Fisher dress.
First, I of course will start with black. I wear a lot of black, and I never get bored or tired of it. (lots of scarves make a difference!) So I want a couple of tops that I can either layer or wear on their own, a simple skirt, and very basic pants.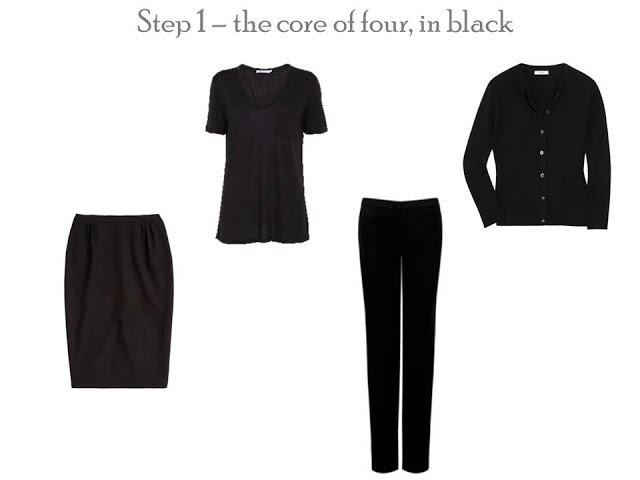 I love my black cashmere turtleneck – I live in it in the winter. And my black cabled cashmere sweater is just plain so beautiful that I won't give it up. Two more pair of black pants – one jeans, one velvet – I now have, at least in theory at least 16 outfits…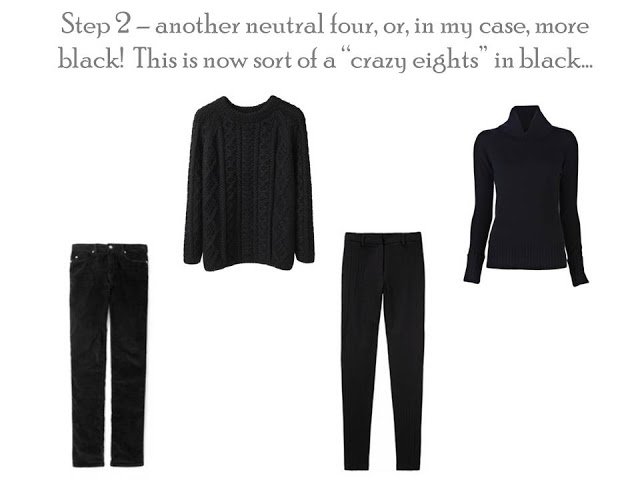 My new red jeans were always intended to be here! A couple of red tops, which again can either be worn together or alone, and then I grabbed a token purple cardigan just to brighten up the whole scene, and because all of my favorites are going to be here somewhere.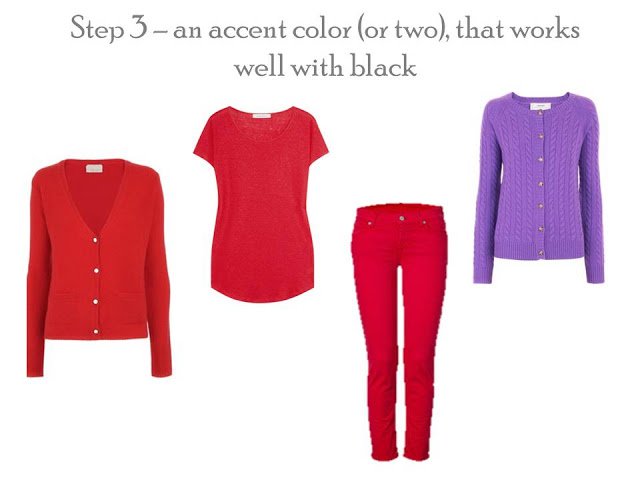 Woman does not live in black alone! I have some lovely grey clothes, so this is the time that I pick the "cardigan, top, skirt, pants" formula in grey. Two neutrals that work together effortlessly are a key to having a 333 that is versatile without being too repetitious.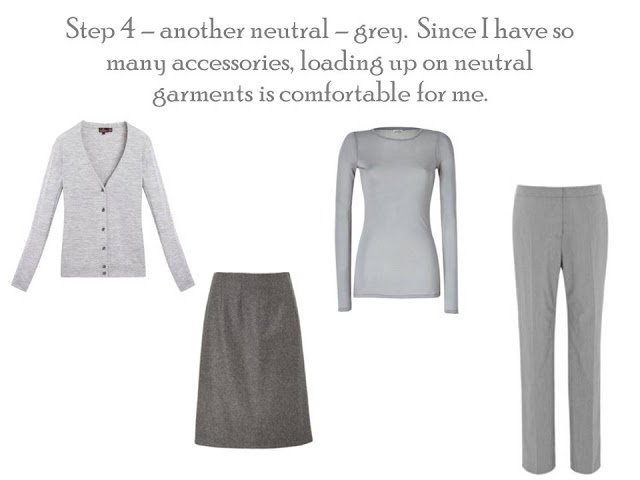 Knowing that the final target ratio of tops to bottoms means that I need to add tops, this is the step in which I toss in more favorites.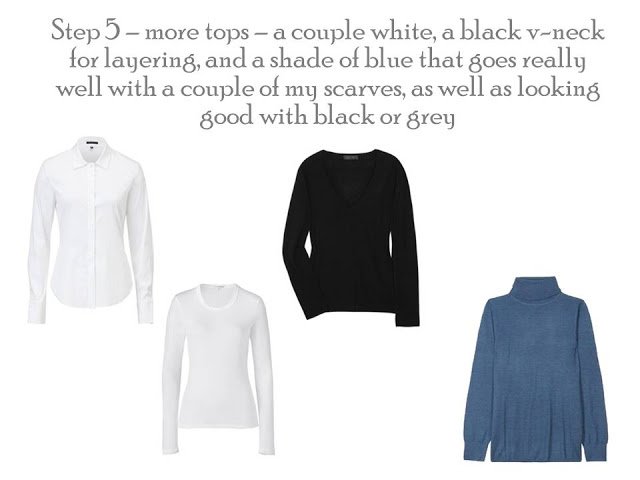 Now that I have a really solid core of solid clothes, some texture is in order. I wear skirts a LOT in the winter, so I add two more. Having a hem that's up away from the pavement means that slush isn't a problem, and opaque tights are SO easy…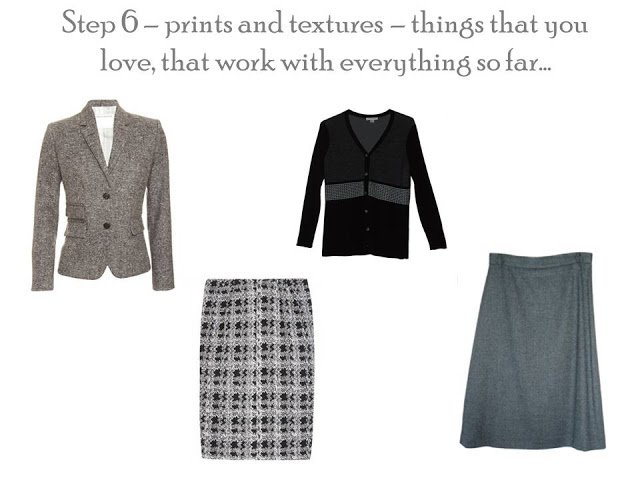 I count everything I've chosen so far, and realize that it's time to pick more tops. It is ESSENTIAL that I have my favorite stripes and argyles…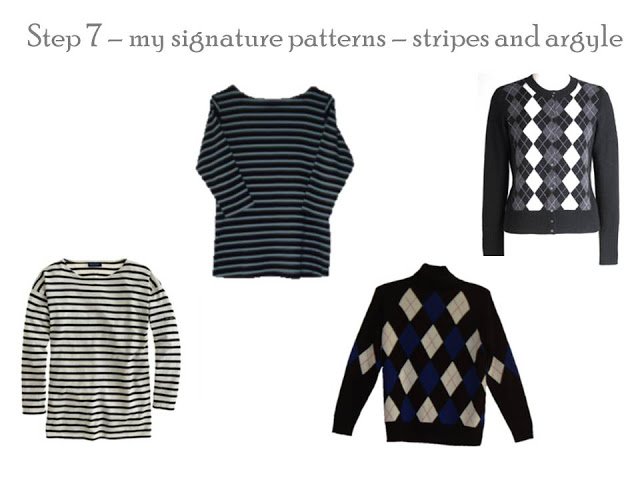 Five garments to go! My 2 dresses, and a pair of jeans! And the last two? Hmm… I toss in a favorite easy outfit – my grey striped top and warm grey wool pants. I think this is going to work just fine…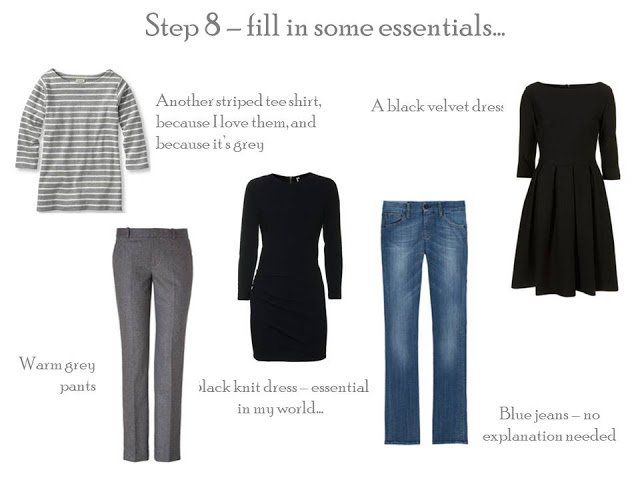 Reviewing my choices: I have dressy, casual, cold weather, moderate weather, seven cardigans/blazers, 13 tops, 2 dresses, and 11 bottoms. What's most important, I have all of my favorites, I have lots of options, and I feel really happy with what I see.
Please note – all of these clothes do NOT go together – it would be possible to put together some excruciatingly unattractive combinations from this wardrobe.
BUT, they do look like they all belong to the same person – they share a common root in black and grey, they demonstrate my fondness for cardigans and sweaters, and my affection for stripes and argyles is much in evidence. So this is my personal 333 for now. I know I'm going to "tweak" it in the next 2 weeks, to incorporate my Paris purchases and move out a few garments that are too lightweight for winter. But the core is here…