So I've not done the best of jobs in cleaning out my wardrobe, and I think I finally understand what's holding me back. Somewhere in my heart I hold onto the hope (delusion?) that I'm going to get an office job again some day, and that I therefore won't be wearing an apron non-stop. Therefore, I think I have to hold onto ALL of my office-worthy business clothes…In order to get past this, I've tried to approach the problem the way Vivienne would. Basically, what are the available options I have RIGHT NOW, just with the clothes that I've decided to keep in my wardrobe up to this point?
If you remember, I'm at the 32 garment point in my plan: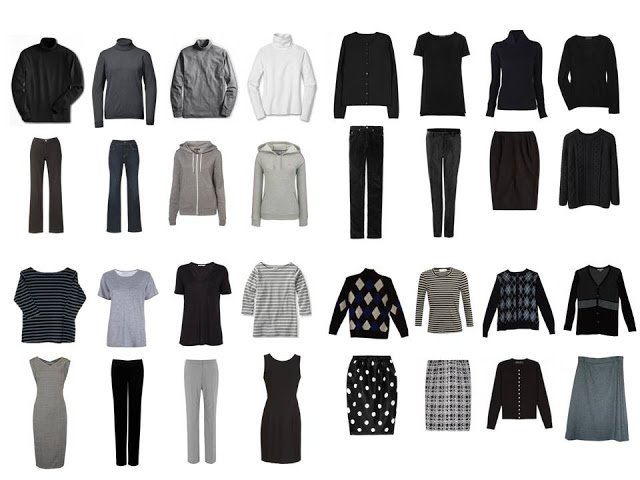 And from these garments I've decided that the following, at least, are appropriate for an office or business environment. I might be able to wear more – even the jeans – depending on what my next job is like.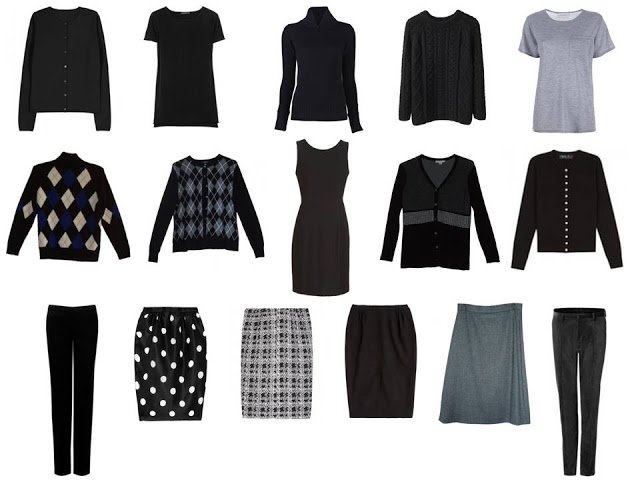 Okay, this looks pretty meager, and dreadfully monochromatic. But I have the following combinations available from just these 16 garments…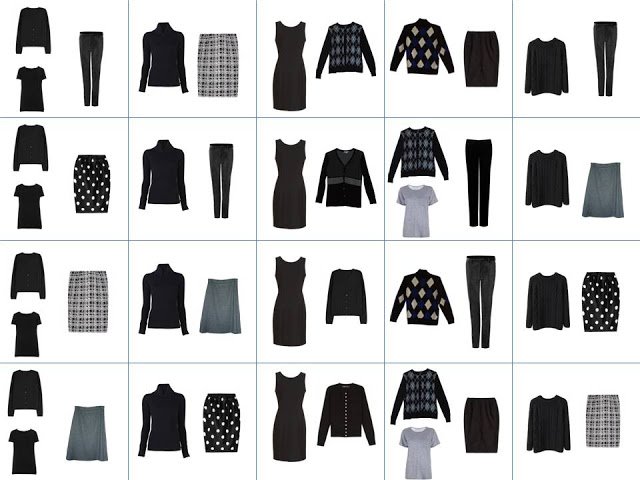 and if I include a white blouse (of which I currently own FIVE for the work in the bakery), and a white tee shirt, I have 20 more outfits…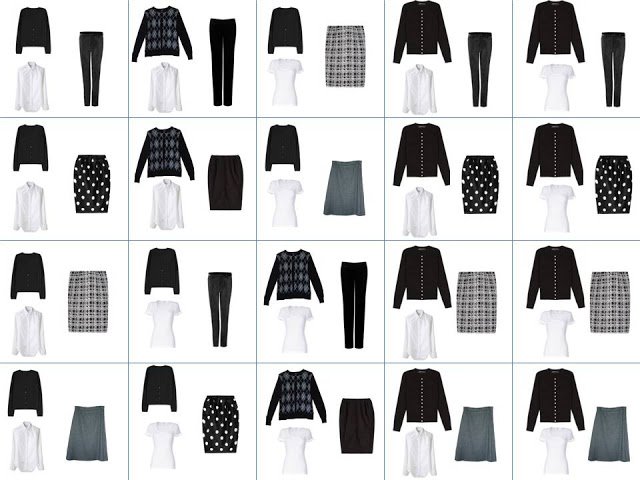 I am the first person to admit that this isn't the most fascinating, varied and dramatic wardrobe any woman ever owned. But (a) people don't really remember what you wore last week – if they do, they've got a problem, (b) my accessories are such that these very basic ensembles will look quite a bit more varied when I add shoes, scarves and jewelry to them, AND (c) these are not, in fact, the only clothes that I will have available to wear to a potential new job.
So I think I've convinced myself that I can indeed continue to minimize my wardrobe, without leaving myself naked in the face of a new, improved, position.
Minimizing isn't easy. Having some real numbers in front of me (40 combinations from 18 garments) makes it somewhat less stressful. I think.
love,
Janice