One of the most irksome aspects of this time of year, fashion-wise, is being inundated with glitter, beads, sequins and other shiny baubles that we are supposed to desperately need for our fabulously busy holiday party season. I'm always either intimidated, or feel inferior, because (a) I don't get invited to that many parties, and (b) the ones I go to aren't all that splashy!
But it's easy to get sucked into the idea that one should invest in a half-dozen party outfits…
My antidote: I bought a (used) beaded cardigan. These are readily available, at all price points, and are quite versatile. See some ideas below.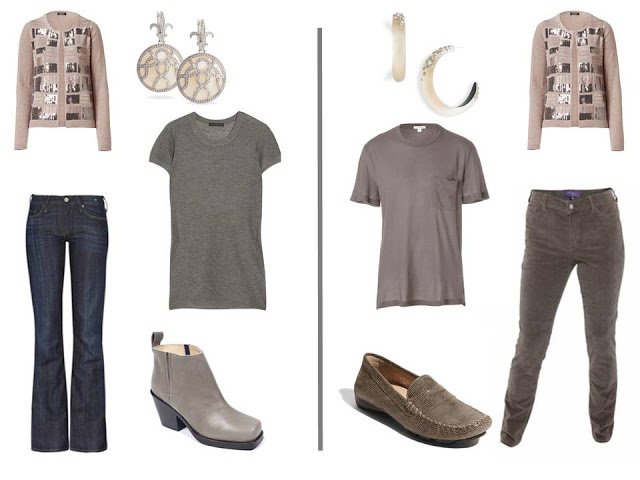 Cardigan – Steffen Schraut, earrings – Miriam Salat, tee shirt – Donna Karan, jeans – Levi's, gray short
boots – Acne, earrings – Alexis Bittar, tee shirt – James Perse, loafers – Vaneli, cords – NYDJ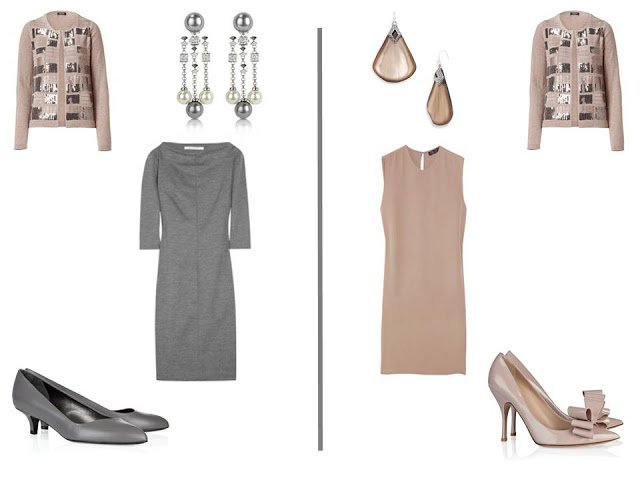 Cardigan – Steffen Schraut, earrings – Forzieri, gray dress – Diane von Furstenberg, gray pumps – Calvin Klein, earrings – Alexis Bittar, taupe dress – Calvin Klein, bow
pumps – Valentino
Some thoughts on buying vintage cardigans:
Check every seam, especially around the arms, and down the sides, to ensure that there are no irreparable holes.
Check the elbows for signs of wear.
Make sure that you can easily and comfortably fasten the sweater – this is NOT the garment to wear in the currently fashionable shrunken look – it puts too much strain on the fabric.
Is the thread holding the beads still in good shape, or is it beginning to rot? When it goes to pieces, it goes ALL AT ONCE…
Are the beads intact, or are they starting to flake and tarnish? A little bit of patina can make a formerly too-garish sweater much more subdued and attractive, but you don't want to get one that's positively green and shedding little bits of bead everywhere.