I've been asked how I managed for almost 6 weeks with the very limited amount of clothing that I took with me on that trip that will live in infamy. I had a plan, believe me!
Just for reference, remember that these are the clothes that I had with me.
For flying, I pretty much always wore jeans, with the black v-neck sweater. Usually I would put either the white tee shirt or the striped tee shirt under the sweater, depending on how warm it was where I was leaving, what the weather would be where I was arriving, and what was clean!
First thing I did in the door of every new hotel in every new city/country was to give some clothing to the in-house laundry. This is always risky, because you never know when someone's going to throw your skirt in the dryer and return a very lovely potholder to you. Nothing like trying to buy a black skirt on a Monday night in Prague to put things in perspective. I happily had brilliant good luck with laundry everyplace I stayed.
But I only ever gave the hotel 4 pieces of clothing maximum. That was the most I could comfortably risk. And I did all of my own hosiery and lingerie; at least I knew where that stuff would be at all times.
I always had at least Sunday (and often Saturday) free in each city. Sunday is a great day for sightseeing, because you can get into a lot of churches that are closed during the rest of the week. This requires great respect for the true function of the church, including being able to be dead silent, and being dressed appropriately. After wandering all day, I usually treated myself to a nice dinner, to get ready for the stressful work week ahead.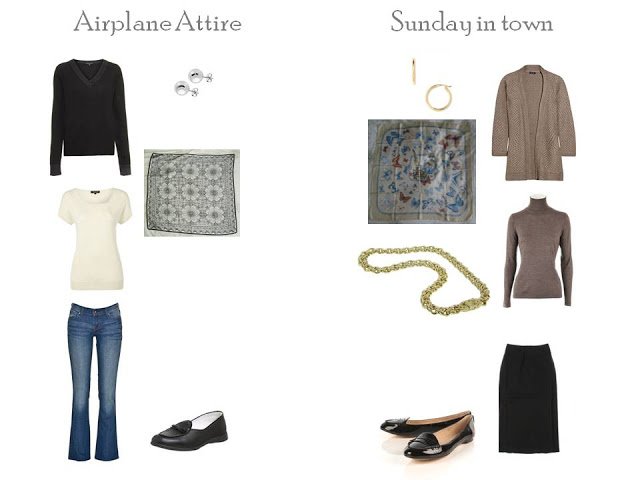 Monday in the office was always pretty dressy, even if I had every reason to believe that the office was a casual environment. I was coming in as an unknown quantity, to teach them things they'd never worked on before, and I had to project a combination of respect and authority. I would always wear something colorful, to try to keep their attention and inject a bit of life into the whole process. Second day, when we were working together in a computer lab, I got more casual and understated, so that they would feel more comfortable asking questions and putting their stamp on the proceedings.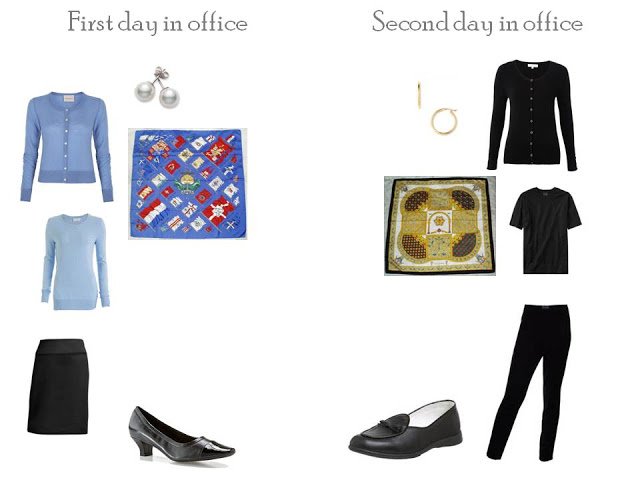 I generally got to spend most of a day with the office management, giving them the overview of the material that I was covering. And my last day with the staff was generally quite casual, and ended with some sort of party, or dinner out at a pub. Young advertising staff are very highly-qualified party people, and I was ill-equipped to keep up with them!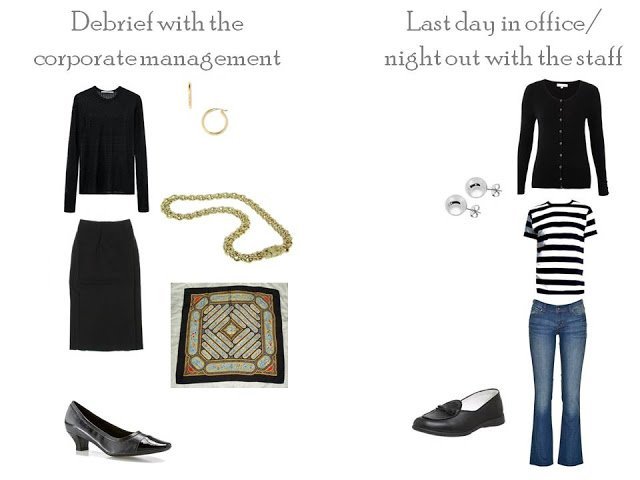 So this generally was my scheme. In Athens I wore sandals on my leisure days. In Prague, I needed both gloves and the big alpaca wrap. If the longer skirt was in the laundry, I wore the shorter one. I NEVER sent all of my black sweaters to laundry at the same time, and I always made sure that I had either a full black or black/brown outfit at the ready in case I was called into a client meeting.
Boy did I hate these clothes by the time I got home!