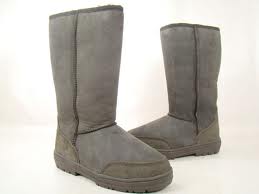 Last time I checked, Paris was in the Northern Hemisphere of our planet, which means that June is the beginning of summer, and therefore the weather will usually be reasonably warm. (or miserably hot, or possibly cool and rainy, but I digress)
The French are BIG fans of warm weather; the minute it becomes even vaguely sunny, Parisians flock to the cafes on the sunny side of the street and sit outdoors for as long as they can evade work and other responsibilities. Therefore, the idea that someone would choose to wear what looks VERY MUCH like a winter garment in the month of June is inconceivable to your average French person.
Vivienne is no exception. She's seeing lots of young girls with cut-off denim shorts and Ugg boots checking into her hotel. I tried to point out to her that Uggs are advertised as being "warm in the winter, cool in the summer", but she's not buying it. Even if they were comfortable, they just plain don't look SUMMERY. And that, in Paris, in June, is the desired effect.