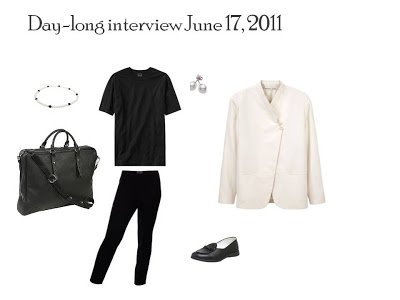 I'm the LAST person who can complain about job hunting. I'm getting quite a few expressions of interest, and I've already been on 3 interviews. But it's still a gut-wrenching fight with rejection every day, and having to get up every morning and steel yourself for another day of hearing nothing back from your many e-mails takes it out of you.
The hardest thing for me seems to be figuring out what to wear. Back in the day when we all wore our skirted suits with white shirts and little floppy silk bow ties, nude hosiery and sensible pumps, we didn't have to put any more thought into our clothing choices than a man did. But now, with the range of what'd considered appropriate in the wide range of work environments that exist, it's a constant question.
Friday, I spent SIX hours at a company – taking tests, meeting people, going to lunch. I wore what was illustrated above. I was both the most "dressed-up" person in the place, and the oldest. I wear pearls almost every day, so those really aren't negotiable. Beyond that, I just can't see going into an interview wearing jeans, or sandals. I have to be true to my own sense of my image; if it isn't compatible with a company, I guess I conclude that it's the wrong job for me.
Still and all, I felt good about how I looked. I guess that's what's most important, eh?