May 31, 2011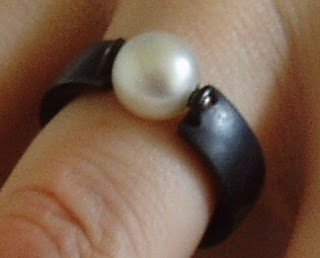 If you've got a yen to purchase a unique piece of jewelry, it could be worth your while to go to Santa Fe. I've never been to any city except Paris where there were more one of a kind items available.  And Santa Fe is not limited to just sterling and turquoise – crafts-persons there work with all metals and stones.
My personal coup de coeur was the above – a heat-treated stainless steel band (pitch black with an indescribable luster), and a pearl.  The most interesting thing about this jewelry is that it's interchangeable; the pin that holds the pearl in place is spring-loaded (think toilet paper holder) and can be removed and a different stone put in place of the pearl.  I also have a mother of pearl and onyx yin and yang, and a hematite cylinder.  Frankly, I wear the pearl about 99% of the time.
Visit the Charlotte website at http://charlottesantafe.com/ to admire all of the options the have available.  The manufacturer is German, and this jewelry is widely available in Europe, but I think the only distribution in the US is through the store in Santa Fe.