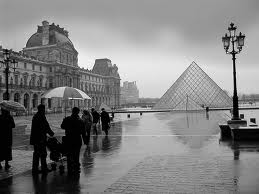 I think this will be the regular Wednesday post until I run out of the original content! As I noted last Wednesday, this information remains timeless, which is as good as reason as any to seriously consider incorporating these insights into my life.
"She buys a new outfit every 3 or 4 months, and thus gets rid of an outfit about that same time. This is her work wardrobe only, remember (although that is the lion's share of her clothes) so out of the 15 outfits she has, they last 3 or 4 years each. Bear in mind, she buys REALLY REALLY good things – Sonia Rykiel is one of her favorites. She made a strong point of reminding me that she does NOT dry clean everything each time she wears it. She rinses out sweaters and blouses every time they are worn, but jackets, cardigans, skirts and pants get a good brushing and hang overnight in her bathroom, and then she steams them if they're still a bit flattened.
Wonder of wonders, she talked to me about money! Vivienne spends about as much on clothes as I do, but since she only shops every few months, she has an edge on me in doing it wisely.
She literally goes out shopping with over 1000 Euros to spend, but with absolutely no sense of urgency to spend it. If she doesn't see what she wants and has in mind, she goes home.
She goes shopping with a fairly clear idea of what she wants to get. Not really really specific (like a pair of Gap boot cut jeans in a bleached wash with blah blah blah) but more a general "I need a pair of pants that I can wear for 6 months out of the year, and then I want 2 really beautiful tops to go with them."
Because she focuses so carefully on the few clothes she has, she has a really good idea of what suits her, and is very limited in terms of what her "signature" look should be. As I said earlier, she only wears clothes in 4 colors, and just doesn't consider anything that doesn't fit in really tightly with her existing wardrobe.
She takes HOURS to shop – tries things on, bends, sits, stands, moves around etc. etc. She knows if something will be comfortable before she gets it home.
She alters things. All the time. Shortens the sleeves on t-shirts so they hit her arm at just the right point. "What is the good reason to have a shirt that is cheap if you don't like the way it looks on you?" She factors alterations costs into the price of the garment. Also, she will pay to re-line or re-make something that she really loves; she has a winter coat that is on its 3rd lining."
love,
Janice