It happens every year at this time – you would think that after living through 54 Aprils, I would know better. But we have a couple of warm days, and I start dragging warm-weather clothes out of storage… then the weather returns to normal (i.e. coats and gloves) and my closet looks like a I've lost all control. (because I HAVE let things get out of control…)So I spend quite a bit of time thinking about organizing my closet. You already knew that! And this is my latest thought:
Step 1
Look at everything that's visible, and that I can remember from storage, and pick the 18 garments that I know I will want to wear in the immediate (2 weeks or so?) future. This isn't designed to punish me if the weather changes radically – it's more a goal of getting the clothes with which I wrestle each morning down to a manageable number.
Right now, the forecast is for highs in the 50s and lows in the 40s, so I chose the following:
Okay, that's 18 hangers…
Step 2
Look at everything that's left. Patience, creativity, and intelligence are all important here!
Put together another 18 ensembles (as many as 54 garments) from the vast unused remainders. Consider the upcoming weather (i.e. if right now I have the choice between a linen sweater and a cashmere one, I should probably be looking at the linen; even though it's cool right now, it's going to warm up soon.)
(no, all of my ensembles aren't identical, but since I don't even know what they ARE yet, I'm just showing place-holder garments)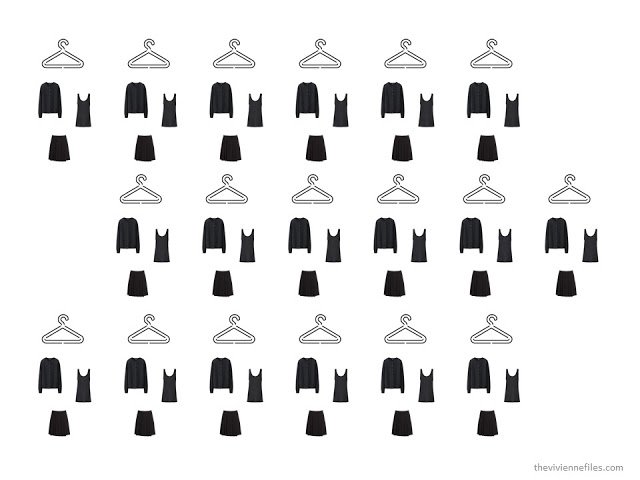 Step 3
Put these 18 hangers into a large garment bag or two, and put them in my closet also. So they're there, but they're not THERE, as in "in my face" every morning.
And oh yea, if you don't have big garment bags, neatly arranging an old sheet over your 2nd 18 hangers would accomplish the same goal of protection and "out of sight-ness" that you want… Spending money shouldn't be a big part of this, until and unless you decide that this works for you.
Step 4
As needed by demands of the weather, or maybe twice a month (the 15th and the last day, maybe?), look at the current "active" wardrobe and choose an ensemble that needs to go on vacation. It might be that I've worn it constantly, or that it's now out of season… Remove those 3 pieces from my closet.
If I'm still completely contented with what I see, change nothing!
Step 5
If I decided to remove 3 things from my "active" wardrobe in Step 4, I need to look in the garment bag(s) and choose the 3-piece ensemble that most appeals, and that is most appropriate for the upcoming fortnight or so. Transfer each of the 3 pieces onto their own hanger, and move to the "active" wardrobe.
Step 6
Make sure that the 3 pieces leaving the 18 are clean, fit well, and are ready to store. Decide if these pieces are things that will be "back in the action" in the next few months, or if they're now sufficiently out of season to be rested in a remote storage area. (in my case, that's a big translucent plastic bin on the top shelf of my closet!)
Step 7
If the newly retired ensemble is going into "out of season", then maybe choose another ensemble to take it's place in the garment bag, with the rest of the "standby" garments.
Step 8
Repeat Steps 4, 5, 6 and 7 as often as needed, if the weather dictates, or twice a month if you're getting bored with your "front of closet" 18.
Okay, that's a complicated way to explain that I'm going to have a "rolling capsule" (nod to Debbie Roes at Recovering Shopaholic for introducing me to the term) of 18 pieces that I'm going to gradually shift, 3 pieces at a time. If you don't own 54 pieces of clothing, I salute you – you are my role model.
There aren't any hard and fast rules here – I just came up with this idea, so it's not like there's a well-established tradition around how this works! But the goals are to keep a generous but still abbreviated number of pieces visible, while having the "on the bench" pieces queued up in an orderly fashion, close at hand.
THEN, you can buy 36 really gorgeous wooden hangers…
does this make sense? feasible? helpful? too few options? or too many? As always, your opinions are valued!
love,
Janice