April 18, 2022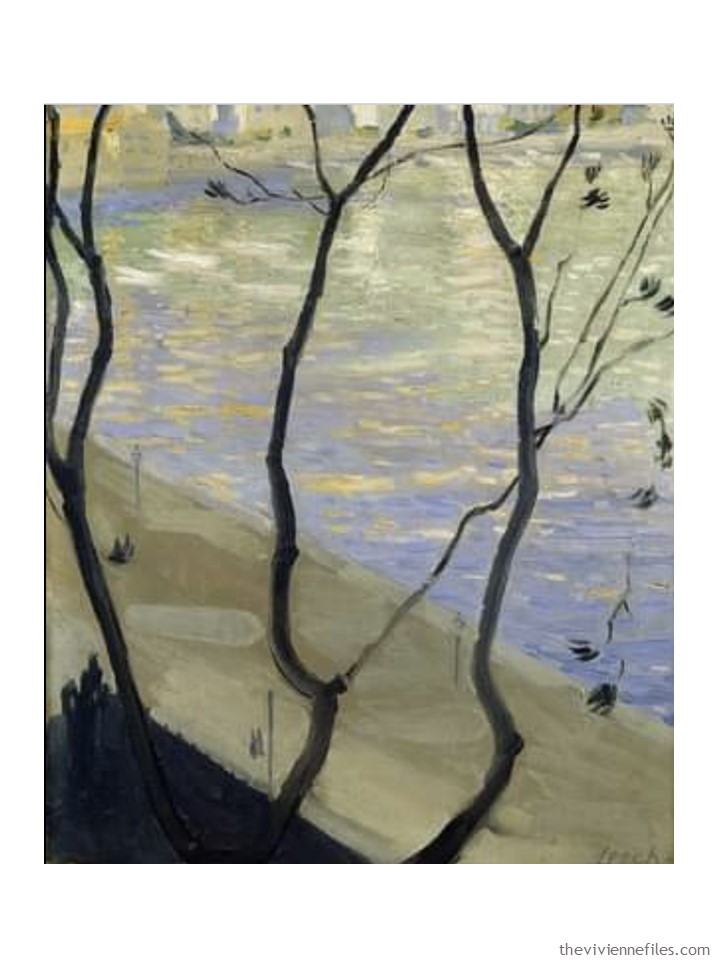 Making Compromises, When Your Palette is Difficult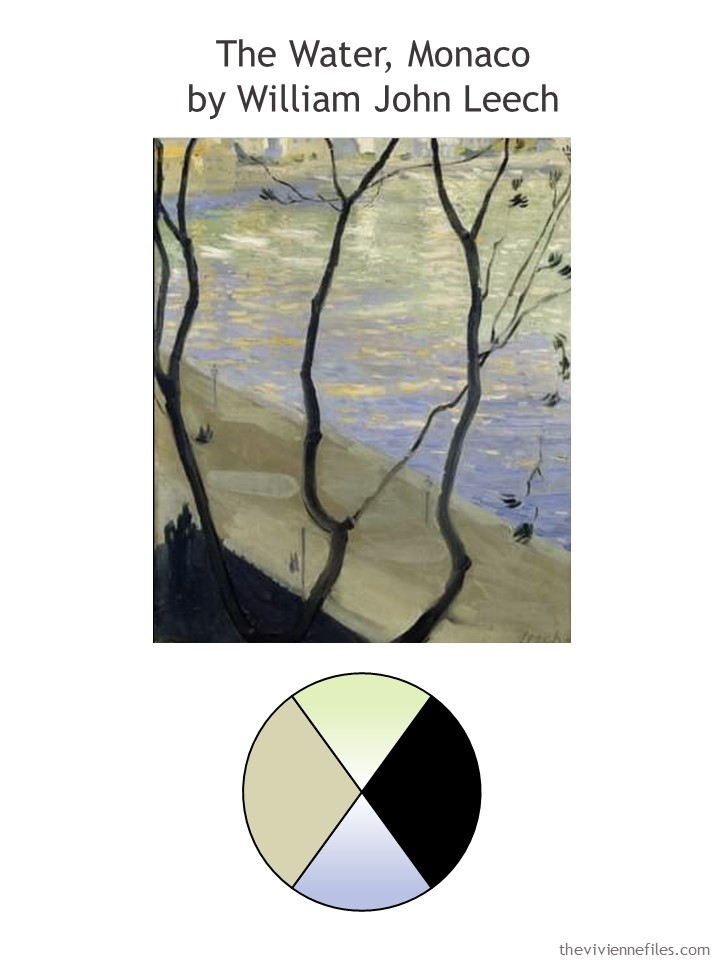 She's really committed to these colors, even though she knows that it's not going to be easy… There's no real way she can envision getting dressed for an entire season without wearing black – even if it's hot!
And the rest of the colors? She has accepted that "her" beige, that green-ish, rain-soaked and slightly lichen-colored quay, isn't going to be anywhere to be found; she's prepared to compromise with the much more common beige…
The accent colors could be tricky; she can't actually see herself wearing soft lime OR light periwinkle with black!
But she gives it all a go – it's just clothing, after all.
Starting with the simple stuff – it's never difficult to find black linen in the spring:
It's also not terribly hard to find nice ivory and beige summer garments…
It took a little while for our heroine to find summer clothes in that bright, light green that's such an important element of her favorite painting. She really would have preferred to find things that were in a print that included either beige or black, but she didn't have much luck. She realizes that this is going to limit how much she can wear her green with her beige and black, but everything doesn't HAVE to go together, right?
Here's where she really begins to get concerned. She is already aware of the limitations that her new green clothes have brought to her wardrobe – they are probably going to be fine with beige, but NOT with black.
And now, she's finding beautiful light blue linen shirts – maybe with the right scarf they can be work with black. But there are NO pants, nor shorts, nor skirts to be found in this blue…
She has options here – more styles in beige or black, or introduce another neutral that is present (if only in wee bits) in her favorite painting. Since she loves linen, and is preparing for some truly hot weather, she opts for white linen!
Here's where our wardrobe is – for someone who wears a uniform to work, a Four by Four wardrobe should be just about enough for warm weather.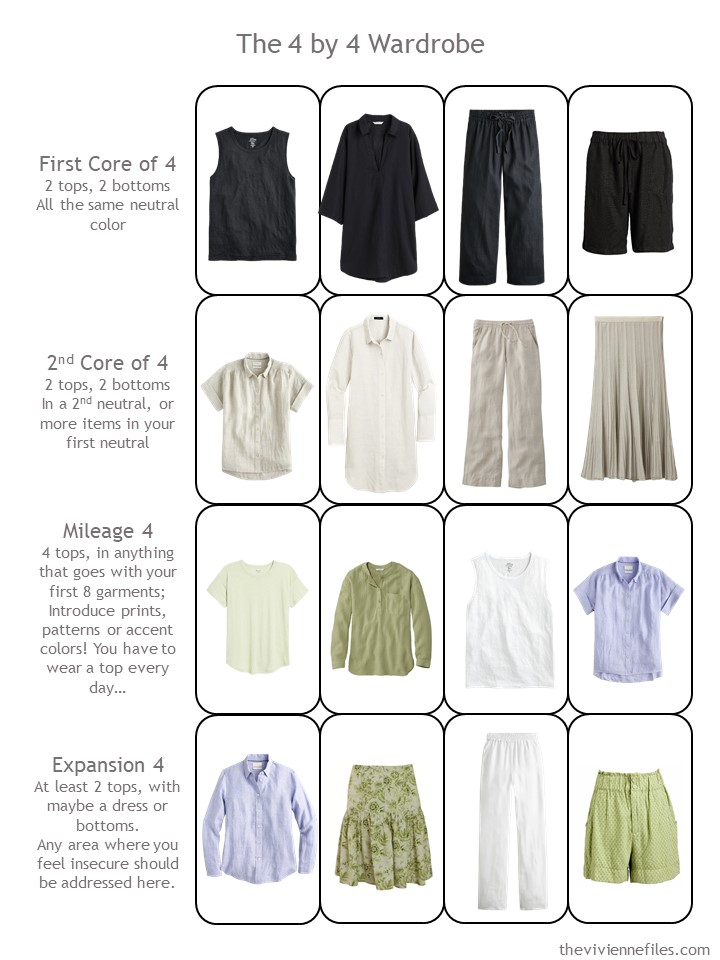 But our heroine still feels like the black looks out of place – clearly something she needs to think about, if she finds that she enjoys the softer summer colors in her wardrobe!
Just to make sure that she will be able to work with these clothes through the summer, our heroine chooses a few accessories to use to envision her various outfits:
Everything into her closet – or on top of her dresser! It doesn't look bad – but that black… sigh…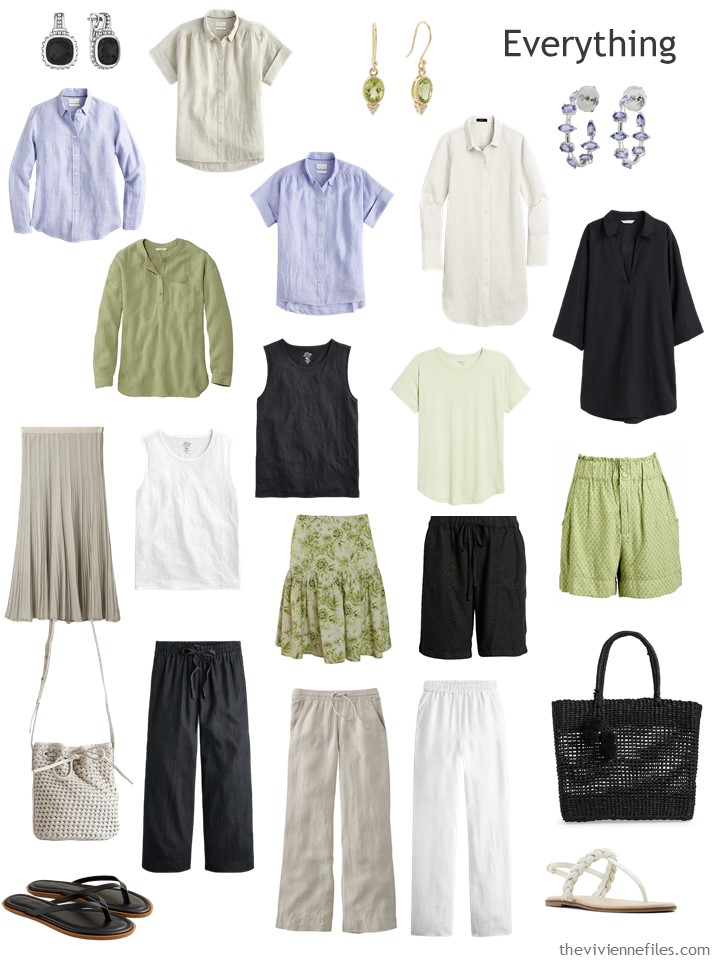 Even with her concerns about black that can't be worn with her accent colors, our heroine has plenty of outfit possibilities. She could even travel for quite a while with this wardrobe: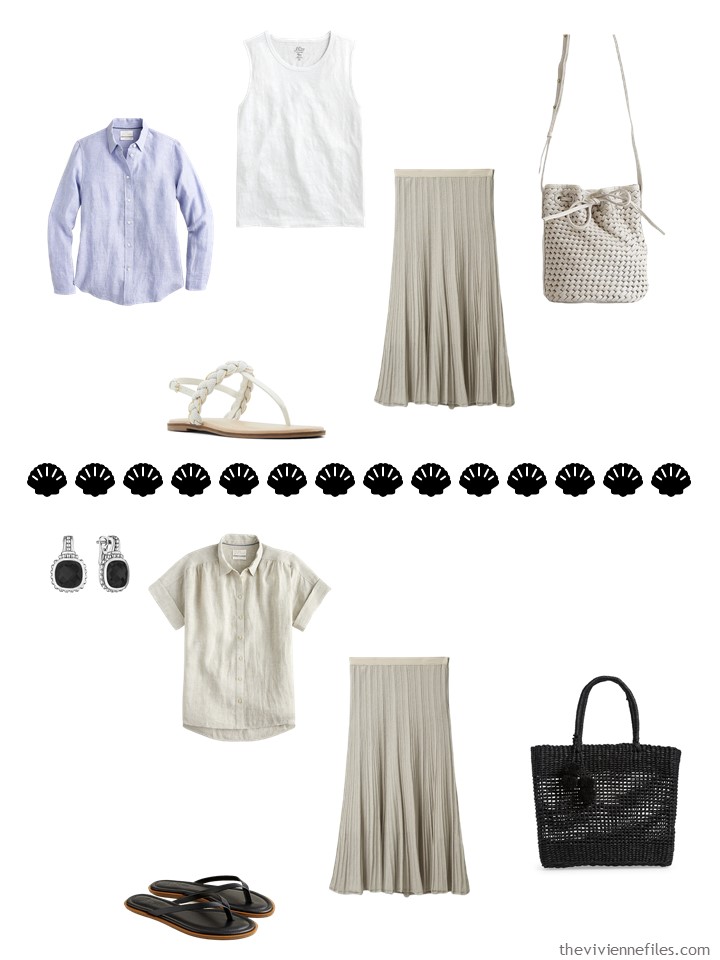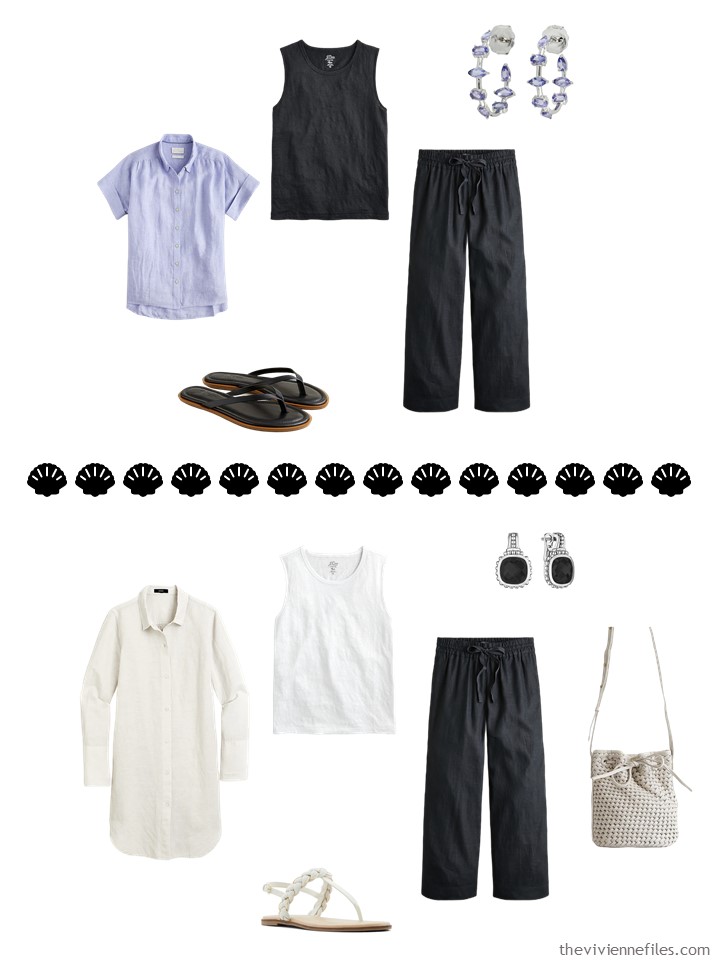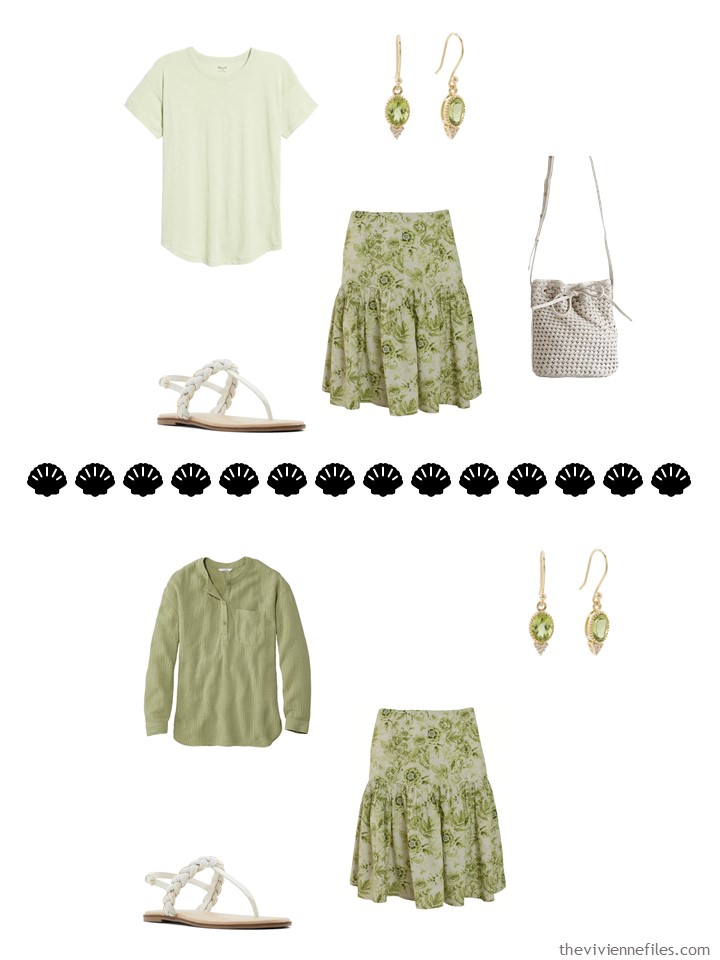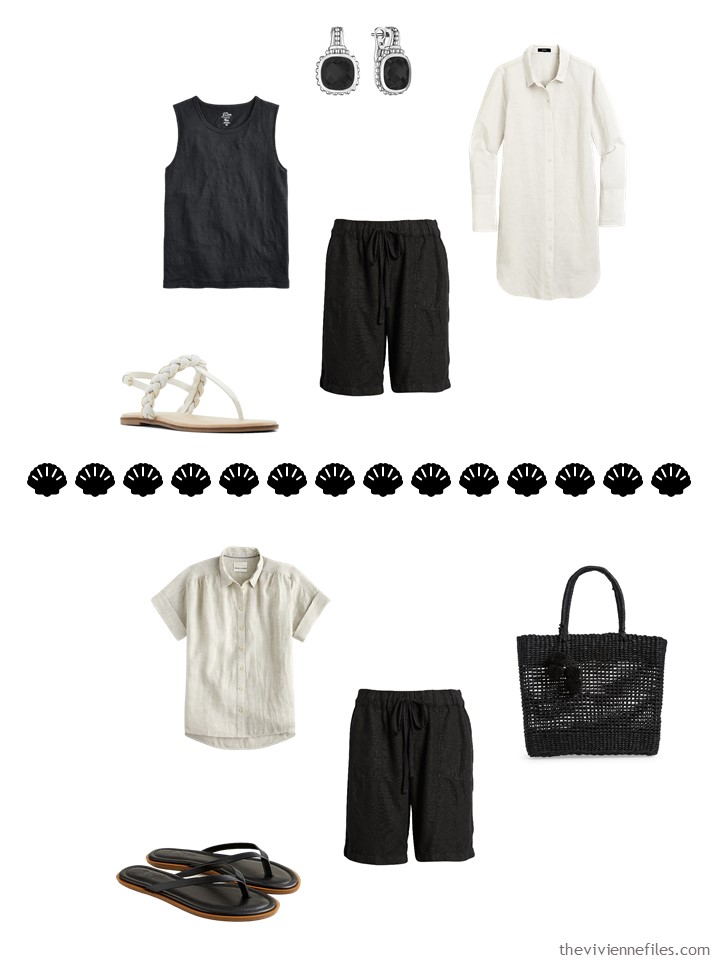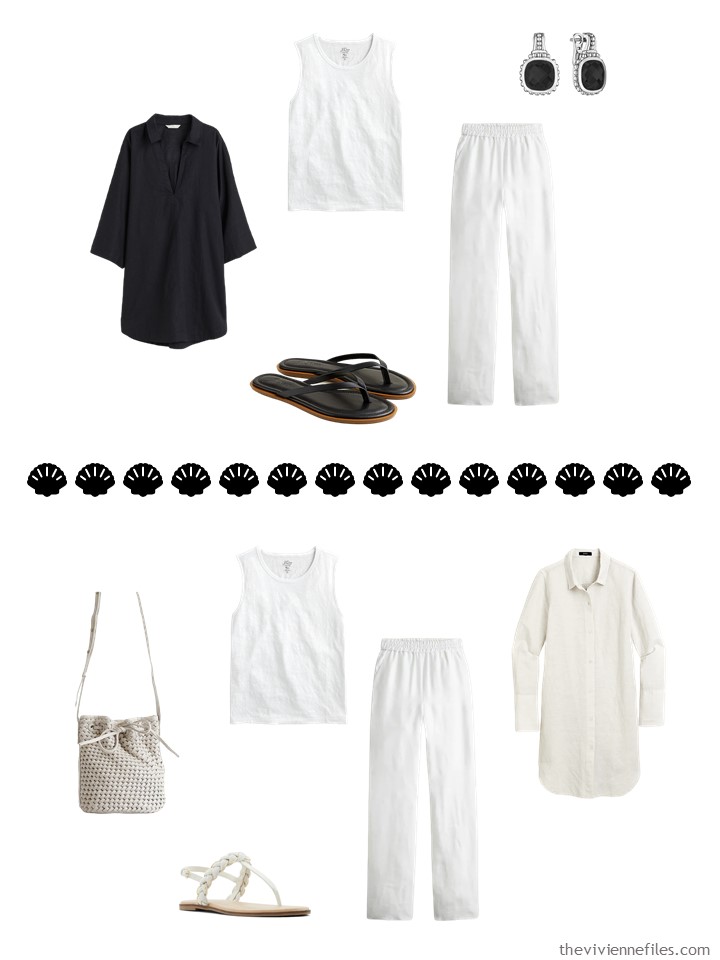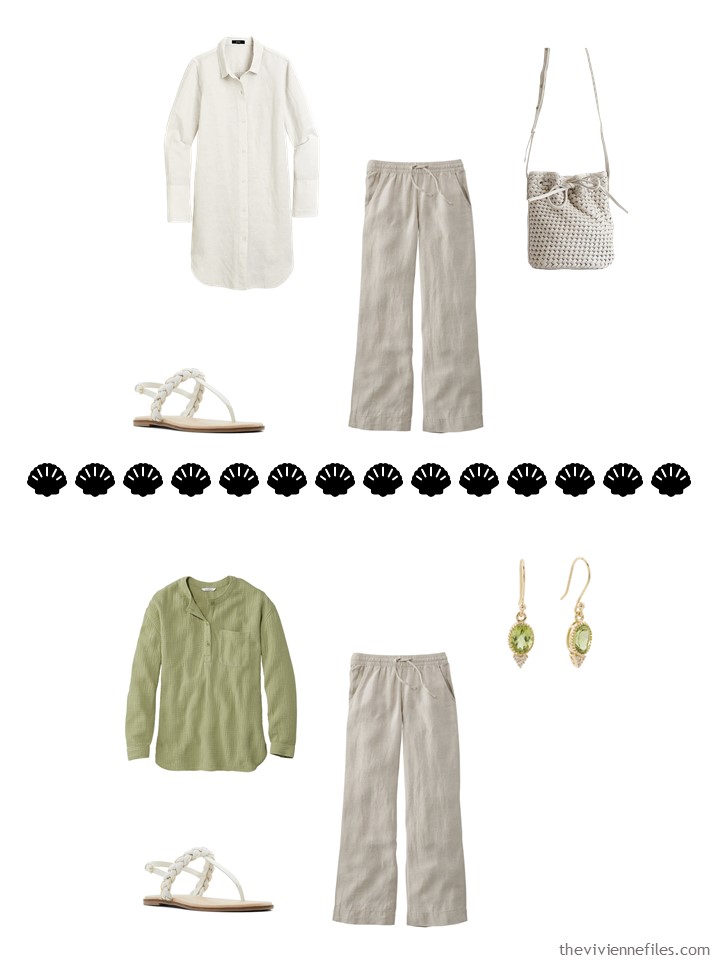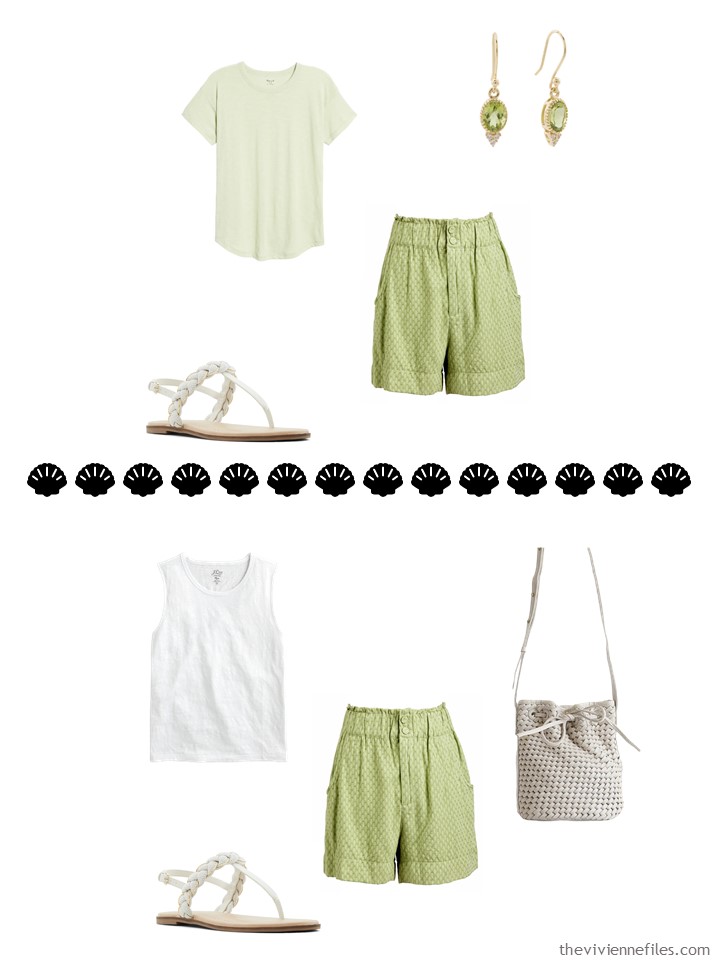 But this is a heroine who is on the verge of making a big wardrobe decision: keep black and cut back on pastels, keep lighter neutrals and pastels, and cut back on black, or keep things as they are and learn to live with less than flawless versatility!
It's just clothing, at the end of the day, right?
love,
Janice
p.s. Three years ago, our traveling heroine had a wardrobe in yellow, black and white!