December 14, 2020
My mail box often contains requests for assistance (or cries for help!), and this one seemed like a bright, cheery question to share. I personally adore Fair Isle sweaters, and this one is pretty gorgeous:
Rather than write a tale of glory about one of our heroines, I'm going to share my thought process as I try to answer our friend's question; I hope that's okay!
My first thought was that this is lovely, and a color combination that would flatter many of us, so my first inclination is to make this work!
Secondly, I looked more closely at the colors included here, and found 2 neutrals – white and navy. (okay, Diana Vreeland assures us that "pink is the navy blue of India" but I'm not in India…) And since dark-wash jeans are practically navy blue, we're in a good spot!
There's also a feeling of pale pink (if not the actual color!) in this sweater, so a very flattering pink shirt would look good under this sweater…
Therefore, my first cluster around this sweater includes the dark jeans, a white turtleneck, and a classic pale pink oxford shirt:
Frankly, I think it wouldn't be crazy to treat oneself to a sweater that has great appeal, even if you were only going to wear it with jeans and white shirts or other white tops!
My next thought is that this sweater would be a great accent to a "column of navy" ensemble. This might be as easy as adding a navy turtleneck or shirt to her wardrobe; this outfit would certainly work with her jeans in place of corduroy pants:
If our friend isn't going outdoors into the world of slush, white jeans would be lovely with this sweater!
But I thought I'd show her (and you!) something a bit more off the beaten path – bright pink pants! Not for the faint of heart certainly, but pretty fun, and one would stand out in a crowd. Anchoring this whole outfit with navy sneakers that pick up the navy in her sweater keeps this from going full-on PINK! The crisp white shirt will frame her face nicely…
And of course, I think that this sweater would be great with a classic navy skirt. Boots will keep her warm (if she gets to go outdoors) and a pink scarf is just a nice addition. A solid scarf can prove to be much more useful that you might imagine!
At this point, our friend has a capsule wardrobe based on this sweater that's pretty classic, but still has lots of different possibilities: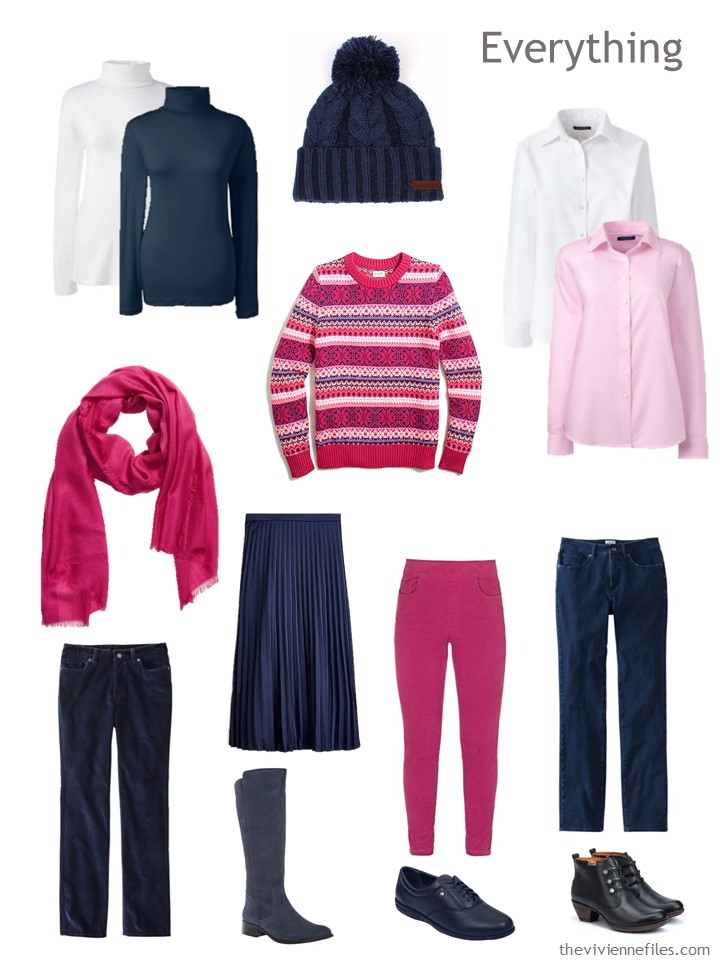 HOWEVER… She only has 1 true "2nd layer" garment here…
So I pondered for a bit about what I would want to add.
a cardigan or jacket! I find cardigans to be really essential for a versatile wardrobe, and I project that into most wardrobes;
a sweater in navy and white, that would give her outfit possibilities that don't include pink. Some days, one just needs and wants the neutrals…
a sweater or 2nd layer that included navy and pink, but with the balance of color more navy than pink, and
a scarf. Because scarves…
A cashmere cardigan is always a nice thing…
Her updated capsule wardrobe looks like this: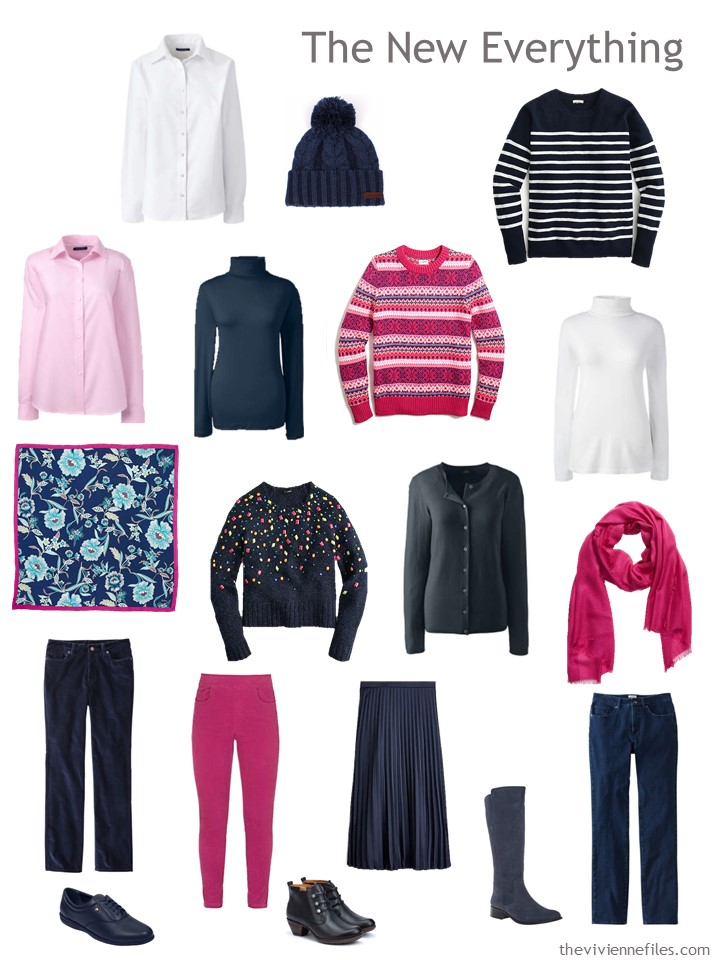 Imagine that this heroine, despite limited travel and socializing, is expecting a pretty full and active holiday season. She sets aside these 12 garments and handful of accessories in 1 section of her closet, as her "go-to" wardrobe for the next few weeks…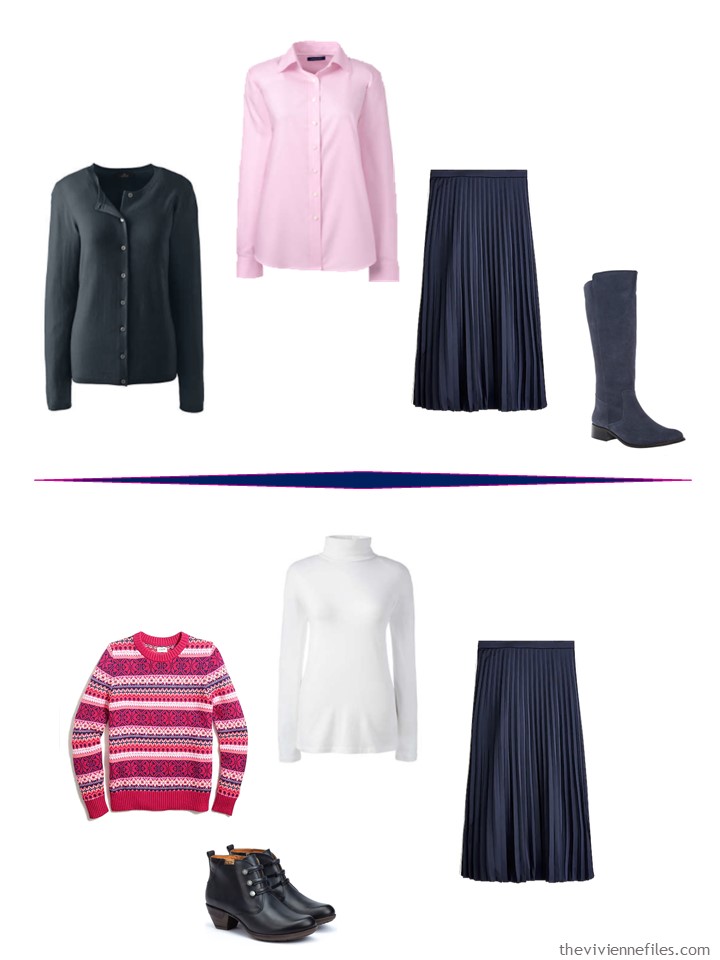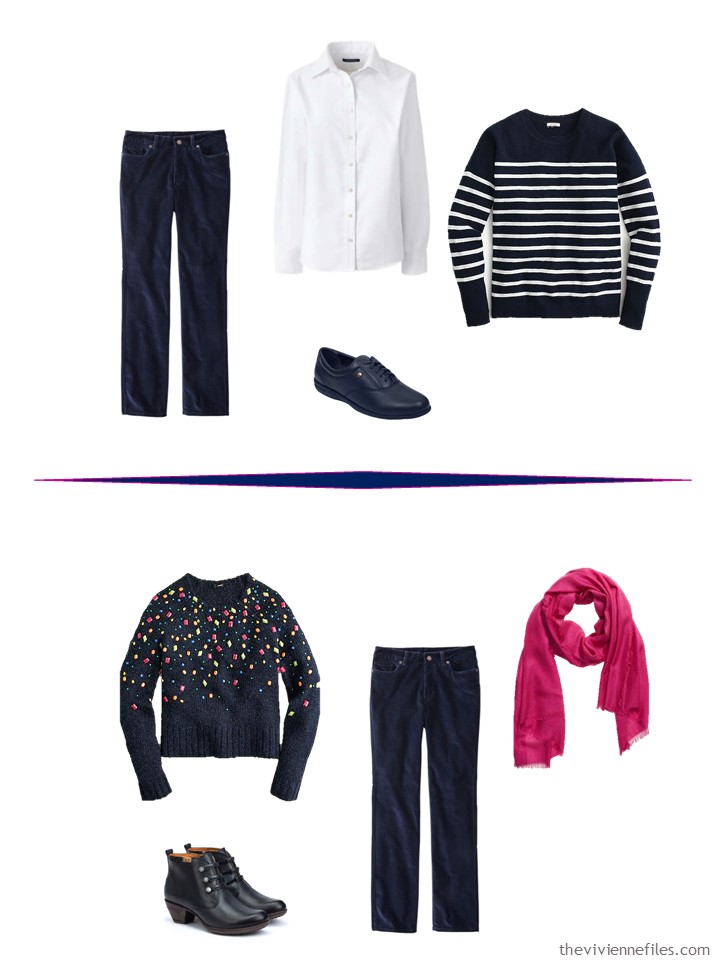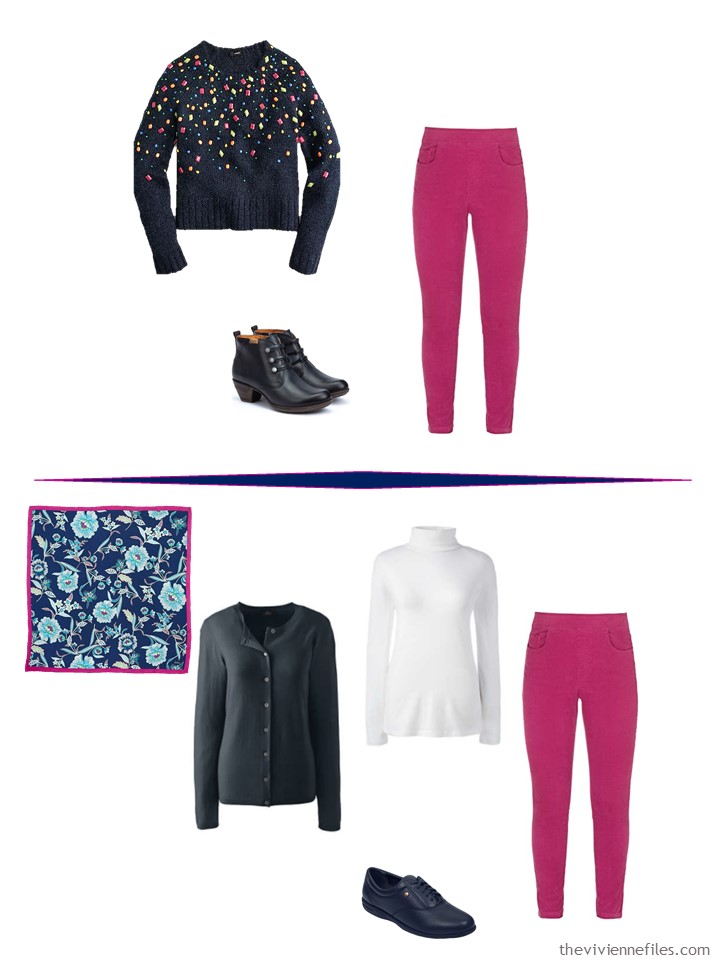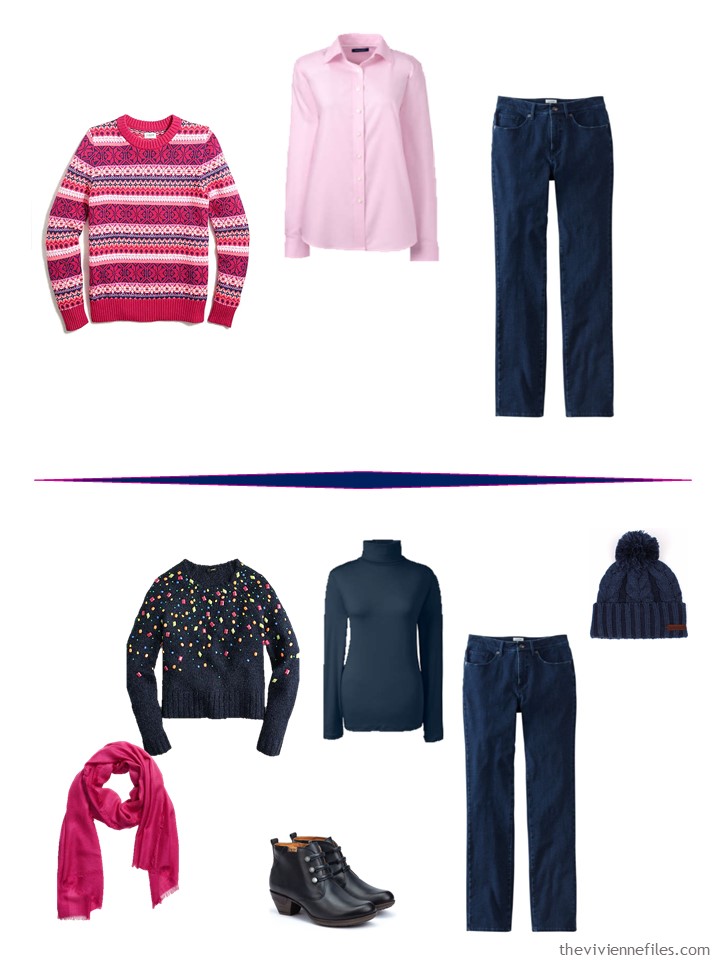 She's ready to Zoom cocktail with her co-workers, serve lovely meals to her immediate family, go for long walks to look at holiday decorations, attend a carefully socially-distanced religious service, or just hang around the house with the ones she loves…
I'm thinking of doing this for myself, frankly. Getting dressed shouldn't be stressful – it should be fun!
Are you pining for a garment that you aren't positive will work? Let me know…
love,
Janice
p.s. Six years ago, another friend asked me for some ideas about how to wear some glorious jewelry that she inherited…