December 25, 2019
Remember these 2? We first met them back in the summer of 2015, then Edith went to interview to work at the resort, and then AGAIN after she was hired…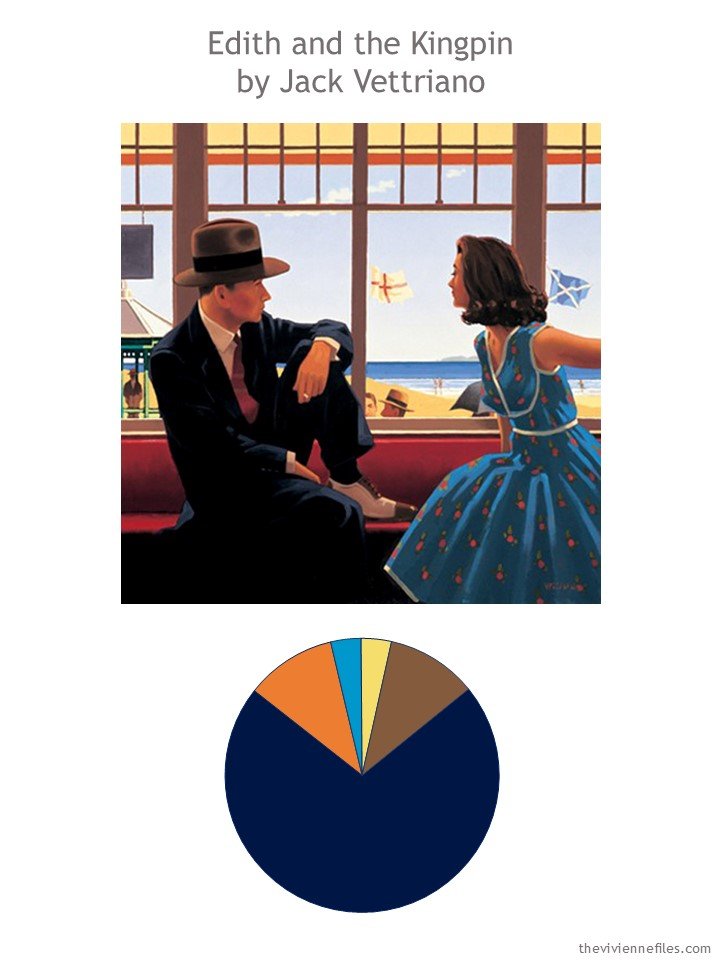 Even during the first week of December, the resort was still quite busy; Edith has not realized when she was hired that they had an extensive winter sports complex in the forested areas behind the lodgings. She was thrilled – rather than just a summer job, this had become real, full-time work!
She clocked out from her lunch hostess shift and checked her mail cubby hole for any notes. And found this very imposing envelope: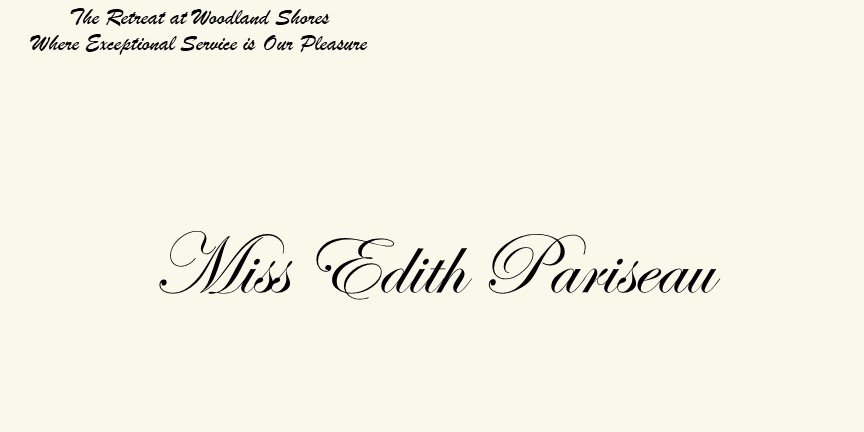 Probably just a holiday card, although it felt sort of… hefty…
She was a bit excited, but she took a deep breath, composed herself, and walked serenely down the hall and up the stairs to her room. She never knew where HE might be, and she didn't want to look like some flustered little girl…
She sat down on the edge of her bed and opened the envelope. As she unfolded the sheet of paper inside, 2 other pieces of paper fell to the floor.
They were checks. Big checks. Made out to her! She looked at them for a while, very carefully, thinking that there was some mistake in the recipient, or in the dollar amounts.
But no, they were very clearly handwritten, to Edith Pariseau. The dollar amounts were very legible, and more than a little breathtaking….
So she turned to the larger sheet of paper, assuming that an explanation for this shocking turn of events would be there: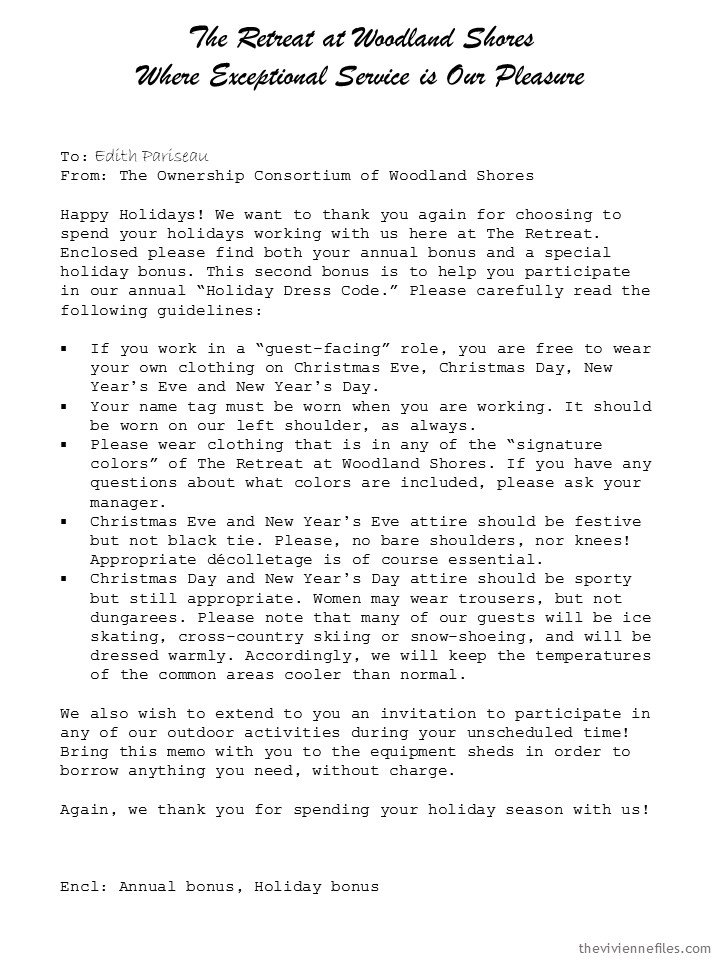 Oh my! This was going to take a minute or two to sink in!
In all fairness, she knows that she's a good hostess. And she truly enjoys what she does. Even the toughest, grumpiest guests please her – they're a challenge to her patience.
And when her parents said that they were going on a cruise for the holidays, and gave her the very clear option to NOT go, the decision to work through the end of the year was an easy choice. But a bonus! TWO bonuses….
She fell back on the bed in a happy daydream of shopping!
5 minutes later, she grabbed a pencil and paper, and started to plan in earnest.
The next day she was scheduled to hostess at dinner, so after breakfast she got her handbag and her checks, and caught the first shuttle into the city, to do some well-organized but slightly giddy shopping!
Her parents had already given her her Christmas gifts… Mostly jewelry. Wearing a somewhat heart-shaped necklace made her heart pound…
"You look lovely tonight Edith; your necklace suits you."
He smiled, and she almost sank into the floor. But she smiled back, and thanked him gracefully, and led him to his table. The rest of her shift passed in a sort of haze of excitement; everybody was in such a good mood that nobody seemed to notice her distracted air.
On Christmas Day, the entire resort was full of boisterous good cheer. The worst of the difficult guests even seemed to be in a happier frame of mind!
She was working at the Lounge Buffet, where all of the sporty types came in from the cold to grab a bite. She was so happy that she had indulged in the scarf that had caught her eye weeks ago – it was a nice bit of extra warmth.
But she still felt a little bit racy, wearing earrings that move!
The week between the holidays was full of guest comings and goings; everyone seemed to make a point of coming to see Edith before they left, to say goodbye and give her a hug. She felt like she had really made a small difference in their holidays, and it gave her great satisfaction.
New Year's Eve! She would be working only until 9, but was free to join the guests in the ballroom to see in the New Year. She thought that as long as she wasn't tired, she would do just that! Her dress was made for dancing, although she wasn't quite sure with whom she would dance… But she would be quite happy watching the guests, and taking it all in!
The next morning brunch service didn't start until 10:00. Edith was amazed to see people who were really quite buzzy last night turn up bright and early for plates and plates and PLATES of food!
HE came rushing up to her and grabbed her hand!
"Edith!…. What?…. This ring?…. Is it?…. Are you???" Seriously, he was stammering! She didn't quite understand what he was saying, at first, and then it dawned on her.
"Oh no! This was a Christmas gift from my parents!"
"So you're not…?"
"Of course not, silly!"
And then he smiled.
She knew that her entire life changed, with that smile.
love,
Janice