May 1, 2018
Always my favorite day of the month, for The Vivienne Files! And since today (April 30th) is actually somewhat warm in Chicago, this doesn't feel like an insane outfit to bring into our capsule wardrobes!
If you haven't seen these before, the general idea is that I start the year with 6 Hermes scarves, and for each of the 12 months of the year, I choose an outfit to add to a growing capsule wardrobe. Some of them turn out really well, and others… need some year-end adjusting! But it's a fascinating process…
Let's get started; one of the things that I liked most about this scarf was the juxtaposition of the surprising yellow, green and blue against the black. Not your usual accent colors!
This wardrobe is starting to come together well; I'm going to have to look for more accent blue and yellow, I think…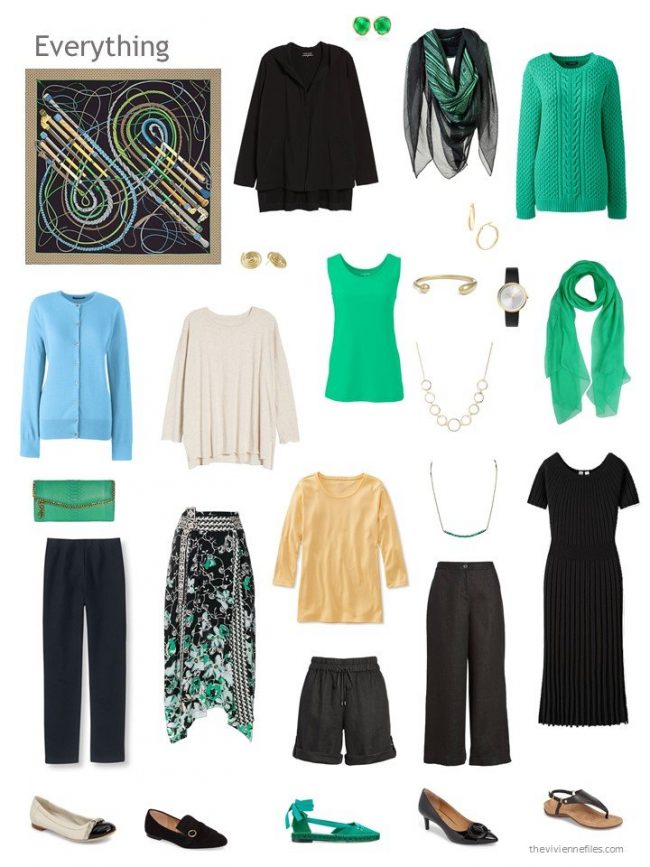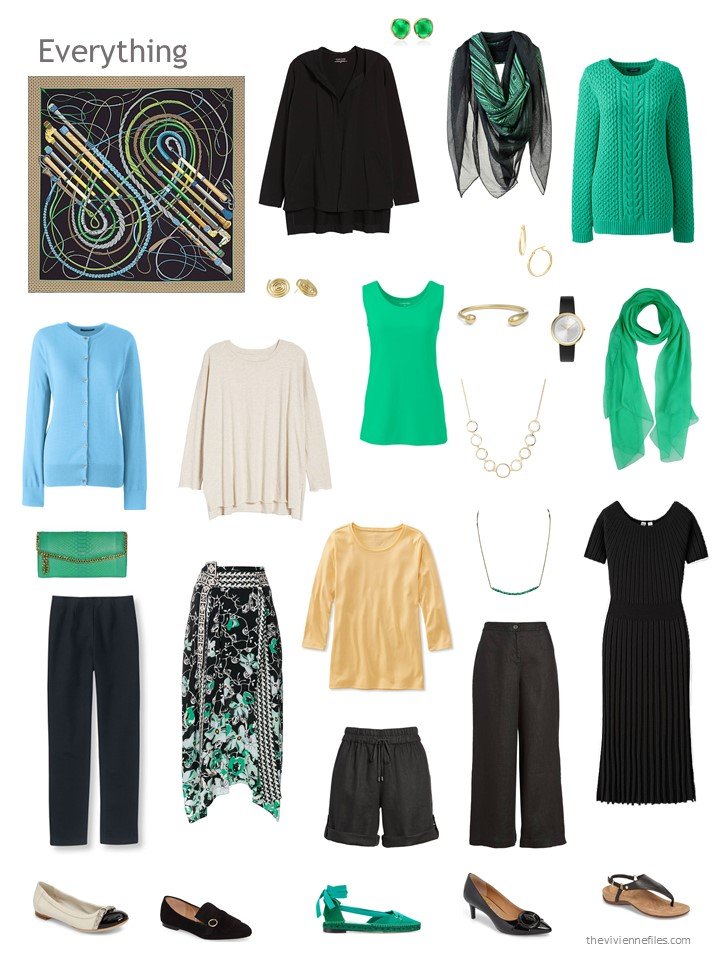 Just to make certain that I haven't driven off in some crazy direction, I want to use each of my 3 new garments in other outfits – just to be sure I'm making sense. The black cardigan gives this wardrobe a "black suit" of sorts, and that's always a good idea!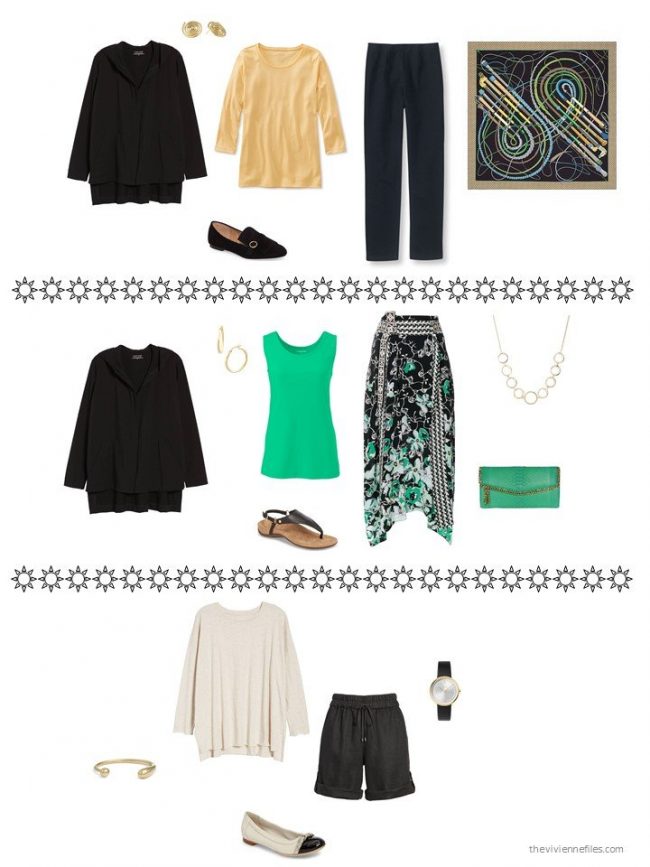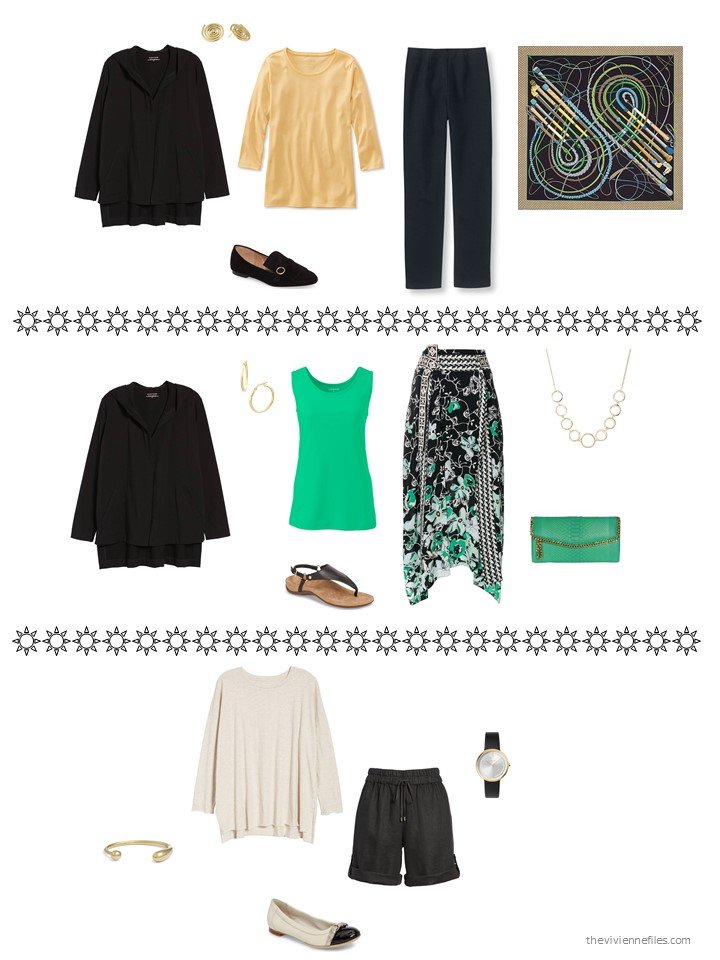 The 2nd wardrobe is getting prettier with each addition:
The entire wardrobe has so many possibilities: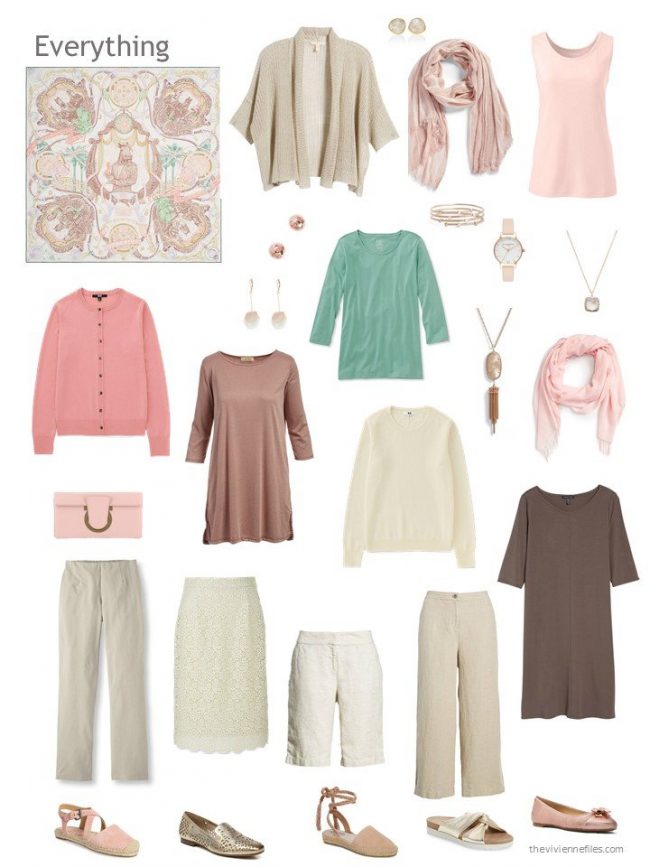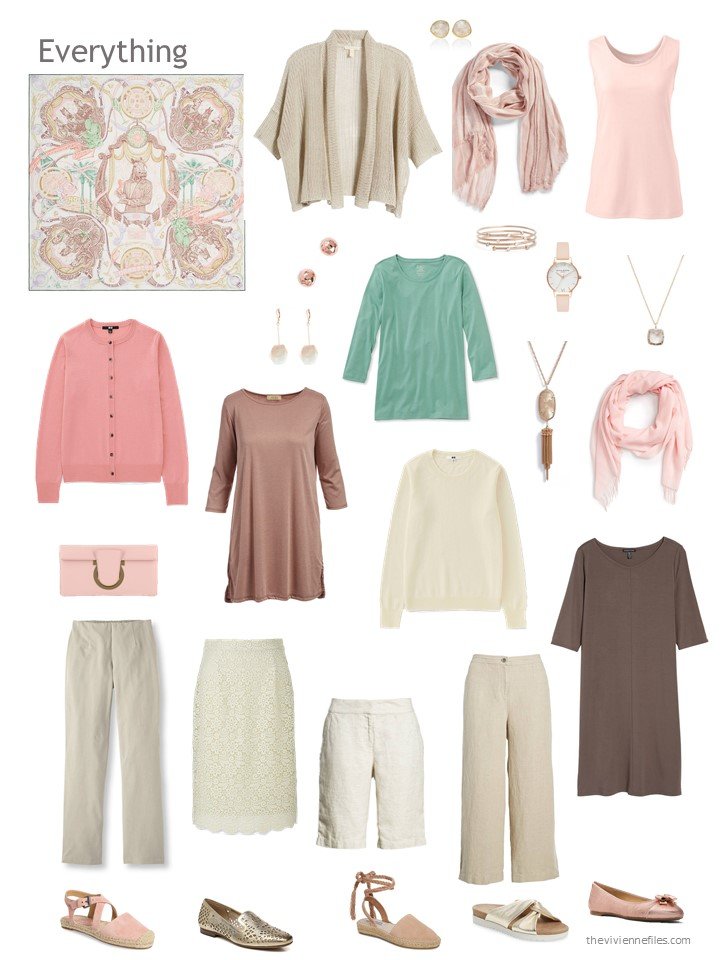 Does this heroine own a normal-color pair of shoes? Heck NO!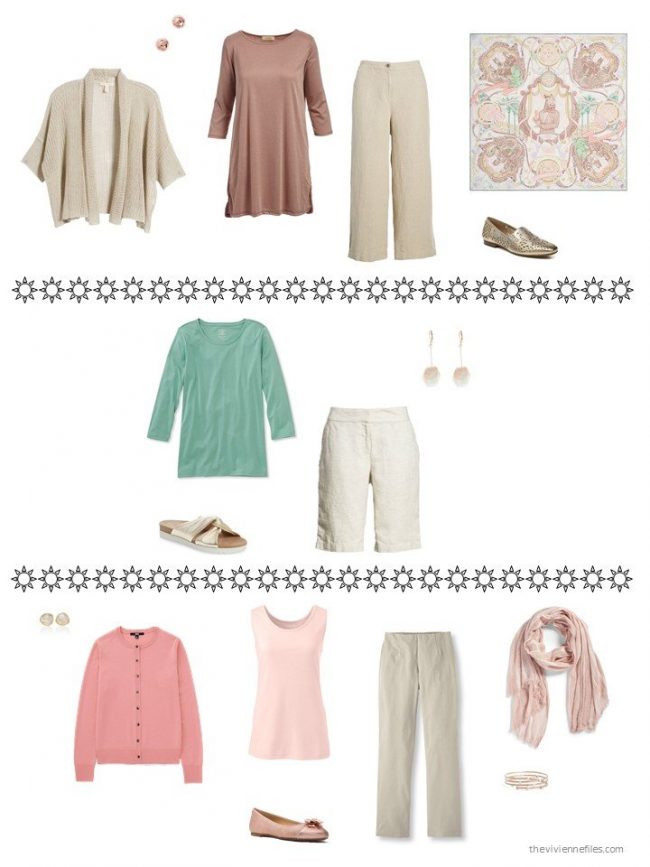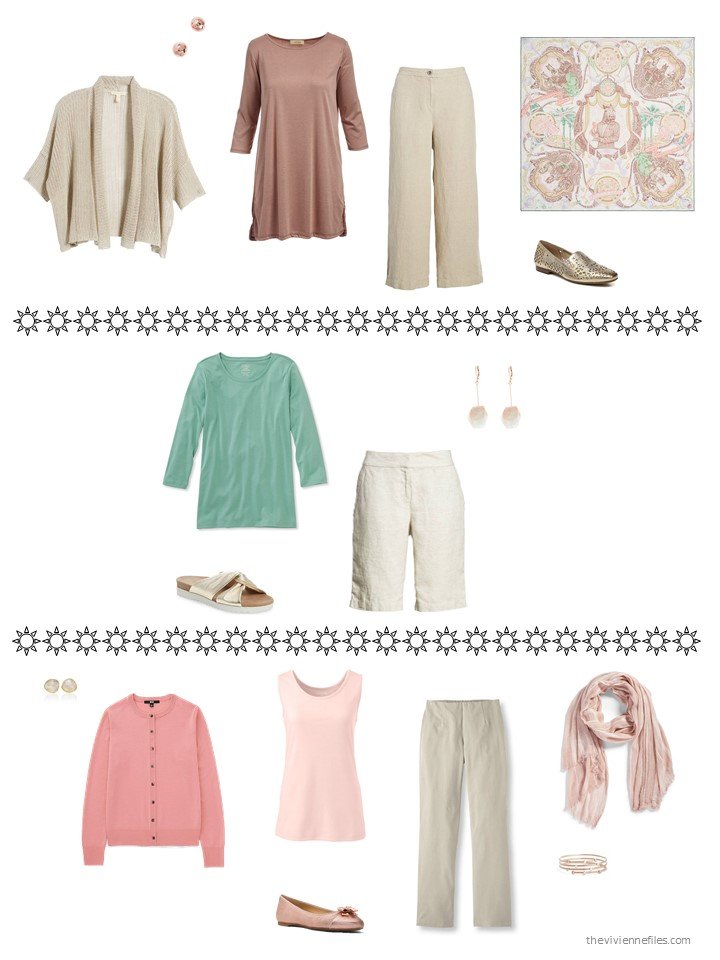 I'm really loving this navy wardrobe – this outfits with shorts is almost dressy… It certainly could go a lot of places in warmer weather, without being inappropriate…
If your packed these pieces for a trip, you'd be set for most things, I'd say!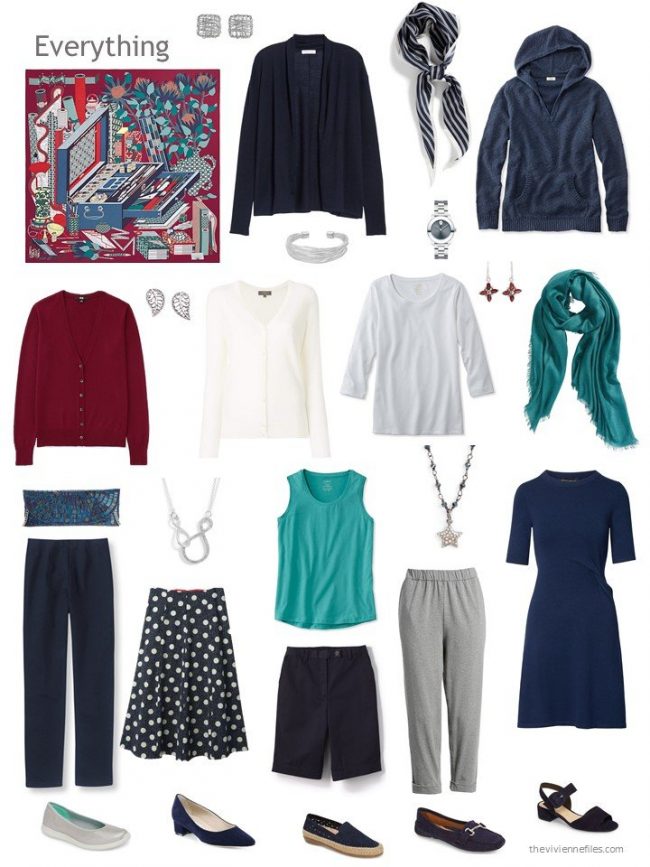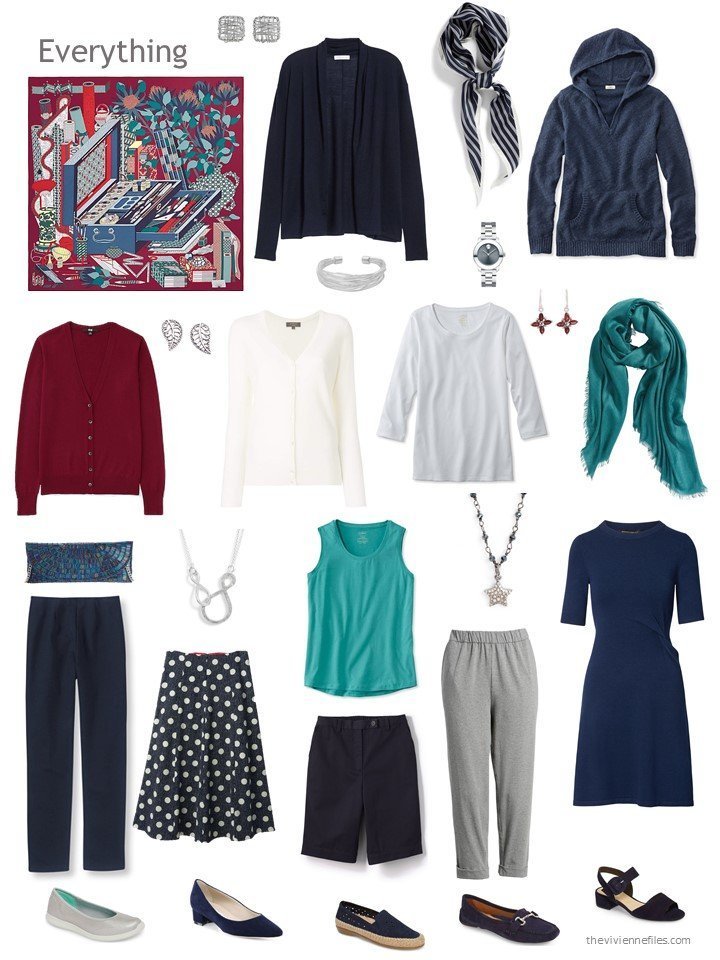 Lots of combinations possible with these 3 new additions: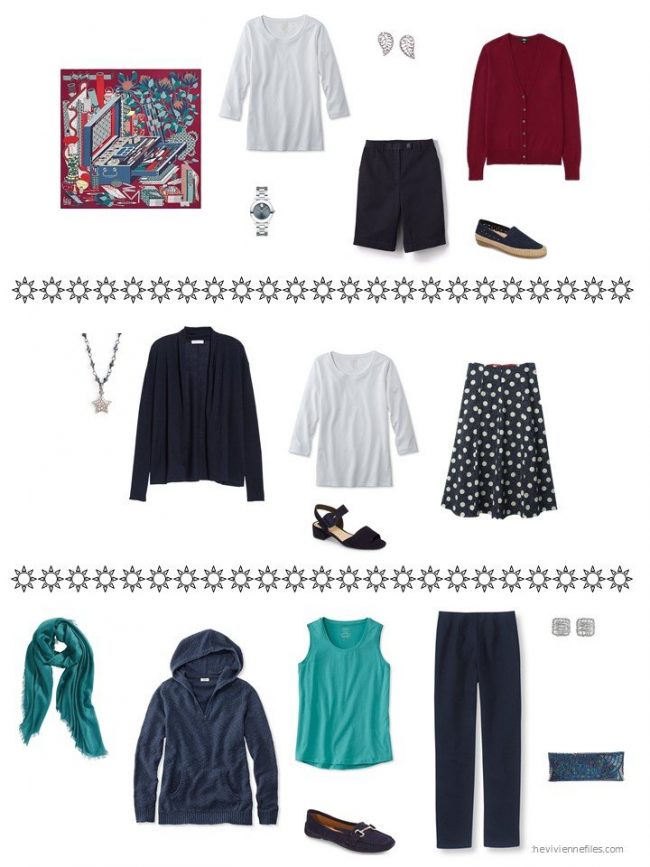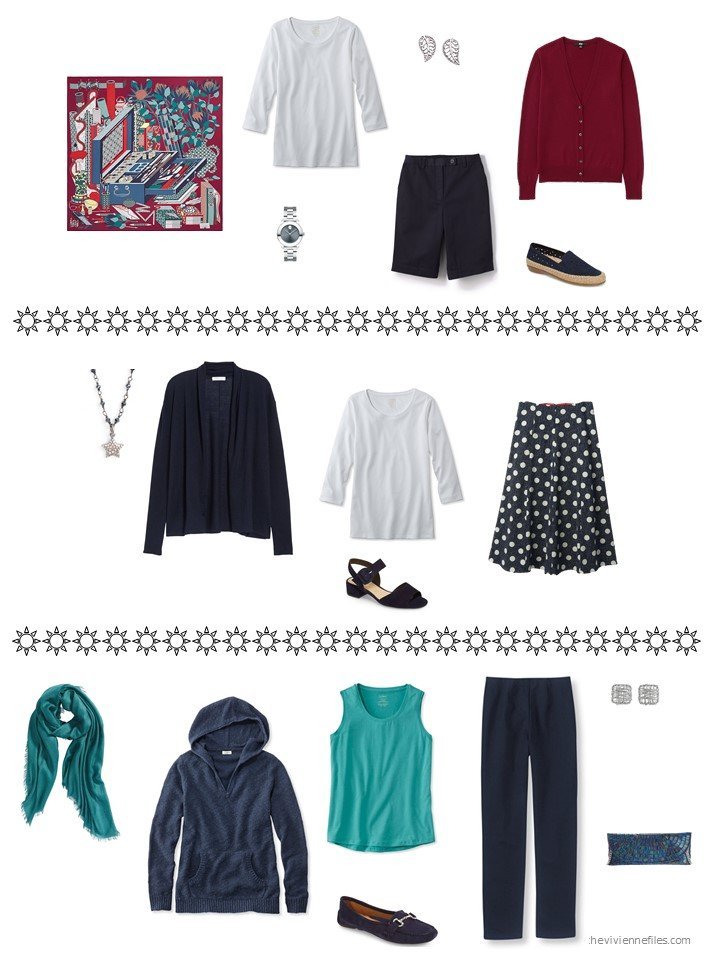 Now, to the really difficult wardrobe! I'm not quite sure what I was thinking when I chose this scarf, except that it was going to be a challenge…
But I love this outfit – the contrast between the structured cardigan and the relaxed tank could be fun!
This wardrobe includes such a range of shades of green… I think more beige might be needed in the future in order to keep all of this harmonious. And it would be nice to find that pretty, cool pink in another top or two…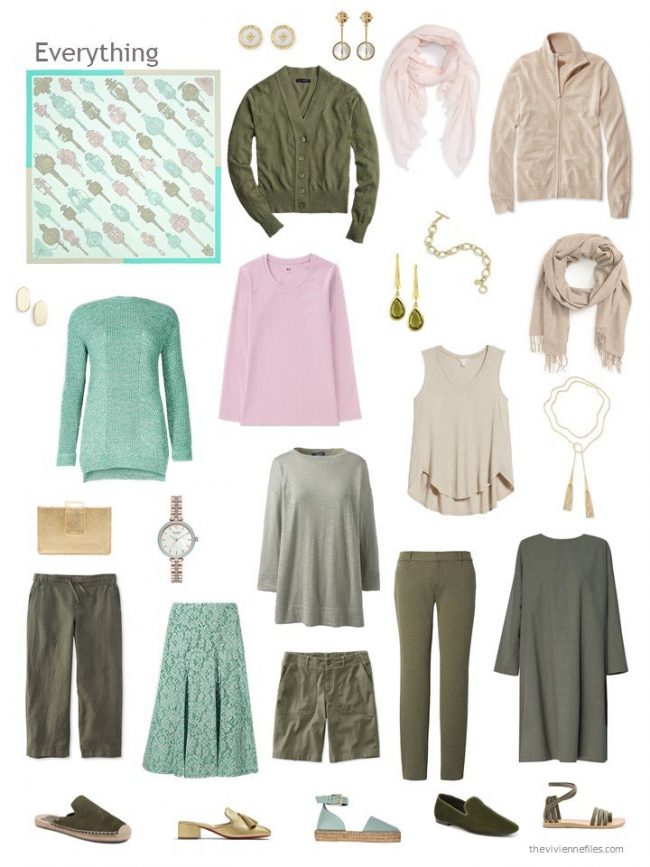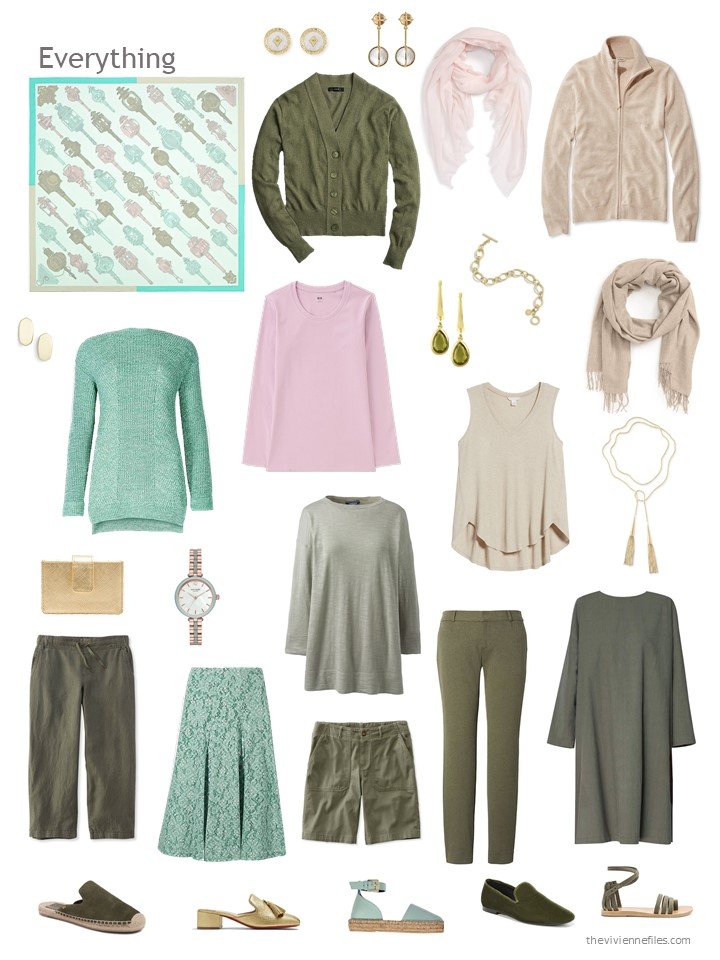 Even with all of the various greens here, it's still not at all difficult to build lots of outfits from these pieces: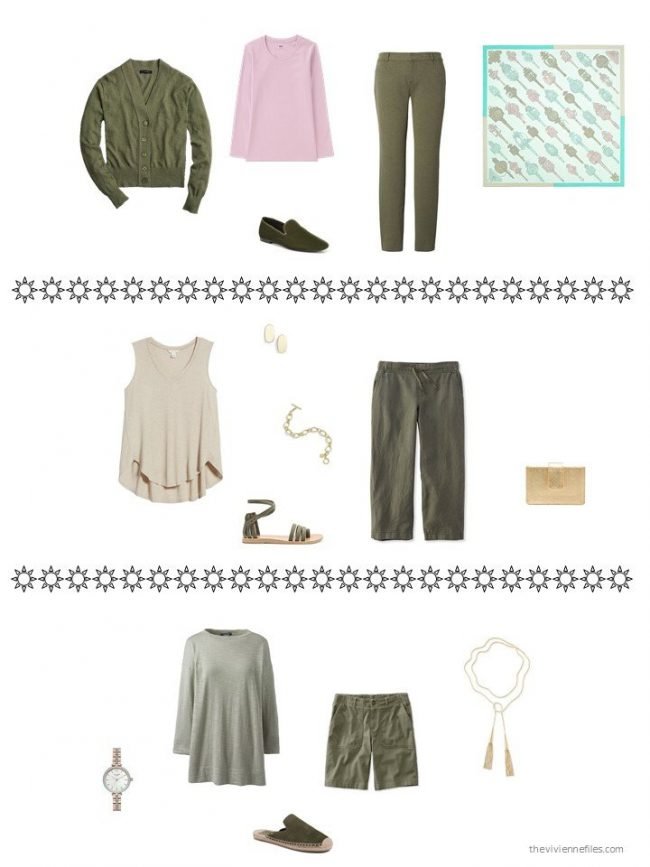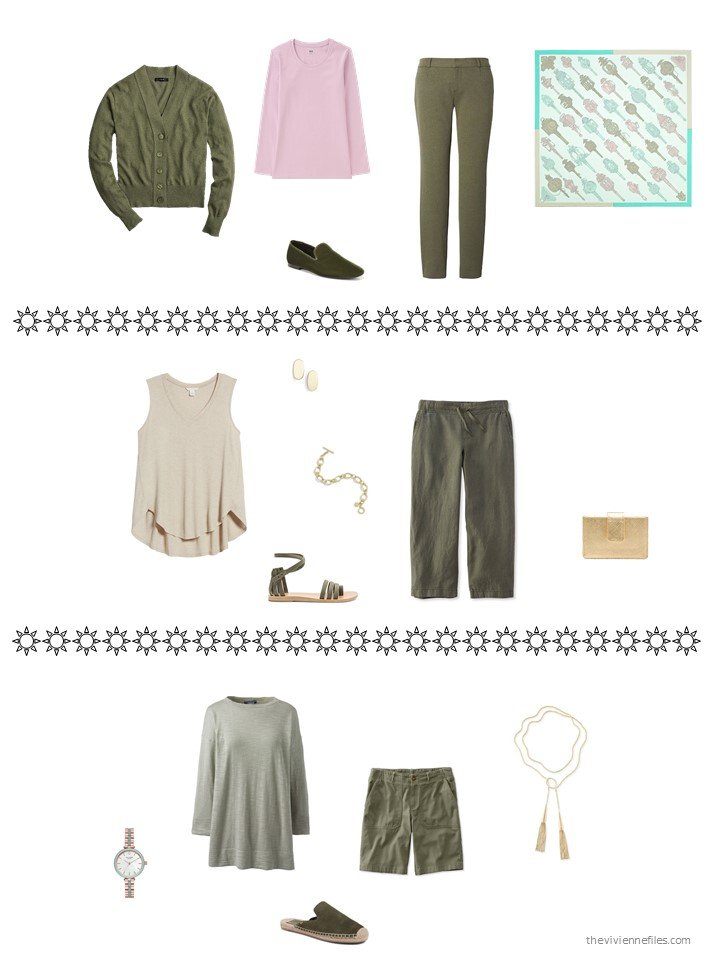 How about some pretty blue and white for a warm day?
This wardrobe is coming together beautifully; I'm not a pastel person, but this could change my mind!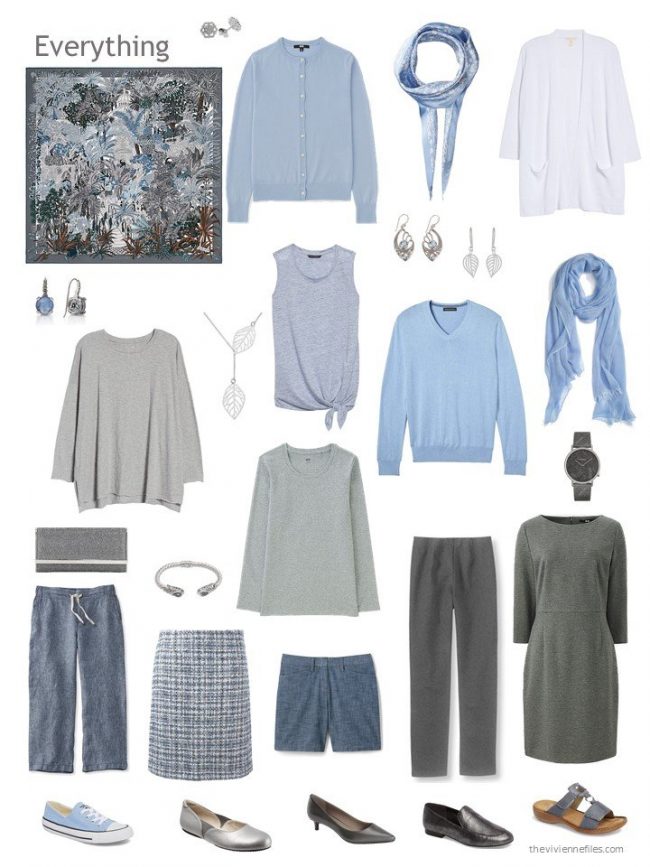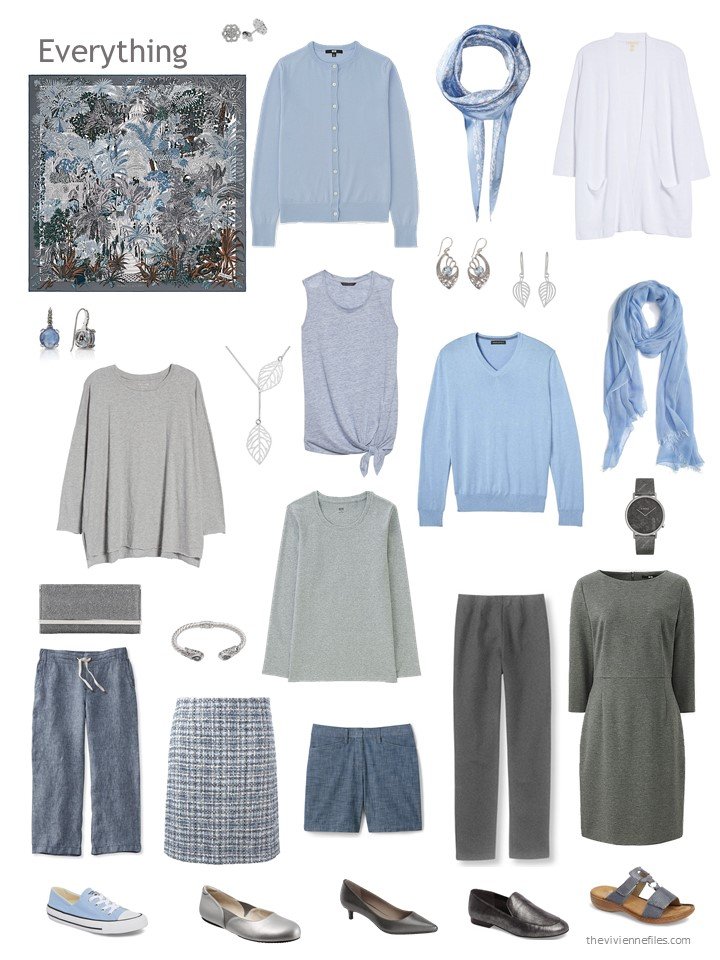 And so many possibilities…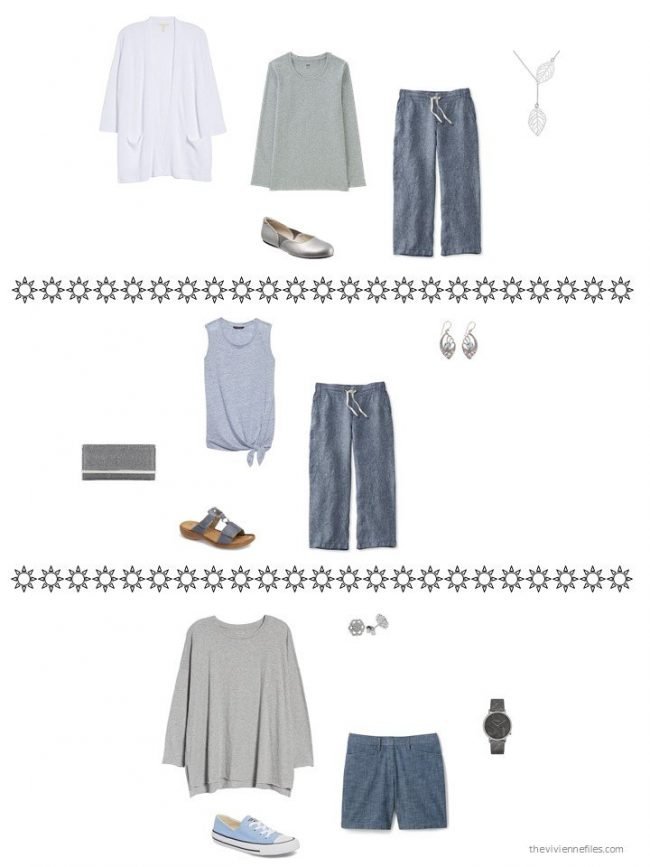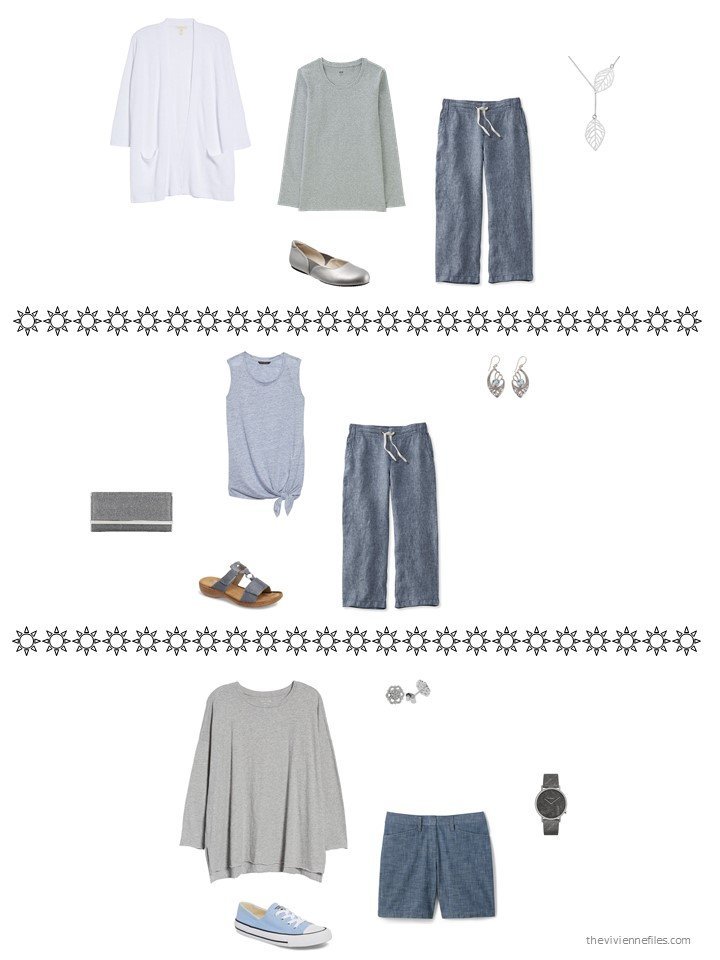 I have a soft spot for this wardrobe because of the sheer unconventionality of the colors! Nothing outrageous, but still not outfits that you see coming and going on every street…
The leather makes so much difference, doesn't it?
This is another wardrobe that might need a little bit of help to come together, but so far I think it's pretty versatile: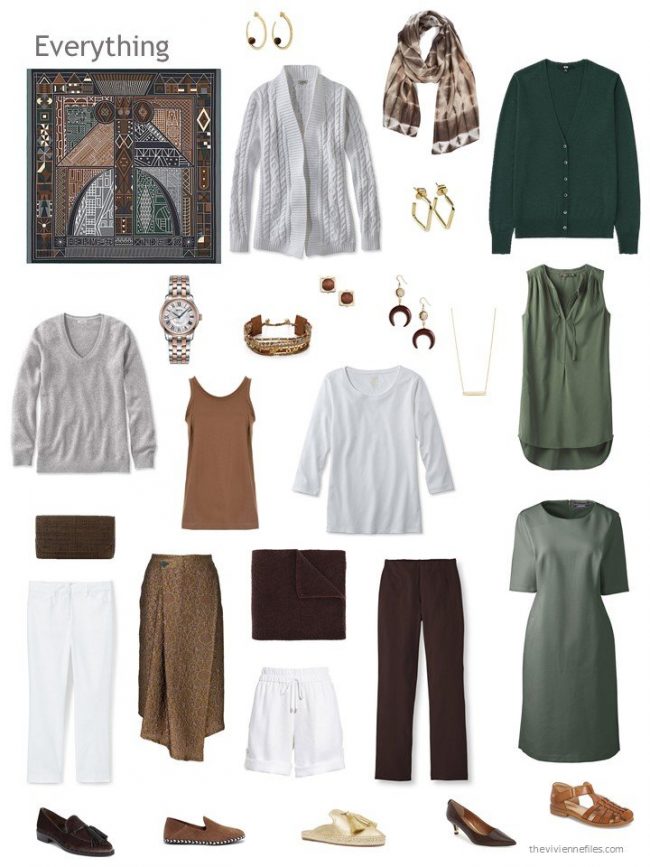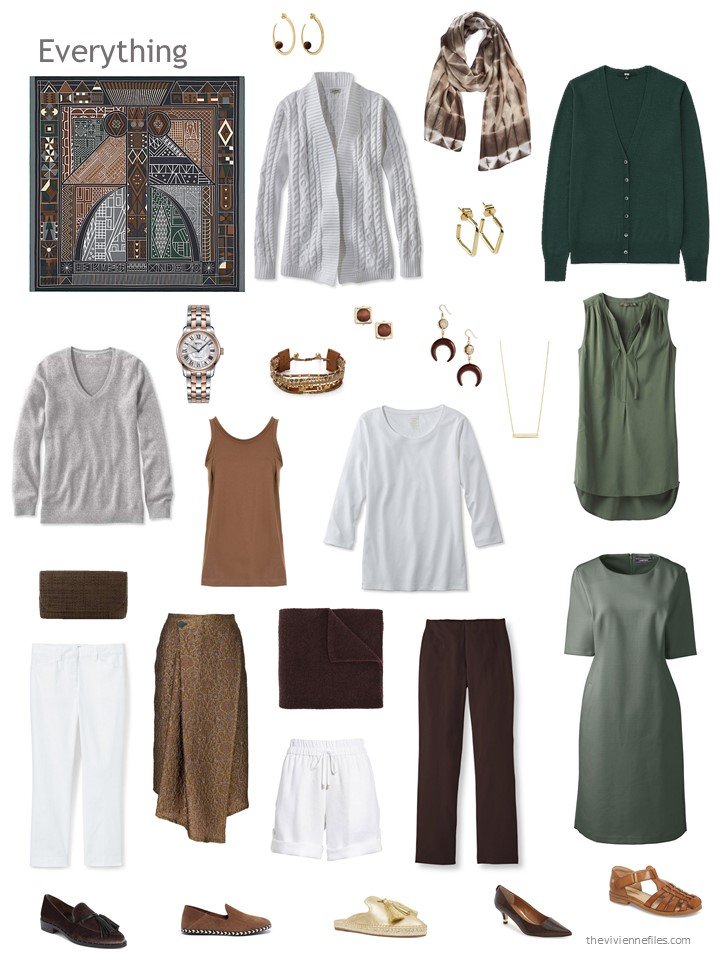 You could get dressed pretty easily if you had these pieces in your suitcase!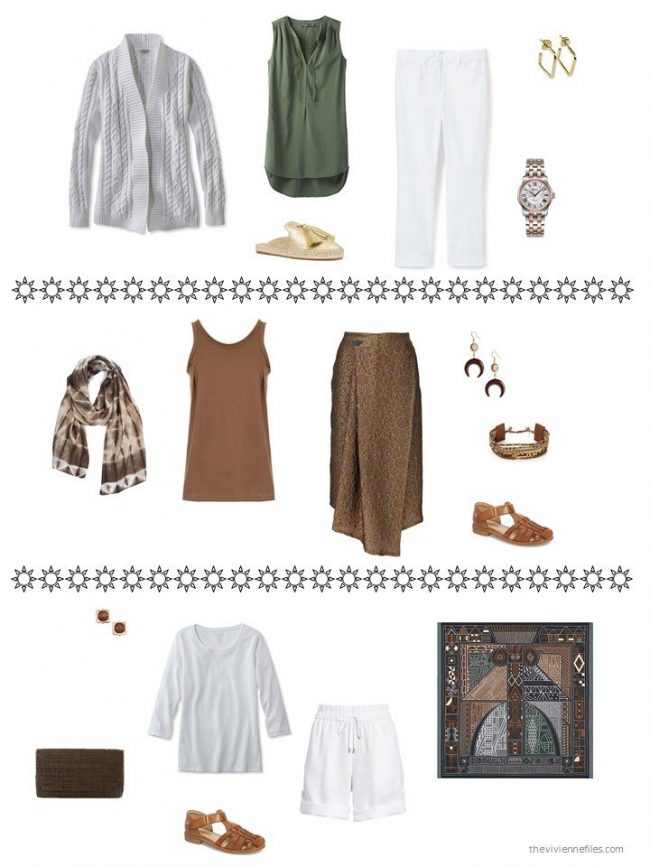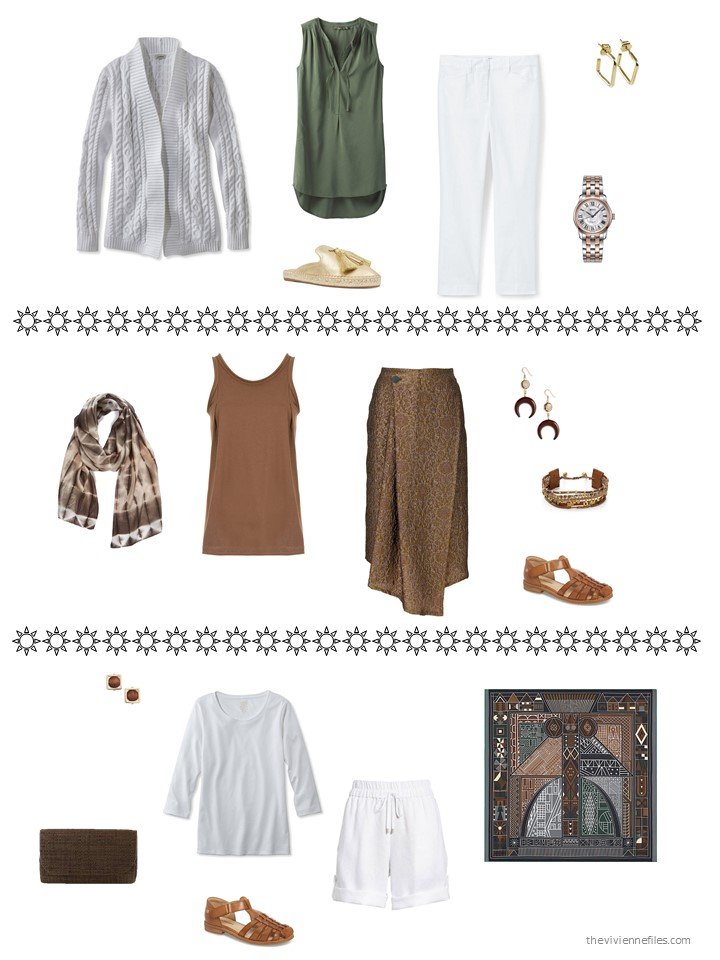 This month, I'm gravitating toward the beige and blush wardrobe, but I'm sure that will change again by the 1st of June. Which is your favorite? And has it been the same choice each month so far?
love,
Janice