November 24, 2017
Of course I've been thinking a lot about what it means to say that you're "dressed up." In the absence of showing more skin than usual, I think I've learned that there are four ways to go about this process:
Anything metallic or sparkly – if you can find a garment in one of your colors that features some sequins, some beads, or metallic thread, the dressiness quotient is automatically raised.
Ruffles, bows, or other trim that you would not normally wear. Swapping out an ivory cotton shirt for an ivory silk shirt with a bow at the neck can make a world of difference, while filling exactly the same role in your wardrobe.
Swapping for a fabric with more texture or shine. Satin, velvet, lace, or brocade are all instantly dressy, even if you're talking about velvet jeans!
And specifically for the winter holidays, certain patterns, like Fair Isle sweaters, are always seen as being festive. A sweater with reindeer, no matter how stylized, screams Christmas. Snowflakes, although hanging around the city until April, are a tired sweater or jewelry idea by January 2nd…
With these very "subject to change" guidelines, let's look at A Common Wardrobe in colors that aren't usually associated with winter holidays, and see what's possible!
Winter white is relatively common this time of year, but finding anything festive in brown is really tough! Look for the color "copper" or "bronze" to help hunt down the few offerings available.
With these 4 pieces I've tried to represent the idea of the Fair Isle sweater, something with a low-key ruffle, a very relaxed gold-flecked sweater, and an easy to wear elastic-waist lace skirt… As you can see, these outfits come together pretty easily! A few accessories, and you'd be ready for most occasions this holiday season.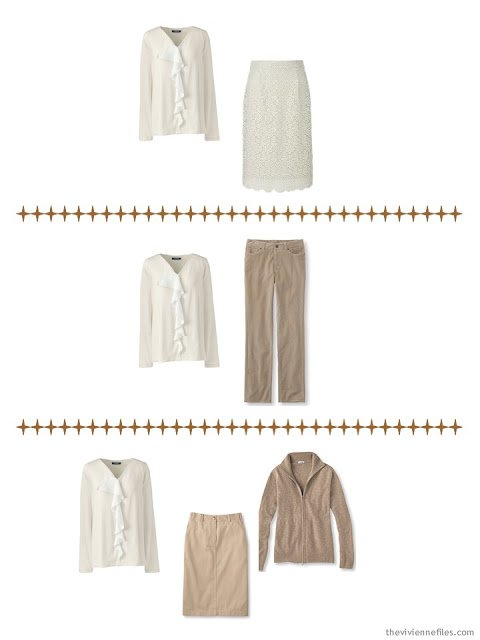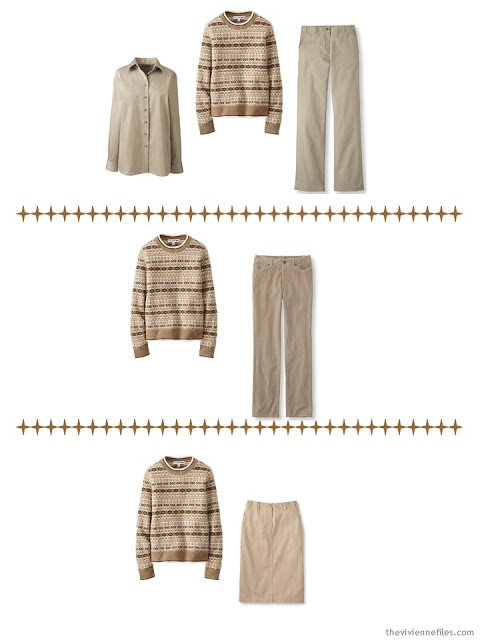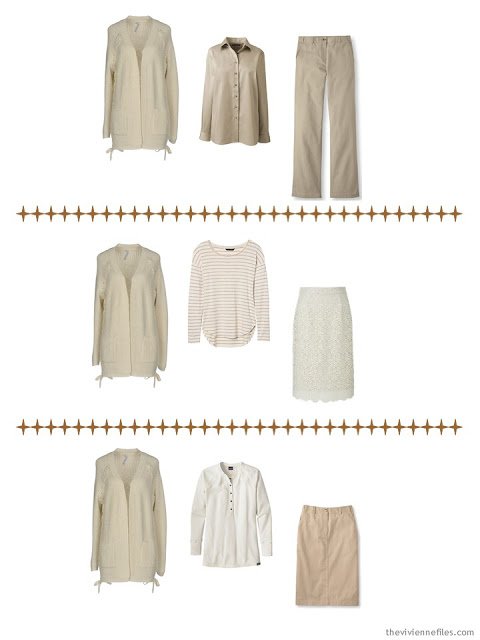 Should I try this with other colors? Suggestions always welcome.
love,
Janice