July 6, 2017
We've all read this advice – when you see an outfit in a catalog or magazine that you really like, you should (rather than purchase said outfit) "shop your closet."
I suppose we all know, in some way, what that means – don't buy something, but find something in your current clothes that will do the trick. Sounds logical, doesn't it?
But I suspect that a lot of people don't manage to make this work very well. There's something fundamentally backwards about this advice. I'm not lusting for something that I already own – I'm filled with desire for something NEW. Something FRESH. Something… different.
Frankly, there's no way to get around that desire for novelty; it's hard-wired into our psyche, and no little tip or trick will change that!
BUT… I think that there are a few things you can consider that might make your closet easier to "shop."
First, think about your favorite store, and what you like most about it? What pleasure would you get from going there that you do NOT get when you open your closet door?
For me, I like spaciousness. I like being able to see the clothes and other items available for sale. I like stores that smell good! (that might be a little bit weird, but I'm putting it out there anyway!) I like light, and a sense of airiness. I like music in the background. I like clothes that are neat, tidy, carefully arranged…
So can ANY of this help my closet? Heck yes – virtually all of these qualities can be brought home and put to good effect…
Does you closet need a light in it? Get one! There are lots of small lights that can literally be stuck onto a wall or the ceiling, that are battery powered. Rummaging in the dark is no fun!
Would a good "airing out" benefit your storage area? Do it! Find a pleasant, not overpowering sachet or fragrance thing of some sort and make use of it. I use scented soaps, wrapped in tissue so that they don't rub off on something accidentally.
But the biggest thing? Don't crowd your clothes; if they don't fit in the closet you have, put some pieces into a good, solid, secure storage container, and let the items that remain have a bit of space. (I almost said let them breathe, but they're inanimate – let's not get carried away!)
Almost 20 years ago, I decided that I was going to have a beautiful closet. Every few days, as I was walking home from the El, I would stop into a store on my way, and buy a box (or 2) of wooden hangers. At that time I would get six hangers, or twelve, if I was feeling extravagant.
I'd go home and migrate a few pieces onto the new hangers. After about six weeks or so, I had ALL wooden hangers. I probably, 20 years ago, spent about what one would spend for a really nice sweater, or a medium-range winter jacket. 20 YEARS AGO. These babies will never wear out…
When I got tired of tripping over all of my shoes, I bought a hanging sorter thingy to hold the extras. Now that I can actually SEE them, I regularly wear them!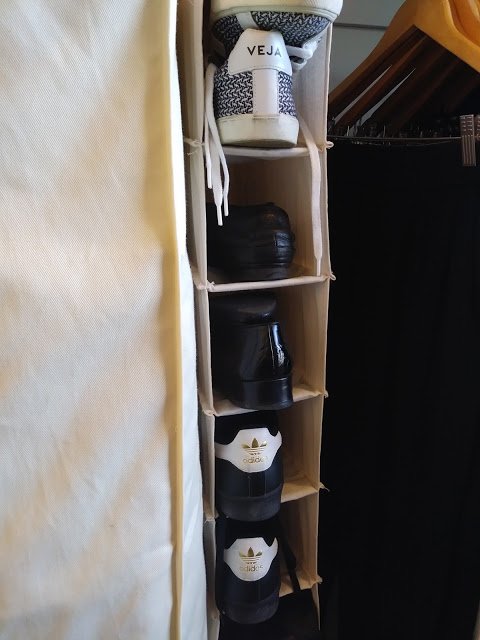 This next upgrade requires no shopping, just a few minutes of time. All of my long-sleeved (theoretically not in season) tops are folded to the same width, and parked on a shelf just above my hangers. Now that I can see THEM, I wear them…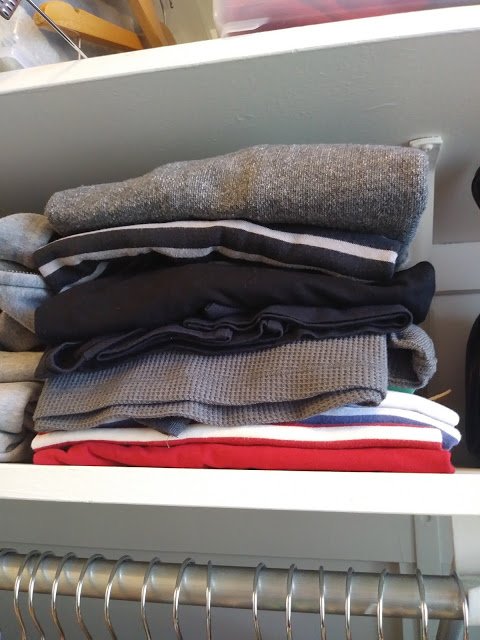 A few people have asked me now I store my scarves – here's where you can sort of see them! This is ELFA shelving, and it's pretty brilliant. Ages ago, when Belovedest and I moved to Ireland, we had an apartment that had ONE closet, with literally 1 meter of hanging space. So we bought an ELFA closet, put it together (along with some drawer units) and created our own closets! The Container Stores sells ELFA – you don't have to go full-bore insane installation, just get what you need! We are STILL using the same pieces, with occasional additions from time to time as our needs change. Most of the pieces here are from the original purchase, 13 years ago…
My top drawer here, with the small mesh, is where my jewelry lives. (when I get that tidy, I will share!) The 2nd drawer, with the green thingy on the right, in where all of my scarves live.
I've got a drawer for lingerie, TWO drawers for gym clothes, and a bottom drawer with sleepwear.
And yes, that's our printer, setting on top!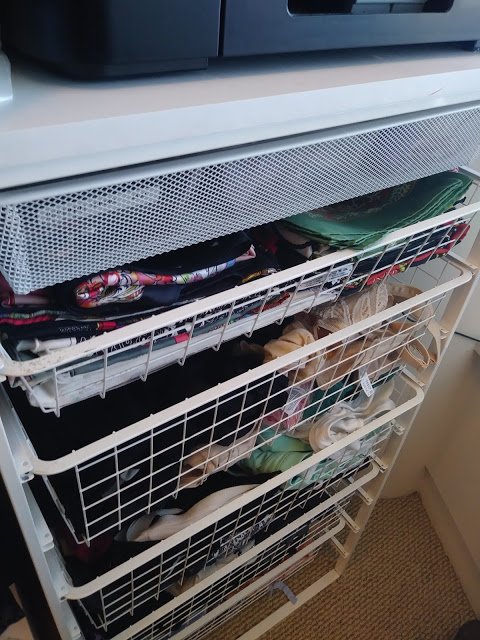 My closet is sort of a dream, even before I add anything to it or do anything nifty to make it better. It's "walk-in" with hanging on both sides AND A WINDOW at the end. The window remains closed, and the blind is ALWAYS shut. There's a big trend now toward having a rack of clothing hanging, out in the open, in a room. It looks pretty cool, but clothes fade in constant light. (ask someone who does window displays…) So we keep it dark unless we're in there. It has an overhead light too… It's pretty excellent!
So what does this mean for shopping your closet? Maybe just a little, maybe a lot. If you can make some modest changes to the way you store clothes, and those modest changes will make it easier for you to wear (and eventually wear OUT) the clothes that you wear, it's worth doing. If better visibility in your closet helps you remember what you already own, it could at least keep you from feeling like you're in need of new clothes.
Still, in the best of all possible worlds, my closet would look like this:
But we're only mortal, and the temptation of novelty isn't going to go away! Do you have any good ideas or suggestions for handling the lure of the new?
love,
Janice
p.s. Fear not – navy and beige with accent colors will be back tomorrow! I think this heroine will be going to the beach….