February 22, 2016
A requested color scheme – this looks so "Coast of Maine in the summer" to me! Maybe because L.L.Bean is well-represented here. I don't necessarily think that everybody is going to buy things from them, but their photographs of simple, classic clothing are among the very best I can find for our illustrative purposes.
Starting outfit: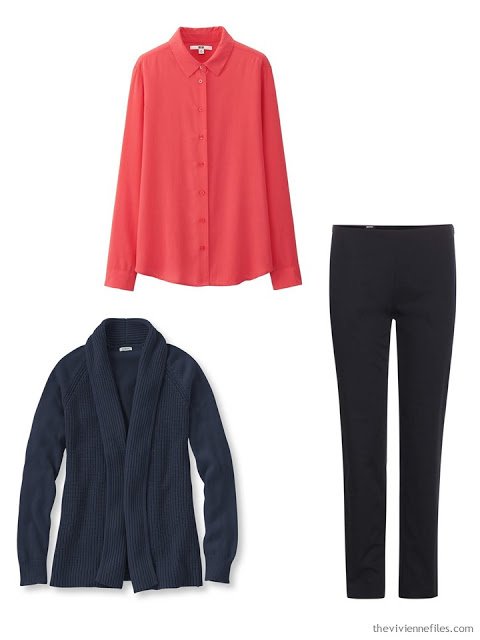 Blouse – Uniqlo; cardigan – L.L.Bean; pants – Jil Sander Navy
Although this outfit doesn't include beige, it's been determined by the requester that beige will be the other neutral color, so our color scheme is thus: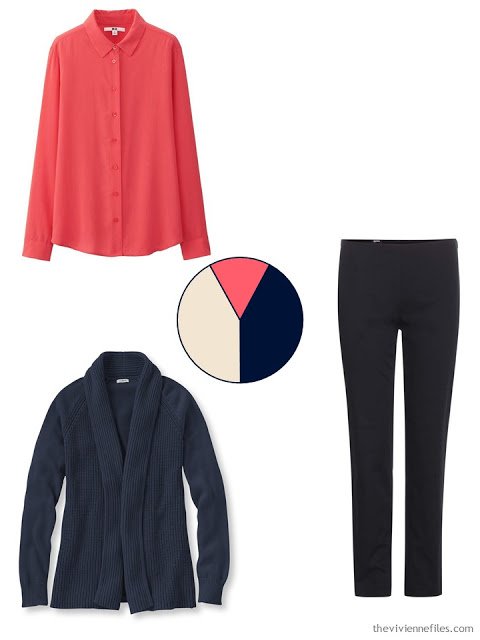 Blouse – Uniqlo; cardigan – L.L.Bean; pants – Jil Sander Navy
This time, I decided to get that neutral tee shirt top out of the way immediately. While these aren't fascinatingly stimulating and madly fun purchases, they can be the most cost-effective items in your wardrobe, once you get them there!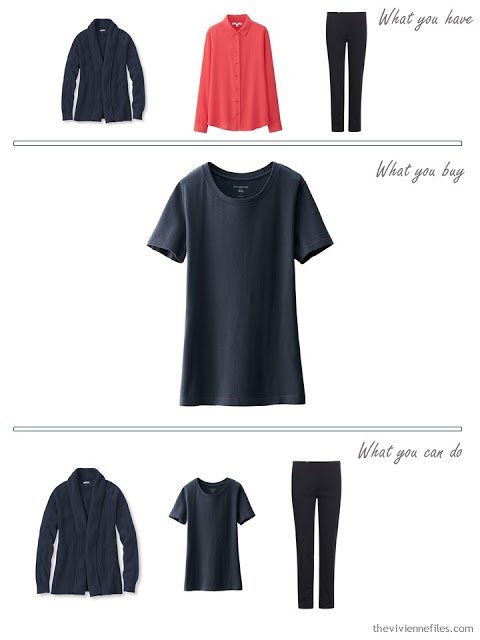 Tee shirt – IDLF Uniqlo
Moving into warmer weather, a lighter colored cardigan makes everything feel lighter!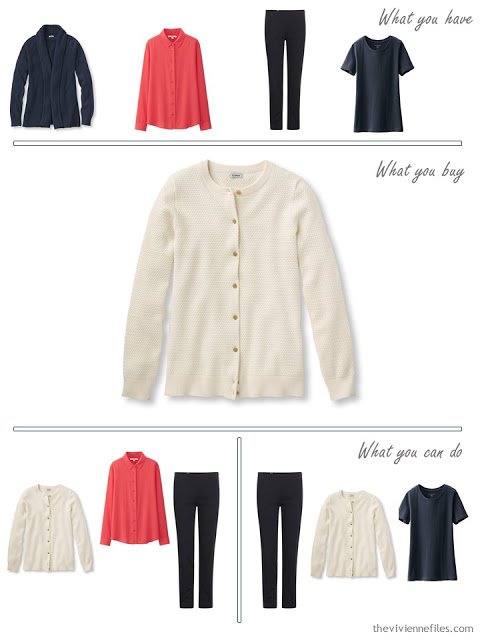 Cardigan – L.L.Bean
So let's get the pants too!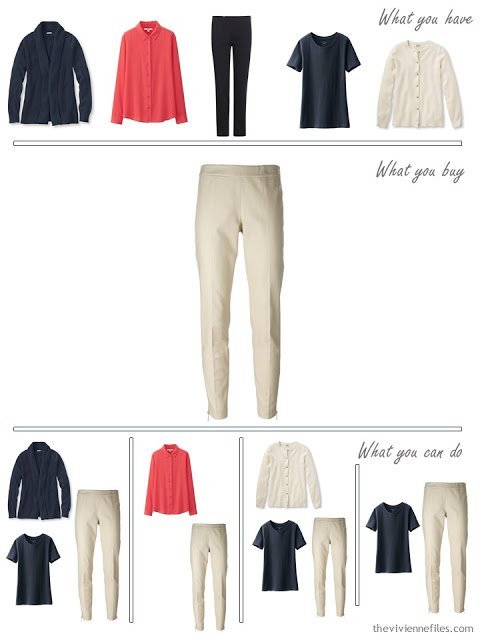 Pants – Michael Kors
Navy and beige just scream for this kind of top. If this is not for you, there are plenty of prints and patterns that incorporate beige and navy in some way.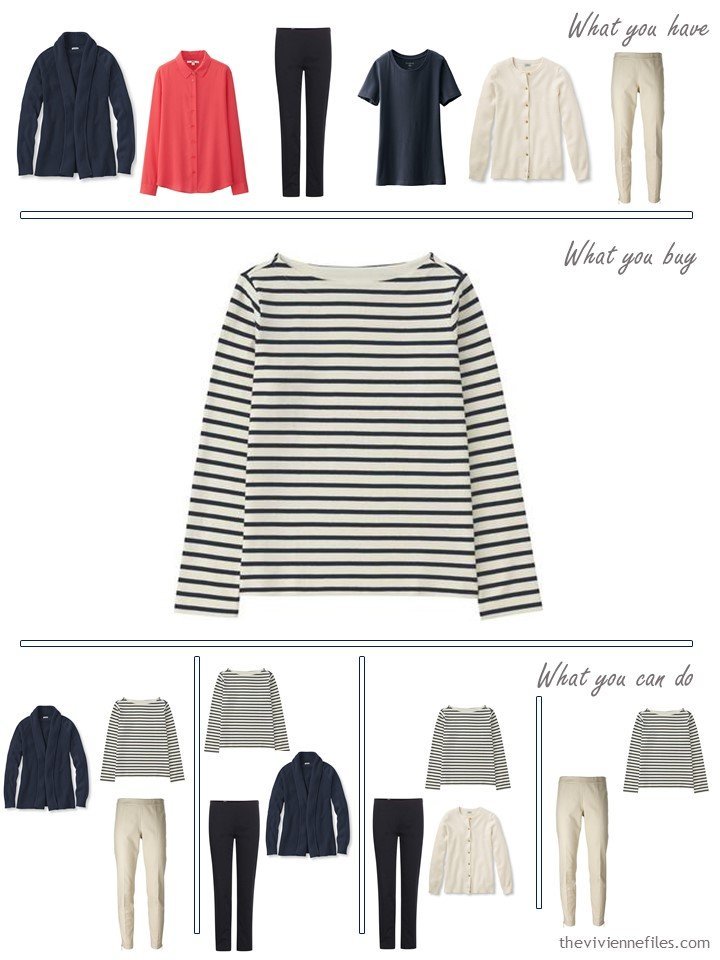 Tee – Uniqlo
Finding something actually NAMED "poppy" is pretty tough, but finding warm reds is a big easier. This cardigan is lightweight – designed for warmer weather that requires a bit of a covering, but nothing bulky.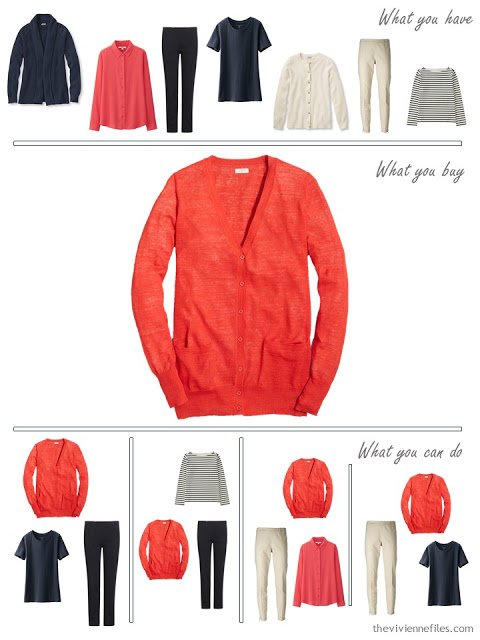 Cardigan – J. Crew Factory
Why yes, this is the navy skirt you saw the other day. It's not easy to find a navy cotton or linen skirt, well-photographed, that costs less than $100 US.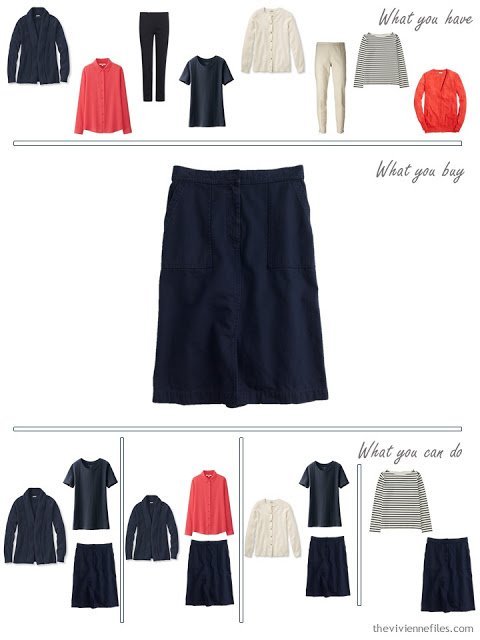 Skirt – J. Crew
I love this tee shirt… and it includes our three colors!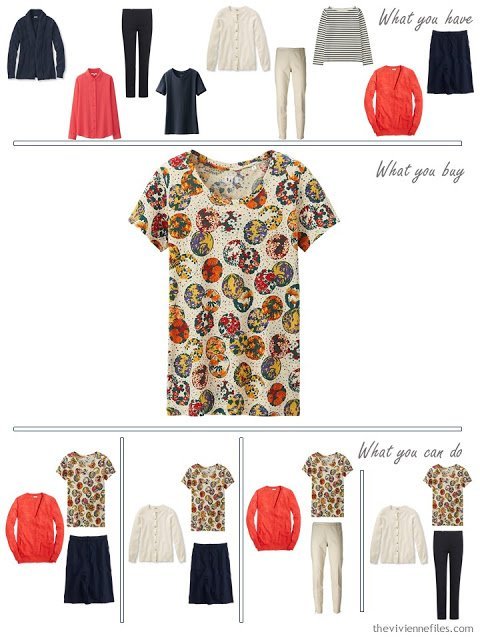 Shirt – Uniqlo
Classic, no?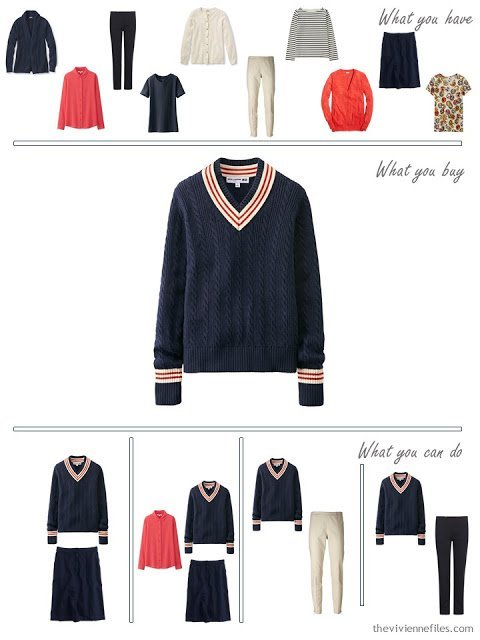 sweater – IDLF Uniqlo
The easiest skirt in the world to wear, super marked-down: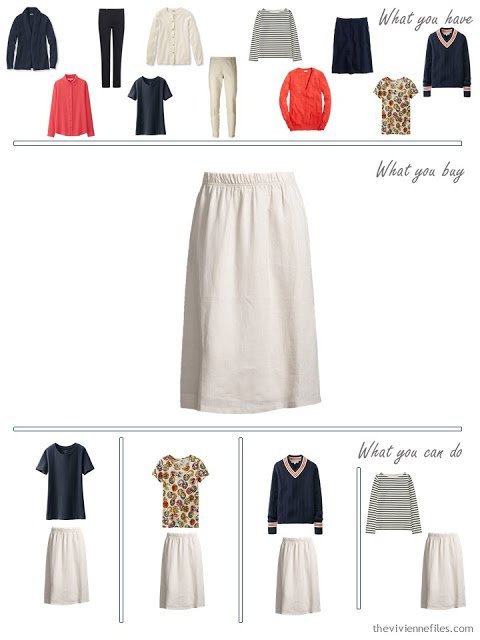 skirt – Neiman Marcus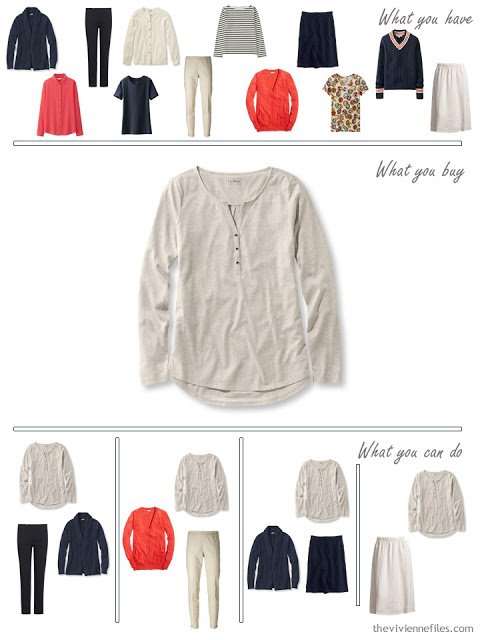 Tee shirt – L.L.Bean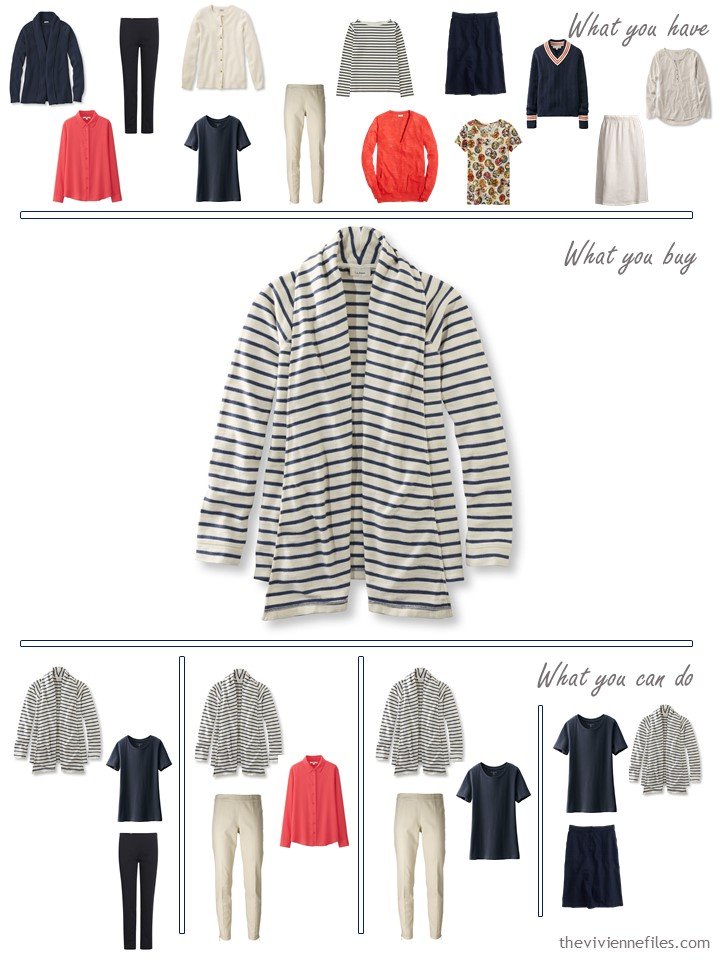 Cardigan – L.L.Bean
If sleeveless isn't your thing, the same general idea in an elbow sleeve would be equally versatile.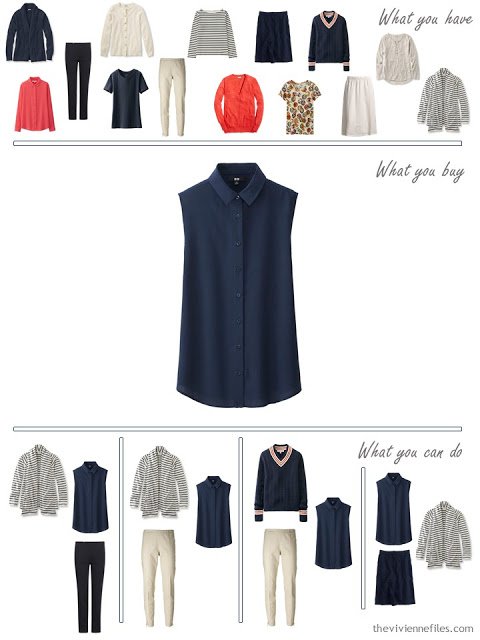 Rayon shirt – Uniqlo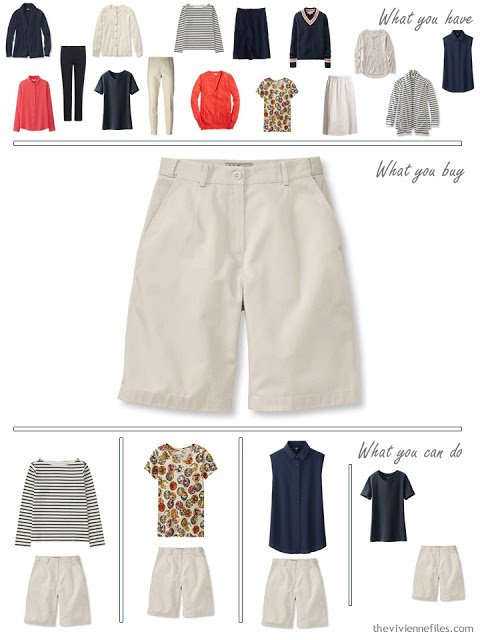 Another tidy wardrobe: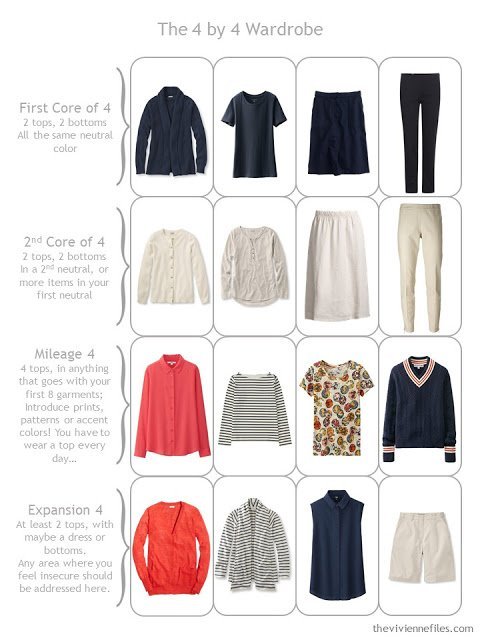 More to come – thanks SO MUCH for the color scheme suggestions!
love,
Janice