Another Saturday, another beautiful scarf!
I've read stories that this scarf was designed originally for Grace Kelly. I don't know if that's true, but it certainly wouldn't surprise me. This is so beautiful…
This is what the full scarf looks like. This is NOT my photograph, but the scarf I'm selling is exactly like this…

These are detailed photographs of the four corners of the scarf, taken by me, Friday morning the 6th. This scarf really is in excellent condition, and the details are amazing! I took picture with the scarf folded, so you can see some flowers showing through the fabric. Like little ghost flowers…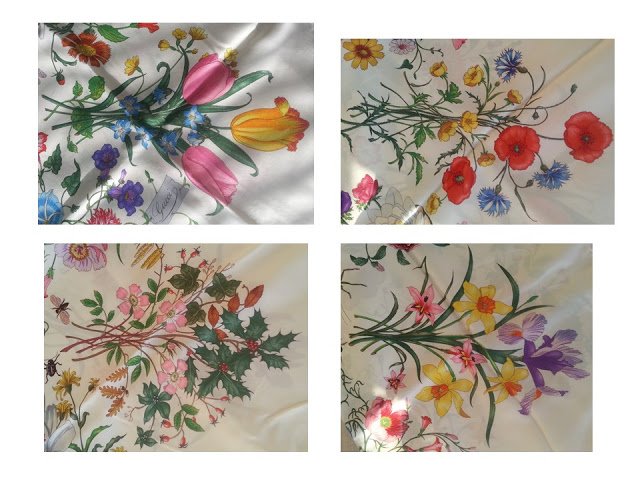 If you like to wear pretty flower colors, there's a million ways to wear this scarf. I kept my eyes open for floral-styled jewelry, and flat shoes with floral ornaments. That sort of makes it all feel like it hangs together thematically, in my mind.
These outfits have upcoming winter holiday wear in mind – you're going to receive this scarf late in November, so there are going to be a lot of festive chances to wear it in the next 2 or 3 months!
I am asking $300 for this scarf; new Gucci scarves retail for over $400 (more than Hermes!!!). Leave a comment stating that you're interested, if you want to be in the random number drawing for this scarf. And if you just want to chat (please chat!), just leave a comment. Your comments are my lifeblood some days…
Last week's scarf? Scottie is buying it. It will suit her beautifully, as she is blonde and blue-eyed… sigh…
love,
Janice