October 29, 2015
Okay, now that we have our color scheme, we'll need to start picking clothes!
As always, I'm going to start with the neutrals, since they're the really essential foundation garments for your 4 by 4 wardrobe. First up, the elusive camel, or vicuna, or caramel, or walnut (although I think of walnut as darker), or amber, or whatever else this color might be called. This is one of the essential qualities that you have to bring to the clothing search – a real flexibility in how you describe what you want! And look outside your normal comfort zone – Google images and see what comes up.
This turned out to be a tremendously tough color to find, unless you were interested in spending four figures on a pair of jeans, so I chose a range of the shade which blend well. So far, I'm happy with these – they feel warm, and have that luxurious depth of color that I think the painting suggested.
Next up is the MUCH easier navy. Again, since I'm thinking about doing this as a casual wardrobe, I choose a cardigan, tee, trousers and jeans. Since the fabrics are so varied, the colors don't have to match perfectly. But I did try to keep the navy as dark as possible, so that when we introduce the brighter blue accent color, it will definitely look like an accent, and not just another shade of navy.
So far, this isn't a terribly tough project, except just physically finding the garments. But now, some decisions have to be made… After spending the night thinking about this painting, I think I concluded that the underlying message here is optimism and cheer. Beatrice lives on, in heaven. Dante will see her again. This is a painting of hope, love, and faith. So brightness, clarity, and energy will be appropriate to bring into this wardrobe.
First task, a range of tops in the three accent colors. All three of these pieces could be tee shirts, turtlenecks, or button-front shirts, if that's what you truly most love to wear. But I show a range of styles, just to give us some visual variety. And I include a white shirt, because I've found that it IS possible for almost anyone to get one that fits (try Lands' End – their Petite size range changed my view of shirts forever), and that once you have one, you find a ton of ways to wear it.
This is the time to start looking for garments that combine two or more of your five colors – especially those that include your two neutrals. I believe that the turtleneck above is caramel with navy stripes, but I can't prove it. When you want to buy striped garments, get a customer service person on the phone and ask them WHAT is the color of the stripes. Why they don't mention this in their descriptions is beyond me…
The Expansion Four can be pretty fun – keep the colors in mind, and the themes, and daydream about what you would find both amusing and useful…
I started with a vest, but a fuzzy one, rather than down! Since we've had such fun with vests recently, it was irresistible, and for autumn and winter, it will be cozy.
The striped shirt ticks all the boxes – every color but camel, and stripes too! Plus it's not something you'll see every day…
The star sweater might have been better if the stars had been camel, or if the sweater had been camel with navy stars – that's the kind of item that you want to grab immediately if you see it! But this sweater has a lot of charm, and is very versatile; it can be worn on its own, under the navy vest, or over the white shirt. Not bad mileage!
And for the final piece, I felt that this wardrobe needed one more "bottom" for balance. You wouldn't have to get a skirt, but if you wanted one that was still on the casual end of the spectrum, corduroy seems perfect. I liked corduroy here because it has that lush texture that the painting seems to demand, and it has a strong linear quality in the wales of the fabric that echo the stripes that we wanted.
Everything here seems to hang together pretty well. I always try to fill in the template in order to see if anything look odd when placed near all of the other pieces. I look for a shared mood, level of formality, and a certain "je ne sais quoi" that makes me feel like it's a true wardrobe and not just a collection of separates.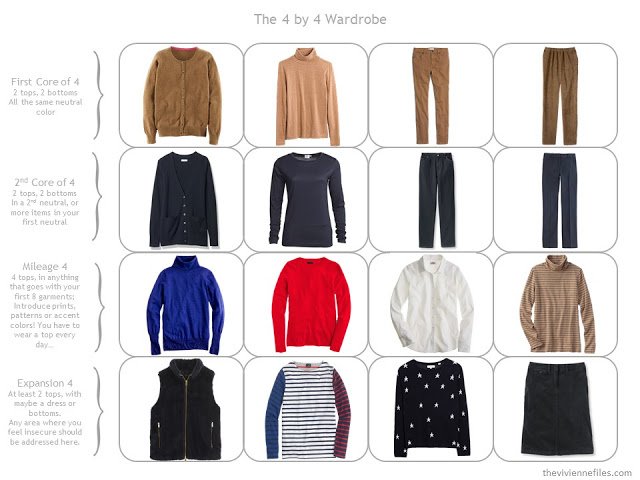 One last double-check that I do is to see if it's possible to assemble a range of outfits from the pieces chosen. In this case, since there are five bottoms, I've put together five pages of outfits – four with each bottom.
And the dividers on these pages aren't always just a "throwaway" filler – I try to create something that holds the essence of our style inspiration. Here, I took the six-pointed star from the painting, and used our two neutrals for the outline and then the fill. In this way, I'm always reminded of the unifying theme that holds the wardrobe together.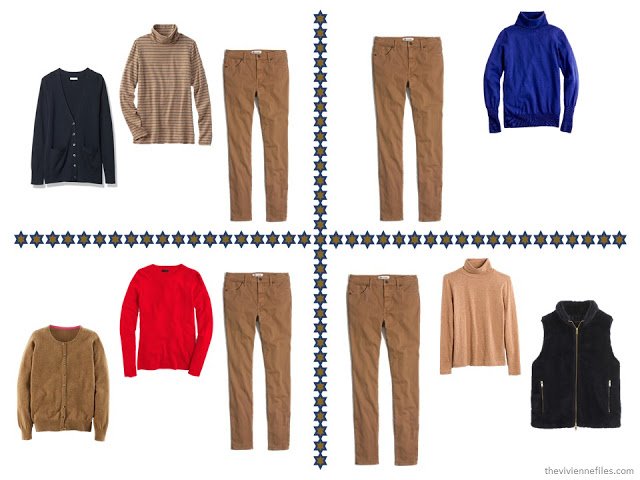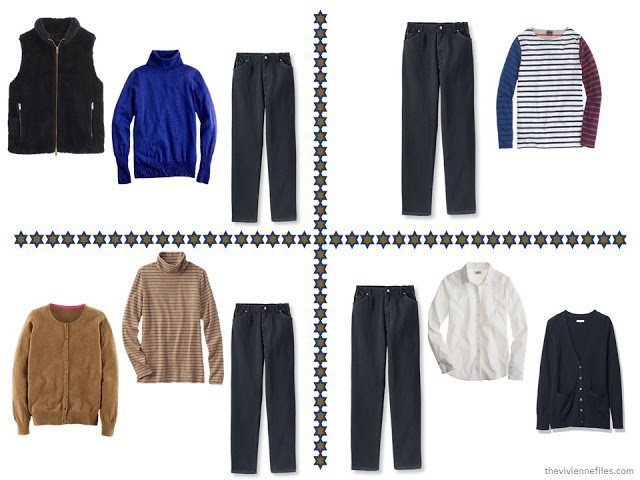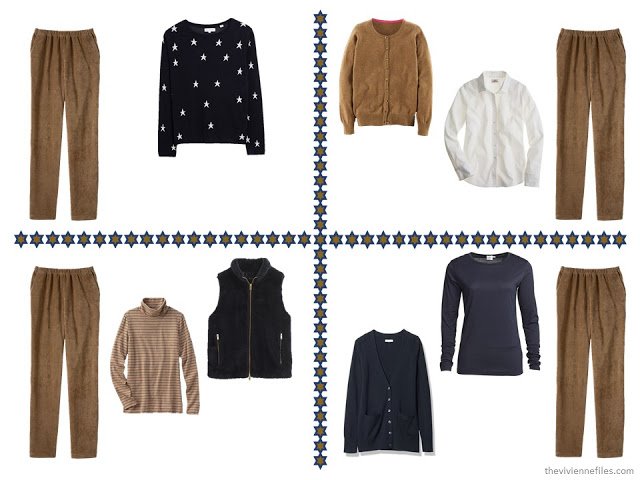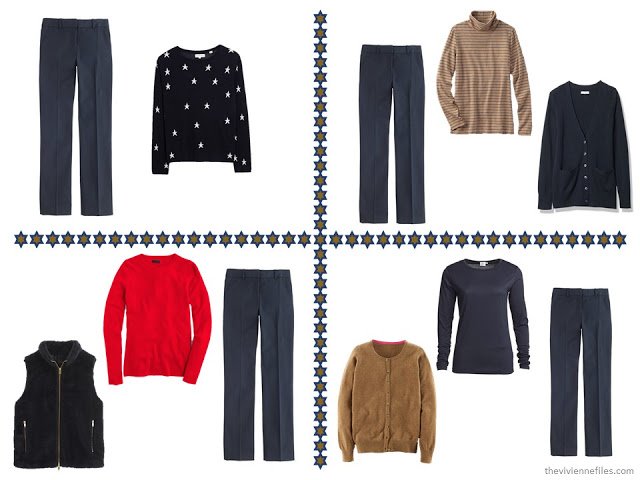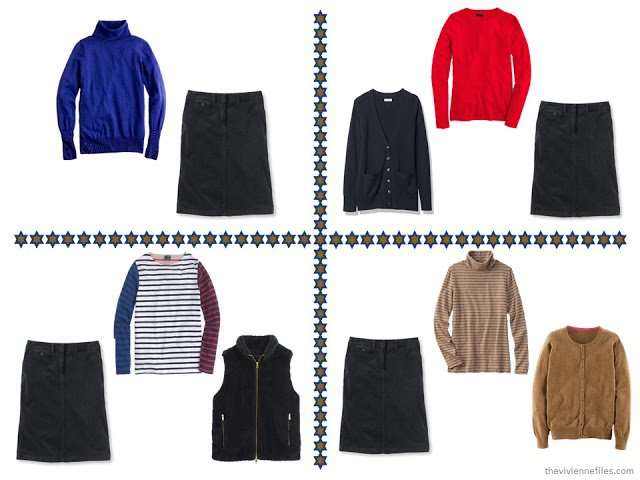 What you can clearly see from these outfits is that some nifty accessories are required! And that's what I'm going to show you tomorrow…
love,
Janice