October 24, 2015
As promised, here's the first of the scarves that I want to sell, and it's a really amazing one!I used to be quite mad about Venice, and when I saw this scarf, it was irresistible. That said, I don't remember ever wearing it, so it's in great condition.
Quality is very comparable to an Hermes scarf in terms of silk weight, size, and finish. It's difficult to see on photographs, but this scarf has a bright red contrast hemmed edge against the more deep maroon red right next to it. Imagine the skill it takes to (a) dye the edge of the scarf at just the right width to form the edge, and then (b) roll it and stitch it in place to form the contrast edge. This, to me, is the mark of a crafted item, rather than something just banged out by machine.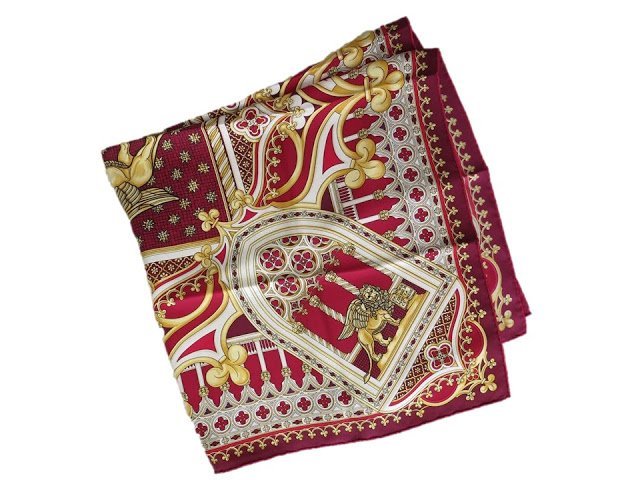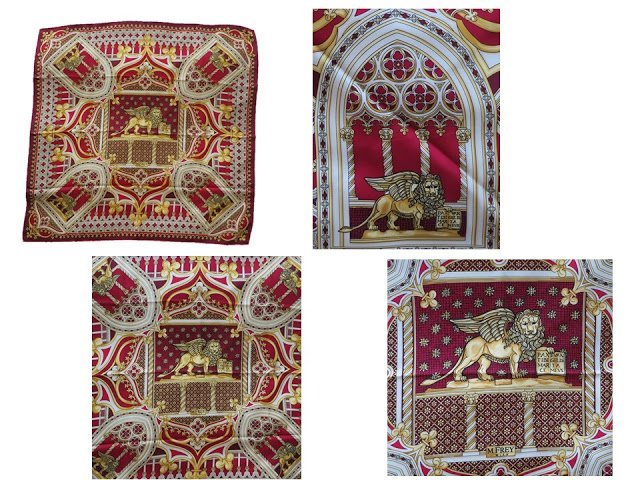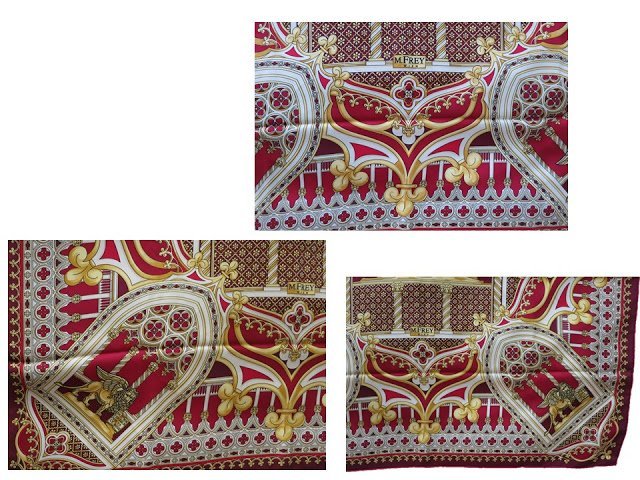 If you like red, this is an easy scarf to wear, because it includes multiple shades of red. It's perfect for anyone who has red shoes which need to be worn more often! And I love the juxtaposition of something as ornate and dressy as the scarf with the intrinsically rugged plaid jacket and rubber boots.
A scarf like this is easy to wear either simply, with classic pieces, or with beautiful silk separates for dressier occasions. I wouldn't even bother to tie the scarf in the 2nd outfit – I'd fold it in a triangle and wear it with the point in the back, the way we're always told we should NEVER wear scarves!
Jewelry with an ornate feeling to it – Gothic architectural details would be great – suit these outfits well…
You don't have to wear red all the time in order to wear this scarf, though; it's a great accent with neutrals.
And if you have to attend those kinds of events where you're never sure if it's dressy or not, a cashmere sweater, velvet trousers, and pretty accessories will help you span a wide range of appropriateness without panic.
If you're interested in this gorgeous scarf, leave a comment starting with "I'm interested!". Otherwise, just leave a normal comment! Next Saturday, I'll see how many of you are interested, I'll generate my usual random number, and contact the winner, as well as let you all know here.The price for this scarf is $200 US, and I will pay shipping to anybody, anywhere in the world.
have a glorious weekend!
love,
Janice