It's apparent, when you look back through years of The Vivienne Files, that my thinking about some concepts… evolves… the more I work with them. Foremost among the ideas that have gone through some changes is the Four by Four Capsule Wardrobe. But I'm pretty settled on how I think this best comes together, (finally…) so I built a template from which we can all work, in the future.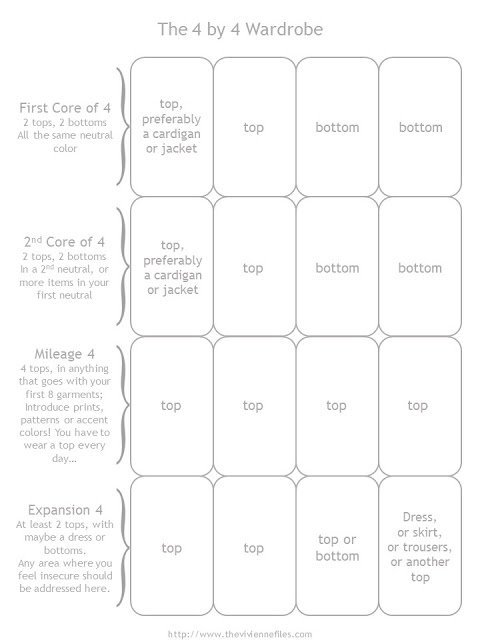 You should be able to "right click" on this baby and print it, but if you can't, just send me a note at [email protected], and I'll send it to you.
It felt really odd to work on a document in "portrait orientation"… but it fits much better this way!
And yes, I'm going right back to the navy and beige "Whatever's Clean 13", with some changes of accessories.
Ultimately, I think what you can learn from The Vivienne Files is that there are a few different ways to approach wardrobe planning and building. What matter is NOT which method you use, but just the fact that you HAVE a plan, and a method, and that you're not just frittering away hard-earned money on clothes that do you no favors.
Ultimately, you can just read The Vivienne Files for an aesthetic indulgence in pretty pictures of lovely clothes, lovingly chosen to create new and alluring combinations. Or you can cherry-pick the concepts that help you, and just leave the rest for other. I'm just happy that you're here with me each day!
love,
Janice
PS – For more tools to help you plan your wardrobe, including the latest Pantone Color Planner, check out the Planning Documents section of the website.