December 31, 2014
While I was away for the winter holidays, I received two requests from women who are required to wear "All-Black" for their work, asking about ways to accessorize their limited palette. (if you're not a rugby fan, please be aware that the All Blacks are the New Zealand national rugby team, and the current world champions. If you enjoy looking at handsome, fit young men, I encourage you to look them up!)
This is a really interesting question for me because my capsule wardrobe migrates more and more each month toward unrelieved black. Also, I know a few women here in Chicago who have this same work wardrobe requirement; a surprising number of different organizations ask their "front of house" staff to dress in this way. You'll see it in restaurants, real estate offices, retail, auction houses, and other places. Generally, the directive is to wear only black clothing and shoes, but complete freedom is granted for jewelry and scarves. I can work with this!
Today, I'm going to pull together a Four by Four wardrobe, and tomorrow, we'll look at an approach to accessorizing an all black capsule wardrobe.
The first core of four in the most basic – a cotton shirt and a pair of jeans (two pieces which might not work for all work environments, and can easily be swapped for a cotton button-front shirt and a pair of dress trousers), a v-neck sweater and a pair of ankle pants.
We've gone over this one before, but never lose sight of the fact that these four garments equal four outfits – that's really good mileage!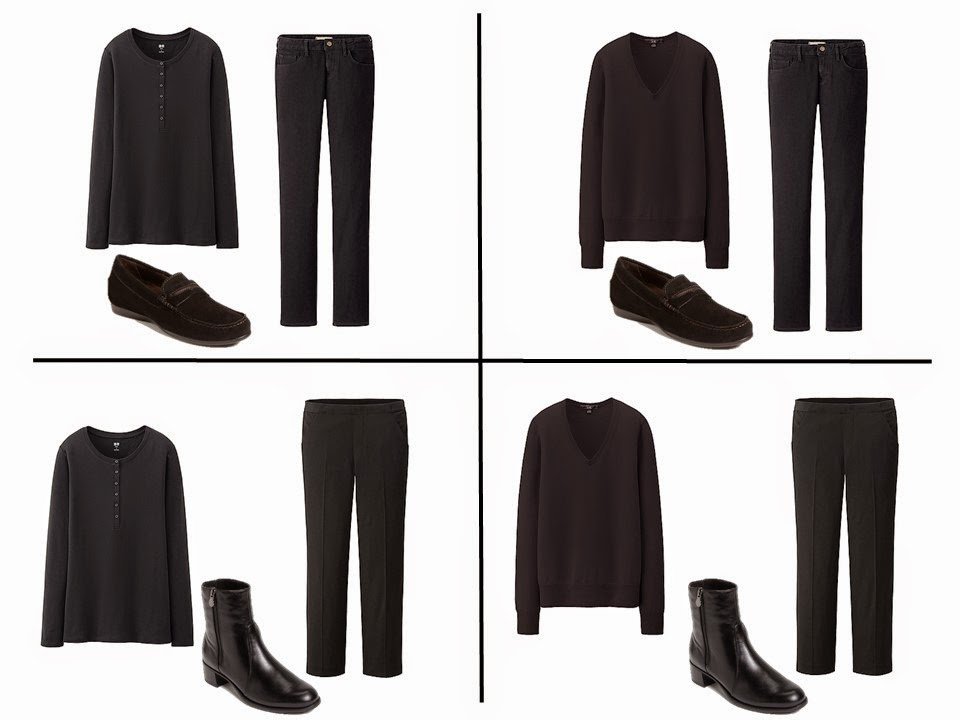 Note that I've included two pair of shoes here. It's really not necessary to own dozens of pairs of shoes! According to a recent survey by VoucherCloud, virtually all women have items unworn in their closet, and 71% of the time, that includes shoes. Buy fewer, buy better, be healthier and more comfortable, and quit wasting money – you and your feet will be much happier.
The second bundle of four garments dresses up our ensemble quite a bit – a cashmere cardigan that button up "far enough" can be worn alone as a sweater, or layered over a shirt. A silk blouse with some interesting seam details, and a pair of skirts are all appropriate for almost any work day. (you might wonder that the BRAND of the blouse is Frame Denim, but the blouse is indeed made of silk. hmmm…)
Again, I have included shoes – one pair – which are dressy enough to complement the skirts, but comfortable enough to make it through a work day. Sacrifice neither beauty nor comfort!
Maybe I make this point too frequently, but with the addition of four garments (and essential shoes), you have added twelve outfits to your wardrobe.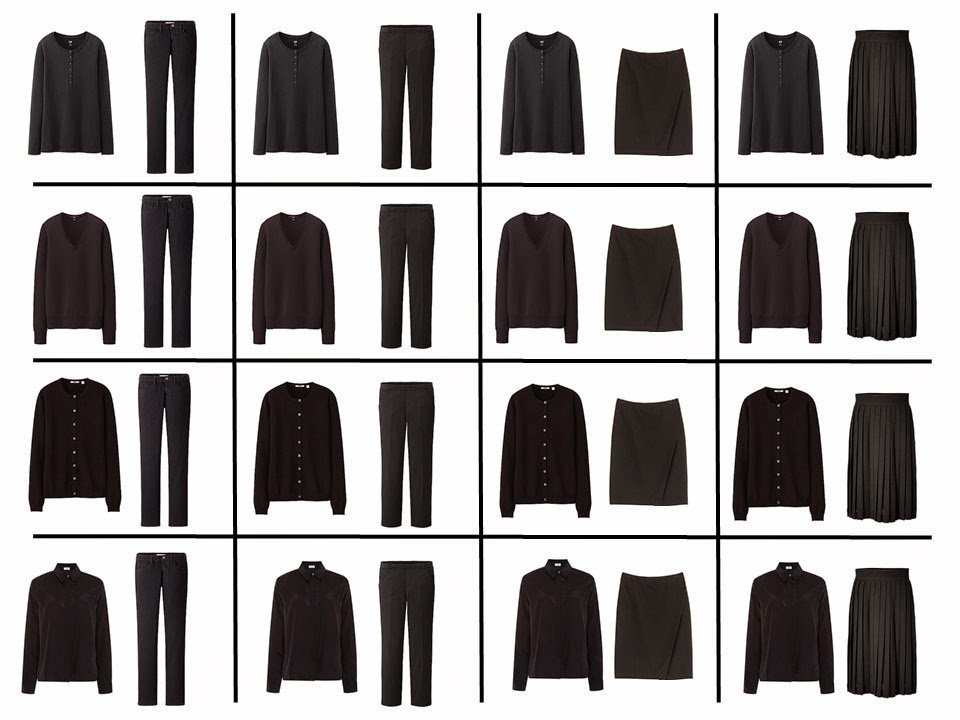 Our next four garments are simple, easy to accessories tops. Some of these items aren't wearable all 12 months of the year, but all of them work with the skirts and pants; if they have to be given a break from time to time, you'll still get a lot of use and benefit from having them available!
Four tops = SIXTEEN more combinations…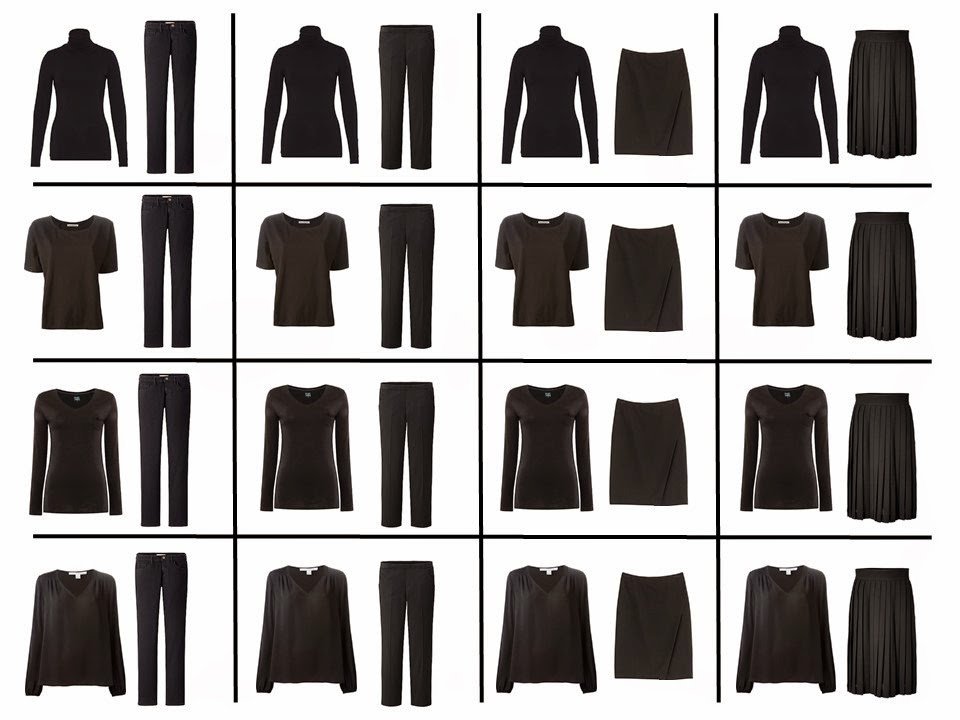 With all of those basics in stock, it's time for a touch of fun. Let's imagine that the woman wearing this wardrobe loves lace – two lace tops! Add in a couple of simple dresses and a pair of ballet flats, and this should be a sufficient wardrobe for most work occasions.
Two tops gives you a dozen more outfits, if you remember to layer your sleeveless top under your cashmere cardigan… Plus, you have two dresses to work with, also!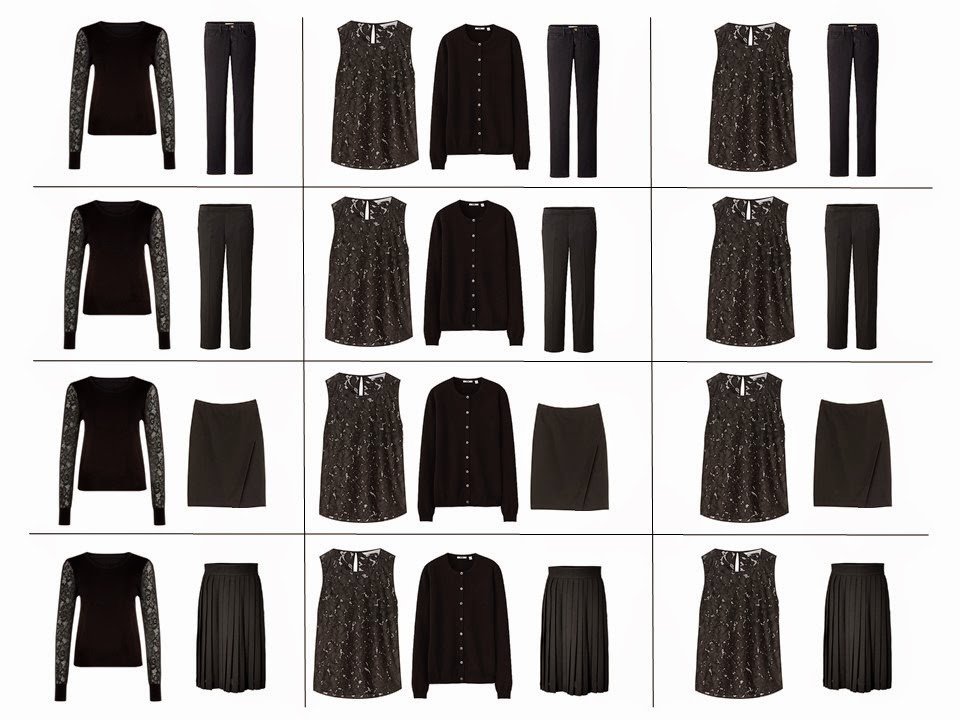 There are now 48 outfits here, plus two dresses – an abundance of monochromatic variety. (not bad, when you consider that all of these clothes would easily fit – plus shoes – into a medium or small suitcase!) In the next post, I demonstrate a logical and organized way to accessorize all of these choices.
love,
Janice