October 8, 2014
There's a lot of talk in books and on the internet about the "French 5-Piece Wardrobe", which is a misnomer if there ever was one! The wardrobe isn't really five pieces; the concept is that you have a core of basic, neutral garments, and you then add FIVE pieces per season. I'm sure some people define a season as every 3 months, but it would certainly also make sense to just do this every 6 months. Whatever makes you happy, right?
But when I read descriptions about the "core" of neutral garments, I kept thinking that it sounded a lot like The Common Wardrobe… And that this philosophy might be an option for helping us build our wardrobes of basics, while at the same time introducing accent colors, long-term investment items, or trendy things that we just can't resist, while still having the guideline of a fixed number of items. This is how I saw it:
First up, A Common Wardrobe – this time in navy and grey. According to generally published "rules" about this wardrobe plan, you don't have to count any replacement basics in your "French 5".
This is a true "Whatever's Clean" wardrobe too – I don't think it's physically possible to combine these garments in an unacceptable manner, unless you wear the skirt on your head, or something else totally bizarre… These 12 outfits aren't exhaustive; I think there are something around 50 possibilities here.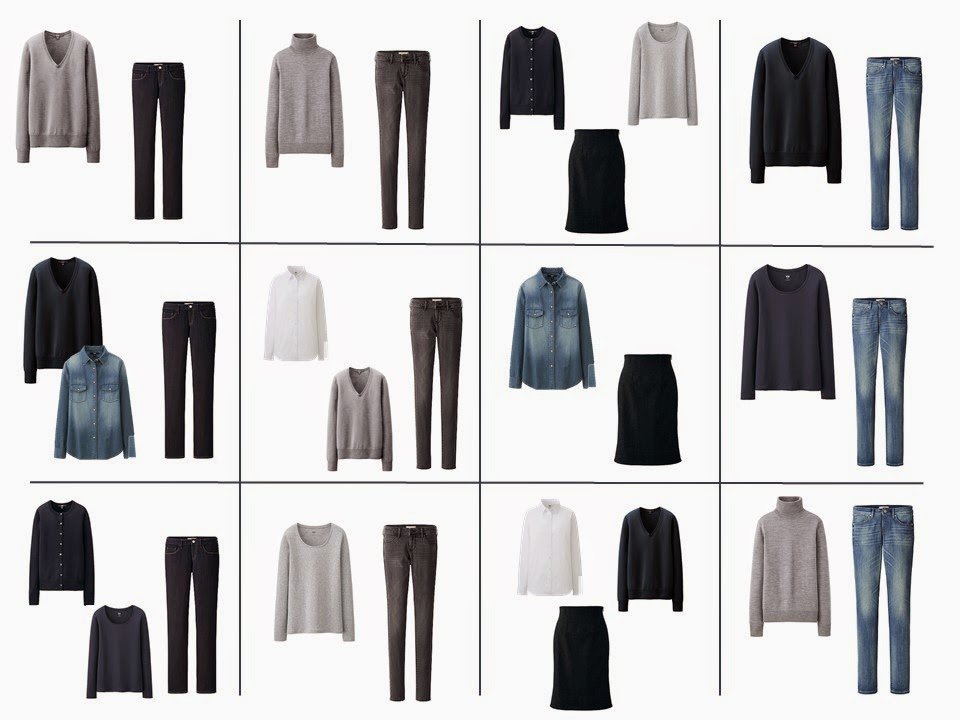 Let's say that this year, you want bright colors in blue and purple. Maybe this is your long-term color scheme, and these are long-term additions to your wardrobe (the scarf certainly will be!). Or maybe you're just dabbling in a color or two to see if you adore them. While I think embellished sweatshirts are going to fade away rather quickly, a silk blouse, a lambswool cardigan, and an Hermes scarf can stick around for quite a while. And you might not usually be tempted by satin loafers, but they're (a) on sale, and (b) equipped with a rubber sole. Talk about juxtapositions!
Note that this Hermes scarf is slightly smaller than the usual – 28 inches square rather than 36.
New combinations abound now – this dozen scratches the surface: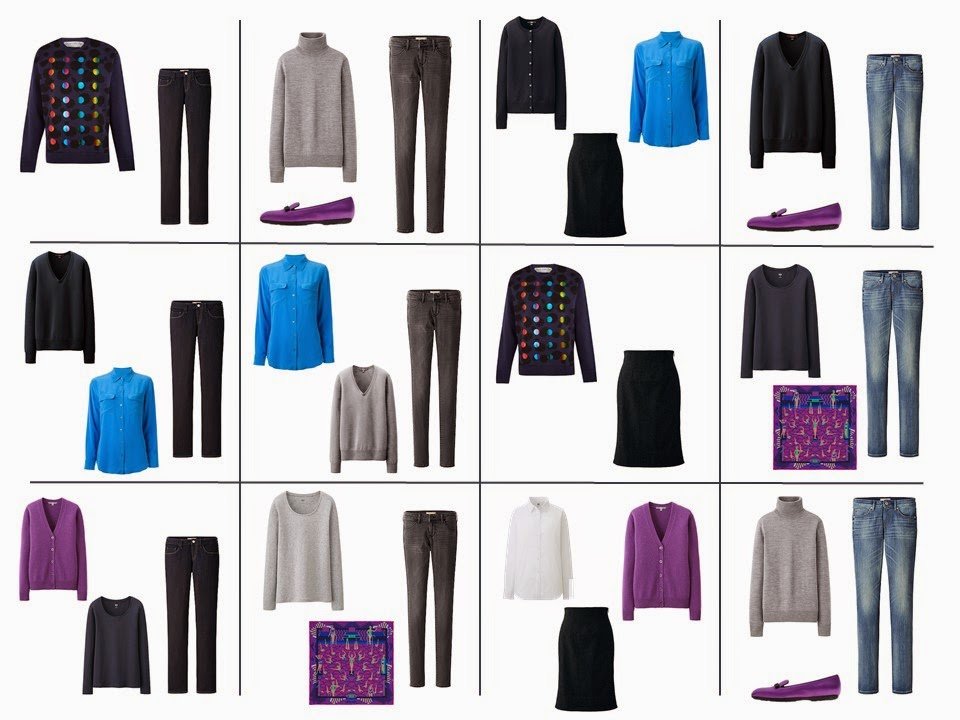 I think the idea of a season limit to number of items might be a great idea – since I just bought 2 dresses, a sweatshirt and a cardigan while on vacation, that would limit me to one more amazing item for Autumn/Winter 14/15. That's the kind of discipline I can use!
This is a concept that I'd really like to revisit in some other color combinations. I still have quite a few requested combinations that I haven't addressed yet – what do you think?
love,
Janice