November 21, 2013
I love these travel vignettes, and I'm going to share the step by step thought process I go through to build them.
Once you have your two core neutrals chosen, the rest just falls into place. It gives you a great deal of ease in life to have a nicely-chosen wardrobe that is focused…
First off, choose your travel outfit using any combination of the two colors I usually opt for a cardigan and pants that are the same color, and then use the 2nd color for shoes and a coat. A printed tee shirt, and a printed scarf, that include the 2 colors, finishes off your travel outfit.
Your watch and your bag will probably be in one of your neutral colors, and a simple pair of stud earrings give you some dressiness and finish, without being fussy or getting in your way when you're juggling your other gear.
Next, I always include a dressier pair of pants, in the same neutral, and another sweater, which can be worn on its own, or layered over a shirt. I'm very fond of plaid shirts, for no good reason, and in the cold weather flannel shirts seem sort of cliché in the nicest way. Your dress could be grey or navy…
Another scarf, another pair of shoes, a necklace, and you're set!
Now you have four outfits, at least, good for a variety of events and activities.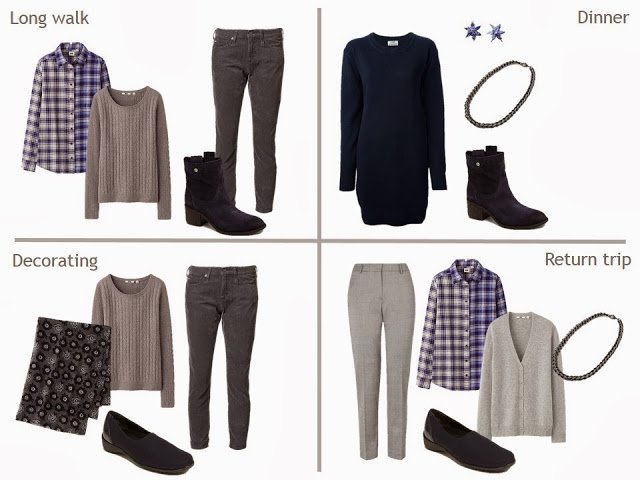 But if you're going to be gone a few days longer, or you can't bear traveling with only 4 garments, or you want to substitute for one of the other tops, here are a couple of additional choices. Again, I just look for items that include both neutral colors, and which offer a couple of different "moods".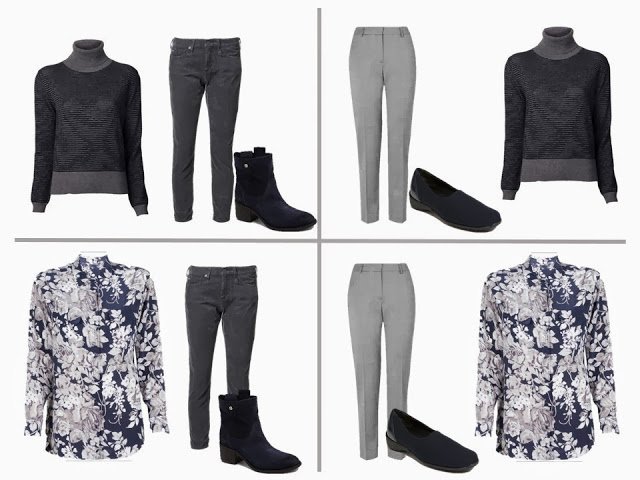 love,
Janice