June 19, 2013
I experienced a sunscreen breakdown while we were in Toronto; I believe one of my temperature irregularities is to blame – too much blotting of the radiant visage lead to loss of sunscreen, and now I'm sporting some freckles. While cute, they are indeed a sign of sun damage…
So when we walked past Goorin, it seemed obvious that I'd best hasten in there and get myself a good sunhat. The above lovely critter is now sitting on my desk. The fact that it has Bogart in the name is just a bonus (I adore Humphrey…); it's a great hat, fits perfectly, and shades me exactly as I needed.
The weather in Toronto was a bit warmer than we had been promised by the weather "forecasters", and so when we saw the Preloved store, I knew I had a good excuse to stop in. Preloved makes new clothes from old clothes – a simple concept, but not something that just anybody could make work. Yes, all of the clothes have a somewhat "patchworky" element to them – you couldn't necessarily build an entire wardrobe here – but they have a deft hand for combining patterns, and the actual construction and execution of the garments is superlative. The shirt that I bought has a yoke of a black and cream large leafy pattern,and the lower bodice is in a black and cream geometric print. I saw, I adored, I bought, I wore to dinner that night.
One of the most delightful things about Toronto – overall – is the way in which the neighborhoods just seamlessly flow into each other. A ten minute walk from the financial district, where we were staying, can land you smack in the middle of Chinatown. (a really BIG Chinatown – bigger than New York's, I would hazard a guess). Five minutes from there, you can find yourself surrounded by tattoo parlors, head shops, and Tibetan import stores – very San Francisco 40 years ago. Bookstores abound (there are only THREE bookstores in downtown Chicago now – none on Michigan Avenue). And most of all, although it's really not "in your face" – Toronto felt safe. On a weekend that saw 36 shootings in one night in Chicago, Toronto had NO shootings while we were there. None. Not one. Zero. We walked both to and from the rugby match we attended – a very LONG walk – and felt safe every second. It was delightful.
Dining? La Carnita, on College Street, for some of the best tacos on the planet. Yes, we were the 2 oldest people there. Someone had to be. Service was excellent, food was amazing, and people watching was fascinating.
We ate breakfast twice at Le Petit Dejeuner, on East King Street. It's a small, unassuming store-front that looks like it maybe was once a bar? But you can't miss it on weekends – the line of people waiting for one of their exquisite Belgian waffles is a sign that you're at the right place. Again, the service was excellent, the food was great, and the restaurant was full of interesting and amazing people. How I wish I had one of their lattes beside me right now…
Our last evening in Toronto, we had dinner at
Patria
– a tapa style restaurant that is tucked away, behind the normal street frontages, in a lovely, dark and cool space with some completely unique design elements. The large back wall is black wire mesh, which has been "cross-stitched" with something like colored raffia. I've never seen such a thing – it was beautiful…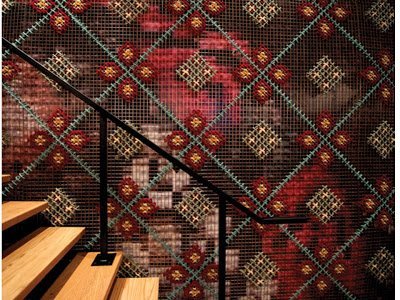 The food here was a combination of traditional Spanish tapas prepared perfectly, as well as some more innovative dishes inspired by traditional Spanish ingredients. Belovedest and I shared a half-dozen "plates" and a carafe of wine, but we did NOT share our desserts (even the best marriage can be challenged by the sharing of churros and cajeta!). And I'm just suggesting – if someone offers you a date stuffed with machengo cheese, wrapped in bacon, and grilled – accept. In Toronto, I would put myself in the hands of my wait-staff, and let them choose for me…
love,
Janice