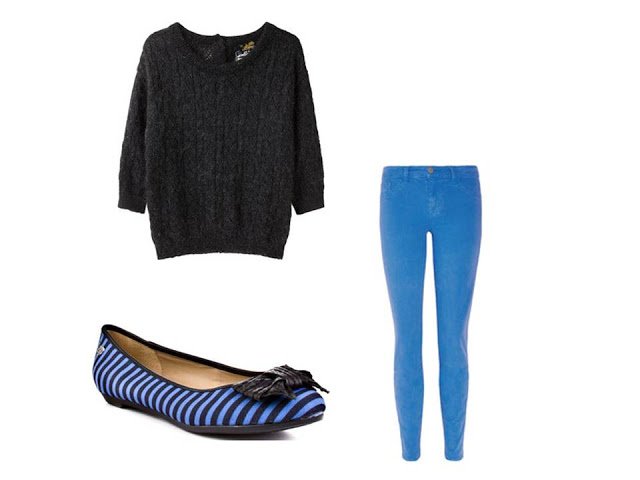 Sweater – Le Mont St. Michel, Flats –
Libby Edelman, jeans – J Brand
This very lovely young lady works in the building where I live. While the jeans and sweater were very simple, the shoes demonstrated that she had put some thought into what she was wearing, and didn't just throw something together. At her age, and with her level of natural beauty, she could have been wearing a sack and looked striking. But with this level of style self-awareness, she's going to be just as elegant in 40 years as she is right now…
As the seasons finally seem to be moving toward warmer weather, I'm starting to go through that semi-annual wardrobe "switch out" that I find so distressing. Vivienne repeatedly points out that this is not something that men do, and that women don't need to own that much more clothing than men, if we plan well. So, I continue to try to plan.
I'm finding it instructive to spend a few minutes seriously pondering the garments that I'm deciding to donate, and trying to put myself back into the mindset that I had when I purchased said item. Certainly, at the time that I bought almost anything in my closet, I was wildly enthusiastic about it.
So what changed?
Why was I wrong? WAS I wrong, or have my wardrobe needs changed since then? If my needs have truly changed, shouldn't I re-allocate my clothing budget to reflect my current life, and not my various past incarnations?
If I was wrong, is this a mistake I've made more than once? (humbly nodding "yes, I'll NEVER buy another sweater with a portrait collar, because I know they make me look like a golf tee")
Why do I repeat this mistake? (delusions of pre-Raphaelite grandeur) How can I stop it from happening again? (uh, look in the mirror…)
Do I shop to try to accomplish something that SHOPPING CAN'T DO?
What could I be doing with the money that I've spent on things I didn't need?
Know thyself.