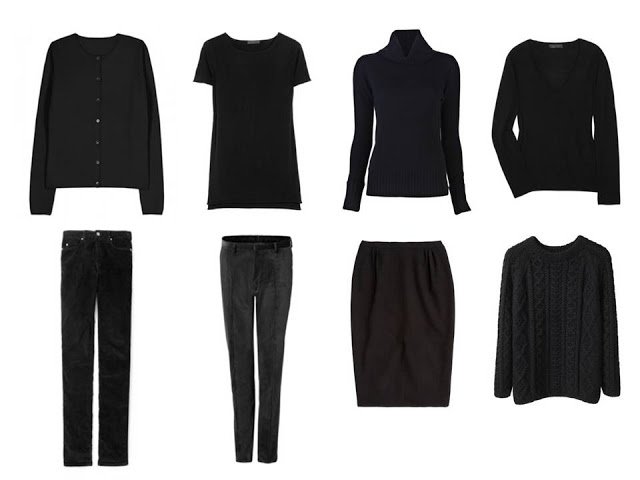 What I wear all winter long – to "go-to" wardrobe for almost any occasion:
black cashmere cardigan – Lands' End. If my entire wardrobe horribly disappears, this might be the first garment I replace. Goes over every tee shirt, dress, or blouse, all year long.
the short-sleeved sweater that matches the cardigan – also Lands' End. Like a tee shirt, but cashmere.
black cashmere turtleneck – Lands' End AGAIN. I wear it with jeans, I wear it with silk pants, I wear it with a velvet skirt.
black cashmere v-neck sweater – LE, of course. over a tee shirt, or on it's own…
black velvet jeans – Eileen Fisher. Jeans, but so much more.
black velvet corduroy trousers – Eddie Bauer. I love these pants so much that when they wear out, I'm going to find a tailor to re-create them for me.
black knit pencil skirt – Eileen Fisher. Won't wrinkle, won't ride up, and goes with everything I own, 365 days a year. The second thing I would replace if I had to start from scratch.
black cashmere cabled sweater – Lands' End. Thick, heavy, luscious, heavenly texture.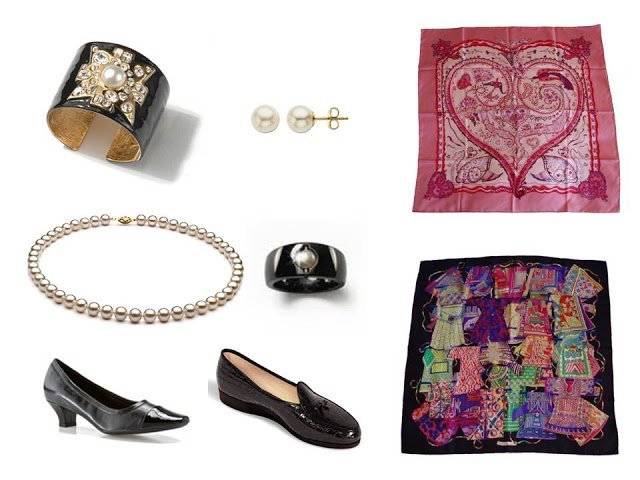 Essential accessories:
My Kenneth Jay Lane cuff bracelet. A little punch of WOW onto anything.
pearl necklace and
earrings – Majorica. I much prefer pearls to any other jewelry – I'm all about luster and glowing and subtle radiance.
pearl ring – Charlotte Santa Fe. Pearl set in heat-treated stainless steel. I just love it.
two Hermes scarves – De Tout Coeur, and
Voyages en Etoffes. Both gifts from my belovedest. They brighten up my outfits, and my heart.
Cap-toed pumps, and
lizard embossed Belgian loafers – Stuart Weitzman. I could conquer the world with just these 2 pair of shoes.